'WandaVision' Review: Marvel's Sitcom Tribute Is A Brave New World For Disney+
WandaVision is the first of the Disney+ Marvel series to be released, and if is representative of what these shows have to offer, then it looks like the MCU is set to go in some intriguing new directions.
While The Mandalorian gave us more of the same old Star Wars we have been getting for decades (with Season 2 totally giving up on introducing any new characters or concepts), WandaVision shows that in its latest phase that Marvel is prepared to take things in more experimental directions—or, at least, as experimental as a multi-billion dollar movie and TV juggernaut can be in 2021.
The first two episodes see Marvel pushing forward into the brave new world of streaming television by paying tribute to its earliest beginnings, the 1950s multi-cam sitcoms like I Love Lucy, The Dick Van Dyke Show and, particularly, Bewitched. Like that latter show, which saw a seemingly ordinary suburban family try to hide their magical powers, WandaVision sees Wanda (played by Elizabeth Olsen) and Vision (Paul Bettany) hiding their super selves within a 1950s sitcom set-up. While their previous appearances in the Marvel movies saw them battling multiple apocalypses, here we see them battling to impress a boss at a dinner party or trying to win a talent show, while hiding the fact that they do not belong there.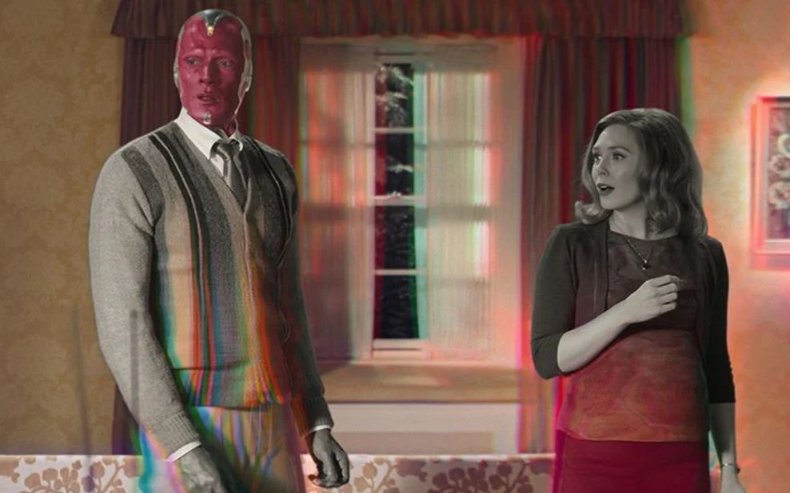 Of course, things are not what they seem, with Wanda seemingly trapped in some sort of virtual reality that someone is keeping her in. Big budget sci-fi is sure to be coming in the remaining seven episodes, but what is most commendable about the first two episodes is how committed the show's makers are to the 1950s sitcom aesthetic.
Though there are some hints in the first episode that things are awry—a flashing red light, and Wanda's inability to recall how she and Vision met—for the most part it is played as if it is a genuine sitcom.
For those of us worried that the domination of Disney in general and Marvel, in particular, is destroying cinema, there is something enjoyably perverse about the idea of fans of some of the biggest-budget movies ever made being forced to sit through a black and white sitcom that would not have felt out of place in the Nick at Night or TVLand line-up—though thankfully without the casual racism and domestic violent threats that pepper so many 'golden age' sitcoms.
The sitcom sections are also surprisingly funny, thanks in particular to sitcom regular Kathryn Hahn's great work as the sassy neighbor essential to any good multicam.
Admittedly, there are some missed opportunities in setting the show with a '50s sitcom world. As the decade was that of the anti-Communist witch-hunts, and one of many heights of homophobic and racist hysteria, the show could have done more with this idea of a couple terrified to reveal the truth to their neighbors than just give us one (admittedly quite amusing) joke about a Communist. However, this may have been too much to ask for from a franchise that always has one eye on its bottom line in less progressive countries.
Of course, there are seven episodes to go, so plenty of time for the show to fall into the sort of "I'm fighting your blue beams of energy with my orange beams of energy" battling that blights so much superhero cinema, but as it is WandaVision is a strong taste of how interesting this new phase of Marvel, with its exploration of the multiverse, can be.
If Disney+ intends on just giving us endless content that is just spin-offs, reboots and remakes (and their list of upcoming content suggests they do), then we need far more shows like WandaVision that try to do something new and metafictional with existing characters. The gauntlet has been raised for Loki and The Falcon and the Winter Soldier.
WandaVision Episode 1 and 2 is streaming now on Disney+