Is War With North Korea Coming? U.S. Military Families Should Leave Korean Peninsula, Top Senator Says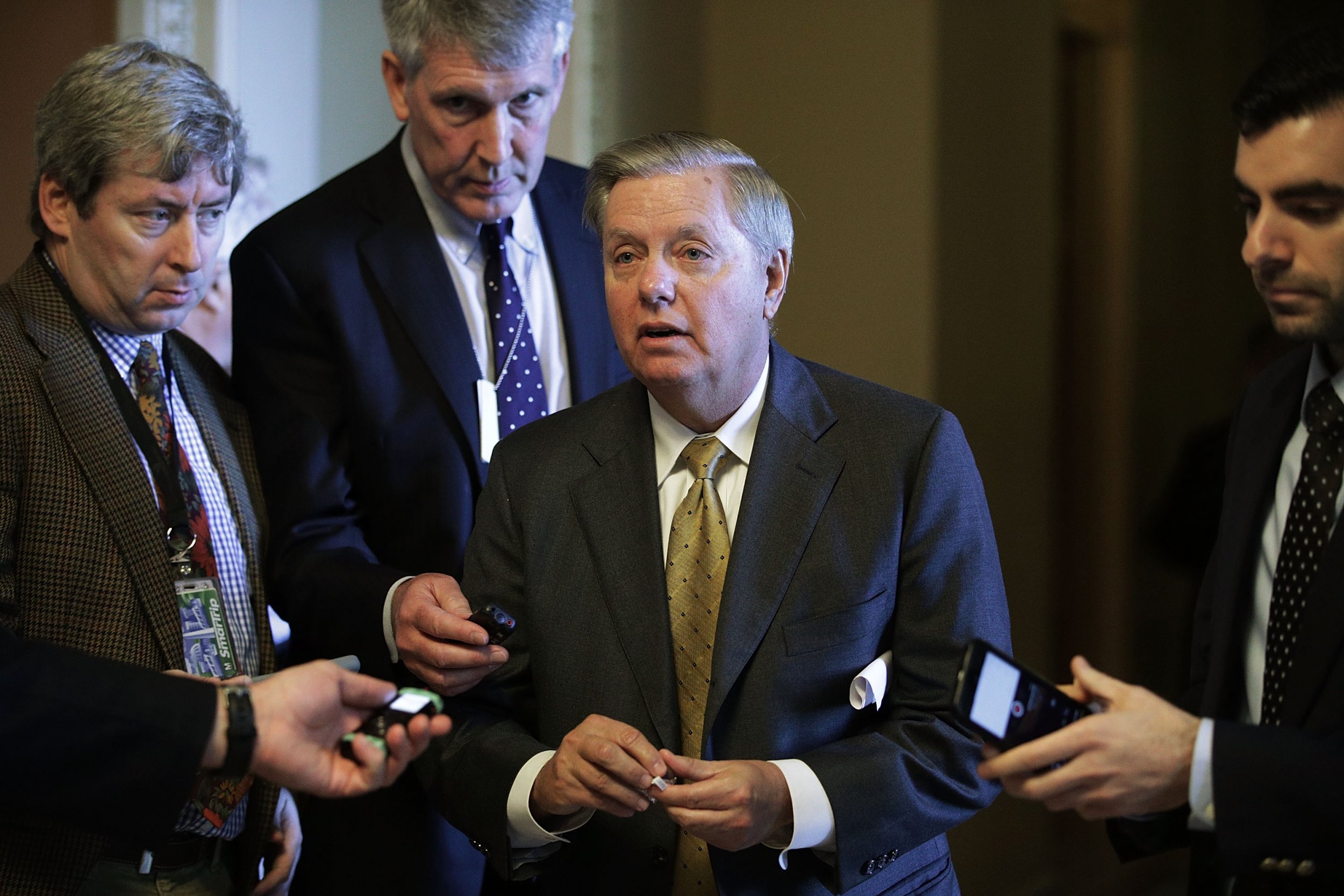 Updated | The Pentagon should start evacuating the families of the roughly 28,500 U.S. troops in South Korea as America gets "close to military conflict" with North Korea, Republican Senator Lindsey Graham said Sunday.
"It's crazy to send spouses and children to South Korea given the provocation of North Korea," Graham, a member of the Senate Armed Services Committee, said on CBS's Face the Nation. "So I want [the Pentagon] to stop sending dependents, and I think it's now time to start moving American dependents out of South Korea."
He added: "We're getting close to military conflict because North Korea is marching toward marrying up the technology of an ICBM with a nuclear weapon on top that can not only get to America but deliver the weapon. We're running out of time."
Graham in recent weeks has warned repeatedly about the potential for conflict with North Korea.
His remarks on Sunday came less than a week after North Korea tested its most powerful intercontinental ballistic missile yet––the Hwasong-15. The missile reached an altitude of 2,800 miles (more than 10 times higher than the International Space Station) and flew for 50 minutes and more than 620 miles before falling into the Sea of Japan. If the missile had flown on a standard trajectory, it reportedly could have traveled more than 8,080 miles, putting cities like Washington, D.C., in its range.
North Korea and the U.S. have been enemies for more than half a century, but tensions reached new heights in 2017 as Kim Jong Un ramped up long-range missile tests and made major strides with his country's nuclear program. President Donald Trump arguably exacerbated the situation with frequent threats and insults (often in the form of tweets) toward Kim and his regime.
Despite the recent missile test and ongoing war of words between Trump and Kim, the Pentagon had not given any indication that war with North Korea was imminent, and there are no signs of it planning to evacuate U.S. military dependents from the Korean Peninsula in the near future.
"Readiness, safety and welfare of our service members, employees and family members are essential to the strength of the U.S. and South Korean alliance. We currently have no intent to initiate departures for military dependents, whether on a voluntary or mandatory basis, and no intent to modify the policy authorizing military dependents to accompany military members being stationed in South Korea," Commander Dave Benham, a spokesman for U.S. Pacific Command, told Newsweek.
"We have many contingency plans in place all over the Indo-Pacific to keep our military families safe. Our personnel forward deployed to South Korea remain in a consistent state of readiness through various training exercises," Benham added.
North Korea, which is believed to possess anywhere from 25 to 60 nuclear warheads, has faced mounting pressure from the international community to give up on its nuclear ambitions. It recently argued that building and maintaining a nuclear arsenal iwas necessary in order to deter "repressive U.S. imperialism."
Trump's top advisers said they preferred a diplomatic resolution to Washington's differences with Pyongyang, even as the president's rhetoric sometimes contradicts that notion.
Meanwhile, the U.S. and South Korean militaries conducted drills near the Korean Peninsula on Monday, which North Korea's state-run media described as a "grave provocation."
Update: This article has been updated to include a comment from a U.S. Navy spokesman.