War Veteran Senator Tammy Duckworth Lashes Out at Transgender Military Ban: 'Discrimination Has No Place in Our Military'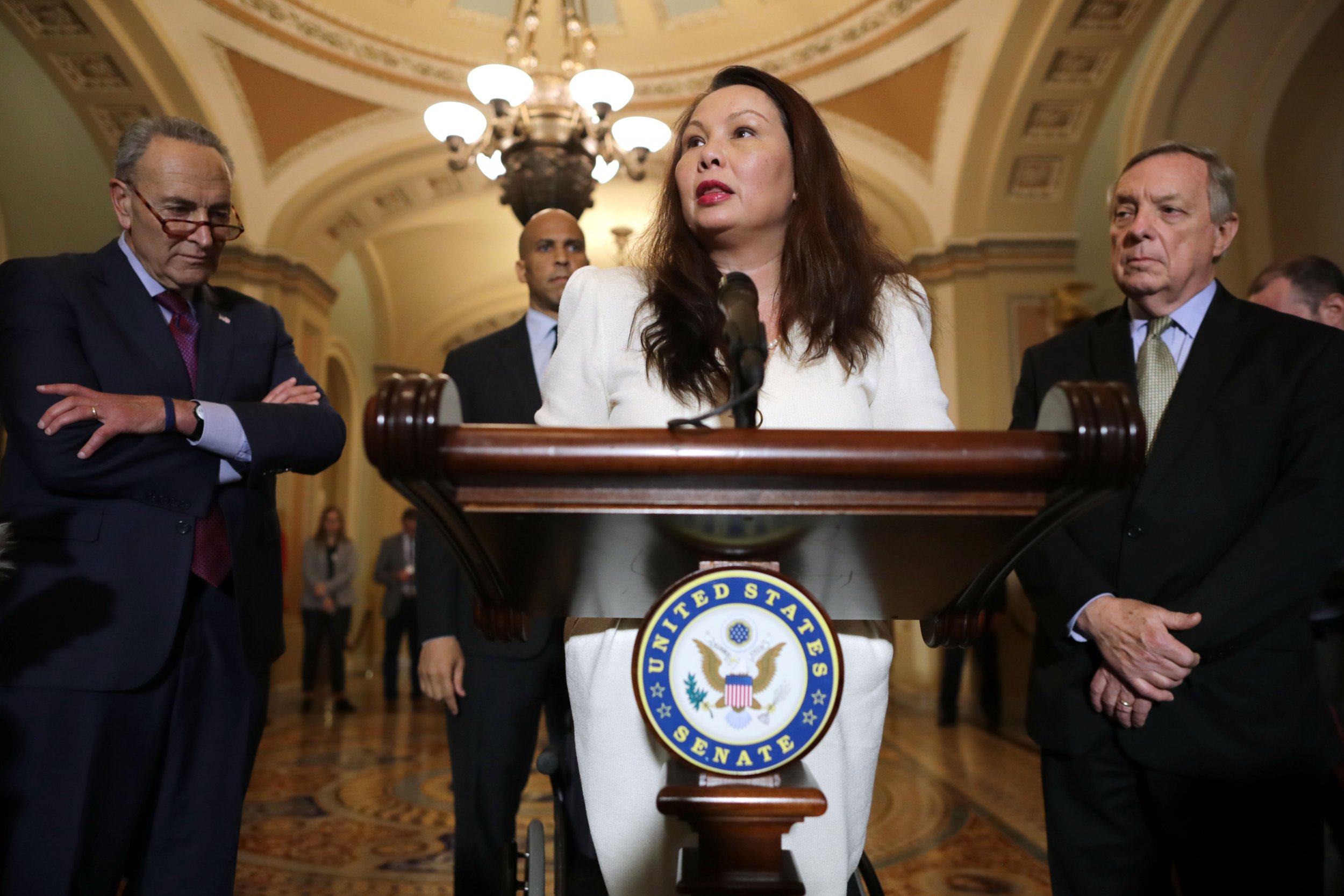 Democratic Senator and Iraq War veteran Tammy Duckworth has struck out at the Supreme Court over its decision to allow the Trump administration to temporarily enforce restrictions preventing transgender people from serving in the military.
Duckworth, who lost both of her legs in 2004 while serving in Iraq, called the Supreme Court's decision "disheartening," but said, in a series of tweets on Tuesday, that it was not too late to show the Trump administration "that this sort of discrimination has no place in our military."
Read more: Supreme Court allows Donald Trump's transgender military ban to continue
"[The Supreme Court's] decision is disheartening not only because it will help the Trump Administration discriminate against an ever-shrinking portion of our population who are willing to serve in uniform, but also because it enables the Administration to further disrupt to our military and weaken our national security," Duckworth said.
"I hope the court takes up this case and loudly and clearly tells the administration that this sort of discrimination has no place in our military, and I hope my colleagues on both sides of the aisle in Congress will send the same message and show our service members that we have their backs.
"When I was bleeding to death in my Black Hawk helicopter on that dusty field in Iraq, I didn't care if the American troops risking their lives to help save me were gay, straight, transgender, black, white, male or female," Duckworth said. "All that mattered was they didn't leave me behind."
On Tuesday, the Supreme Court ruled 5 to 4 to lift two injunctions blocking the Trump administration's policy from coming into place, with the court's liberal wing opposing the ruling. The court's decision left one nationwide injunction on Trump's order intact, however, preventing the Pentagon from being able to completely implement the policy.
According to an analysis of Department of Defense data by the Palm Center, a public policy nonprofit, there are as many as 8,980 active duty transgender troops serving on behalf of the United States.
Transgender troops have only been able to serve openly since June 2016, after former President Barack Obama lifted a previous ban on their service. Just over a year later, in July 2017, Trump vowed to reverse the open service policy, tweeting out that he would "not accept or allow transgender individuals to serve in any capacity in the U.S. military."
Duckworth hit out at Trump's policy in July 2017 on MSNBC, saying: "To have a president who never served but instead got, what, four, five deferments to avoid service in Vietnam, be a guy to question someone else's patriotism because of their gender identity is sickening," she said.
Last year, the Democratic senator also branded the president a "five-deferment draft dodger" over his claims that Democrats were holding the military "hostage over their desire to have unchecked illegal immigration." Trump had made the comments in an effort to blame Democrats for a stalemate in Congress that had led to a three-day shutdown of the federal government in 2018.
Duckworth also gave Trump the nickname of "Cadet Bone Spurs," hitting out at the fact that one of his deferments had been granted over bone spurs, or small pointed outgrowths of bone, in his heels.