"I'm on my period!" a woman shouts from the crowd at a punk show in north Brooklyn.
"I'm not sure it deserves that much fanfare," Shawna Potter, singer for War on Women, replies from the stage.
This isn't a typical exchange between the audience and the band between songs at a hardcore punk show. Then again, War on Women isn't your typical hardcore punk band. Formed five years ago and based in Baltimore, War on Women scream and shred about topics that seldom grace the genre's back catalog: abortion rights, access to contraception, surviving rape, and online misogyny.
"We are bringing our message of feminism across the globe," Potter, the band's singer, tells Newsweek in the basement of Saint Vitus, a dimly lit bar and music venue in Brooklyn's Greenpoint neighborhood, where they're playing with hardcore punk stalwarts Global Threat and Strike Anywhere. It's also the night of the second presidential debate and bizarrely enough, Saint Vitus's basement is home to a pastel painting of Republican president nominee Donald Trump that imagines him as a 1989 real estate Willy Wonka.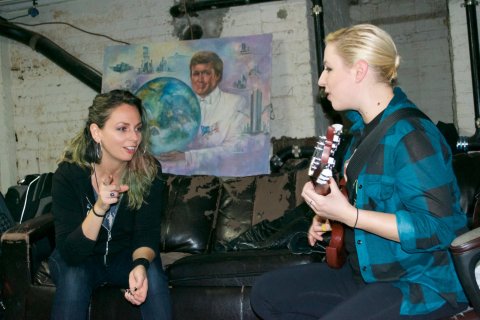 War on Women's music stands out in a hypermasculine genre that has long been dominated by all-male bands. (Hardcore emerged in the late 1970s, heavier and faster than its punk origins.) On their second, self-titled album Potter screams about unequal pay—sample lyric: "What? Is the wage gap not big enough to get your ego through?"—and the epidemic of femicide in Juárez, Mexico. Influential punk and alternative bands like the Slits, Hole, Bikini Kill, and L7 are examples of "great bands over the last 40 years making hardcore, intense, outsider music that involved women, that dealt with women's issues and equality," says Brooks Harlan, one of the band's two guitarists. But because "gender politics weren't such a hot topic" until recently, he adds, those types of band have "always been taken as something of a novelty."
For women, live hardcore shows can be physically violent and intimidating places, and it's often safer to stand near the back to avoid being struck by flailing limbs and flying bodies. But this setup—men mostly at the front, women mainly at the back—can sometimes result in women being treated as literal coat racks; I've been asked several times by men to hold their coat or backpack so they can jump unencumbered into the pit.
War on Women wants to change this. Potter has called out from the stage to "women, queers, femmes to say, 'Tonight's your night, take up space and everybody else, give up some space,'" she says. "I want men or traditionally butch folks to make some room, give up some space, and I want to tell femmes and queers to take up space, and to know that they're doing that together and cooperating."
"I think our band is a visual representation of that. We have men and women in a feminist band," Potter adds; guitarist Nancy Hornburg, bassist Sue Werner, and drummer Evan Tanner are War on Women's other members. "For me, feminism is no longer just [something] that women need to hear. It's vital that men hear the message and get on board and work with us on this."
Feminist representation goes beyond the band's members. Condoms and tampons sit next to T-shirts and vinyl on the merch table. On Wednesday, Bridge Nine, the band's record label, released an updated version of the Gadsden flag declaring "Don't Grab My Pussy" instead of "Don't Tread on Me." The tumultuous 2016 election has made their message even more vital.
One day before Newsweek spoke with War on Women, a 2005 audiotape emerged of Trump essentially condoning sexually assaulting women, telling Billy Bush, then-host of Access Hollywood, that he can "grab them by the pussy." Nine women have so far come forward with allegations that Trump sexually harassed or assaulted them, which he has denied. Numerous women have also shared personal experiences of sexual harassment and assault in the wake of Trump's comments. War on Women know how pervasive the problem is. During the song "YouTube Comments," Potter recounts explicit, violent comments left underneath the band's videos, while she crescendos from throwing familiar catcalls to verbal abuse on "Broken Record." The lyrics for song "Say It" are a call for rape survivors to speak out and "Say it, say it, 'I was raped.'"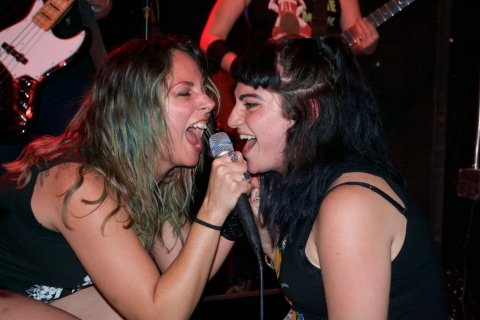 While Trump was mentioned in passing at the October 9 Brooklyn performance, German fans chanted "Fuck Trump" and Potter destroyed a Trump piñata at previous War on Women shows.
"It's those kinds of comments from those kind of men, powerful men, that lead to cases like the Brock Turner case, that make kids like that believe that they are entitled to women's bodies," says Potter, who is also the founder of Baltimore chapter of Hollaback!, the international campaign against street harassment. "Of course, they're going to try and see what they can get away with because of people like Trump, because of people like Billy Bush. I think we need to drag him under the bus too."
Despite more diversity in hardcore and punk over the past few years, including blistering outfits like Super Unison, G.L.O.S.S. and Downtown Boys, Harlan says there hasn't been a dramatic shift in the gender makeup of bands. "There's still a slew of all-male bands that are just out there just singing about dude stuff for other dudes. It gives us a lot of ammunition," he says. Rather, he's seen a bigger change in attitudes and language: A moratorium on the word "faggot" to describe "silly or dumb" behavior, acceptance of gender neutral bathrooms, and the recognition "that if a woman reports someone harassing her, it's something to be taken seriously," he says.
Before they go onstage, Potter and Harlan contemplate the next War on Women record. Even though "some of the best punk to come out was in the 1980s, during the Reagan era, because there was an enemy, a very clear one," Potter says she's wary of writing an album just about the 2016 election. Instead, there might be songs about Purvi Patel, an Indiana woman who was jailed for having a miscarriage, and "stories of young, white men going into public spaces and shooting everyone, either because they're black or they're women, and were turned down for a date, feel entitled to take a life," she says.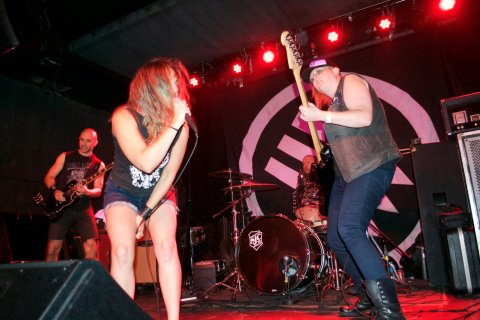 Whatever comes next, the band wants War on Women to be the start of something new. The Brooklyn show is one of the few times I've watched a hardcore punk band from the front of the room. Next to me, a woman hung her handbag around her male companion's neck and moved forward through the crowd.
"I hope it manifests itself in more female bands," Harlan says before correcting himself. "More bands with female members. That shred."