Chamath Palihapitiya's Uyghur Remarks Spark Outrage As Warriors Co-Owner Backtracks
An owner of the NBA's Golden State Warriors caused something of a social media storm this week after he expressed strong doubts about reports of human rights violations against Uyghurs in China's Xinjiang region.
Suggesting that the U.S. should prioritize its own domestic human rights conditions, billionaire venture capitalist Chamath Palihapitiya, who according to the New York Post owns 2 percent of the NBA franchise, described American concern for Muslim minority groups in northwest China as "deplorable" virtue signaling. Separate White House and Warriors statements later distanced themselves from the position.
Palihapitiya's comments emerged during an episode of the All-In technology podcast that aired on Saturday. In it, he and his fellow co-hosts discussed the domestic economic and political situation in the U.S. and then began a debate about the Biden administration's stance on Beijing's treatment of Uyghurs.
During the administration of former President Donald Trump, the U.S. became the first major government in the West to declare China's repressive policies "genocide" and "crimes against humanity." President Joe Biden's administration upheld the determination that abuses were ongoing, resulting in several rounds of sanctions and the signing of December's Uyghur Forced Labor Prevention Act.
"Let's be honest, nobody cares about what's happening to the Uyghurs, OK?" Palihapitiya said in response to co-host Jason Calacanis. "You bring it up because you really care—and I think that's nice that you care—the rest of us don't care."
Palihapitiya, who is also chairman of Virgin Galactic, called it "a very hard ugly truth."
Challenged by Calacanis, the Sri Lankan-born Canadian American said he cared more about domestic issues such as the economy and the U.S.'s poor healthcare infrastructure. "But if you're asking me, do I care about a segment of a class of people in another country? Not until we take care of ourselves will I prioritize them over us," he said.
Concern for global human rights was a "luxury belief," he told Calacanis, suggesting that the U.S. was hypocritical for pointing out China's poor human rights record given its own failings—a popular counterargument often employed by Beijing.
Palihapitiya said: "We don't do enough domestically to actually express that view in real tangible ways. So until we actually clean up our own house, the idea that we step outside of our borders, with us sort of like morally virtue signaling about somebody else's human rights track record, is deplorable."
Calacanis called the view "whataboutism" and argued that concern for human rights at home and abroad was not mutually exclusive. "You don't have to pick one," Calacanis said. Palihapitiya disagreed, later replying: "There's nothing I can do about the Uyghurs in China. Zero."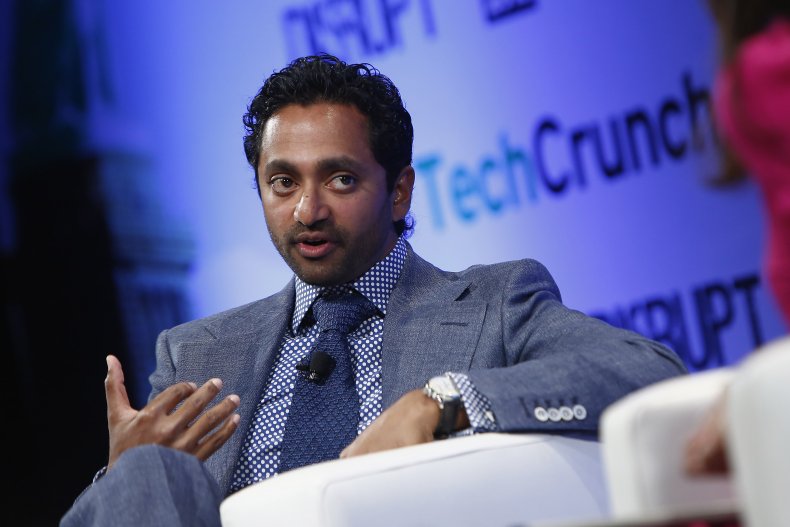 At times, Palihapitiya's somewhat isolationist viewpoint—echoing some characteristics of Trump's "America first" foreign policy—appeared to come from a place of ignorance rather than active denial. He was also skeptical about describing China as a dictatorship.
The entrepreneur seemed unaware of the policy positions of major governments and related pronouncements by bodies such as the United Nations and the European Union. The former has sought access to China in order to conduct an independent assessment, while the latter 27-nation bloc has joined Washington in sanctioning Chinese officials said to be responsible for practices including the arbitrary detention of over a million Uyghurs.
"I don't think that I have the moral absolutism to judge China, and I would say that when NATO is silent, the United Nations is silent, all of Western Europe is silent, and America's effectively silent, that this issue may be small data points being extrapolated in a way to create a narrative that may [...] not be true," Palihapitiya said.
After suggesting human rights conditions in Xinjiang were possibly being exaggerated, he clarified his view: "I am not gonna be an armchair journalist on this topic; nor am I gonna be the armchair human rights advocate for the world, because I just don't know. I can focus on the things that I know about, build the things that I know about, and if something really does get red light status, then other parties will do something."
His comments drew criticism from several U.S.-based scholars on Twitter, where a short clip from the podcast was viewed around 2.5 million times at time of publication. A White House spokesperson told the Washington Free Beacon that the Biden administration "rejects [Palihapitiya's] statement" and would continue to hold Beijing accountable.
The Warriors' press office, meanwhile, said in its own statement: "As a limited investor who has no day-to-day operating functions with the Warriors, Mr. Palihapitiya does not speak on behalf of our franchise, and his views certainly don't reflect those of our organization."
Palihapitiya, 45, later shared a note from his personal Twitter account, saying: "In re-listening to this week's podcast, I recognize that I come across as lacking empathy. I acknowledge that entirely. As a refugee, my family fled a country with its own set of human rights issues so this is something that is very much a part of my lived experience. To be clear, my belief is that human rights matter, whether in China, the United States, or elsewhere. Full stop."
His Wikipedia page was edited overnight to include the controversy.