Was Kamala Harris a 'Progressive Prosecutor?' VP Candidate's Record on Criminal Justice Reform
As California Senator Kamala Harris prepares to take on Vice President Mike Pence in Wednesday's first and only vice presidential debate, criminal justice will likely be one of the nine segments the candidates are expected to tackle.
Pence, who has helped cast President Donald Trump as the law and order candidate in the 2020 race, will face Harris, who has had over a decade of experience as a prosecutor.
Harris, the daughter of an Indian mother and Jamaican father, has been lauded by many as a rising star in the Democratic Party, with her political approach likened to that of former President Barack Obama.
Harris has branded herself as a "progressive prosecutor," with supporters pointing to the fact that she was ahead of her time as she began her career during the "tough on crime era" of the 1980s and 90s.
In her 2019 memoir, The Truths We Hold: An American Journey, Harris writes about the role of a progressive prosecutor.
"The job...is to look out for the overlooked, to speak up for those whose voices aren't being heard, to see and address the causes of crime, not just their consequences, and to shine a light on the inequality and unfairness that lead to injustice," she wrote. "It is to recognize that not everyone needs punishment, that what many need, quite plainly, is help."
But many belonging to the party's more progressive, left-leaning side have criticized the senator, who launched her own campaign for president, particularly when it comes to her stance on criminal justice reform.
They point to a disconnect between Harris's platform, which advocates for a progressive approach, and the policies she implemented while serving in several of California's highest-ranking law enforcement offices.
Harris began her career in criminal justice by working in the Alameda County District Attorney's Office, where she prosecuted homicide, robbery and child sexual assault cases. She became the district attorney for San Francisco in 2004, where Harris quickly made waves when she refused to seek the death penalty for a man convicted of shooting a police officer.
Harris, who has made clear her personal views as being against the death penalty, upset police officers and members of the Democratic Party with her decision. But she continued pushing several more progressive policies, particularly at a time "when most prosecutors were using a 'tough on crime' approach," a spokesperson for Harris told Vox at the time.
She started the "Back on Track" program in 2005 while serving as district attorney, which allowed first-time drug offenders, including drug dealers, to get a high school diploma and job instead of prison time, Vox reported.
Harris also moved to change California's "three strikes" law, requiring that her office in San Francisco charge only for a third strike if the felony was a serious or violent crime. The state's law, comparatively, mandated that anyone who committed a third felony could go to prison for 25 years to life, even if the felony was a nonviolent crime, according to Vox.
But her time as district attorney appears to be riddled with contradictions for a woman who claimed to go into law enforcement to change the system from the inside, according to the New York Times.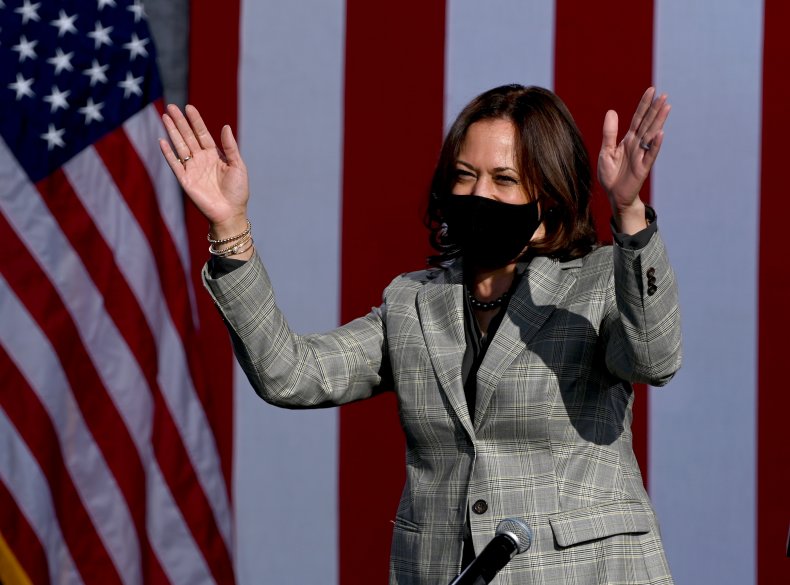 Harris started an anti-truancy program, which targeted parents of children who were skipping school, threatening them with prosecution and punishment to encourage them to get their children back in the classroom, according to Vox.
"I believe a child going without an education is tantamount to a crime so I was going to start prosecuting parents for truancy," she said in a 2010 speech. "Well, this was a little controversial in San Francisco."
The program led to a 33 percent increase in school attendance and the prosecution of 25 cases, none of which resulted in jail time for parents, Newsy reported. It was a decision Harris says she regrets today.
The overall felony-conviction in San Francisco rose from 52 percent in 2003 to 67 percent in 2006 under Harris—the highest seen in a decade, according to The Atlantic. Drug-related prosecutions also soared in the same timeframe, from 56 percent in 2003 to 74 percent in 2006.
Harris was elected as California's attorney general in 2011, becoming the state's top law enforcement official. She expanded her "Back on Track" program to other parts of the state, and introduced what her office labeled as "first-of-its-kind training" to address racial bias in the criminal justice system.
Harris pushed California's Department of Justice to become the first statewide agency to require body cameras, and launched OpenJustice, a platform that allowed members of the public to track reported killings by police officers.
But at once point, Harris resisted a bill that would've required her office to investigate killings by police and efforts to create statewide standards for police-worn body cameras, according to Vox. And she ignored calls for her office to quickly investigate several officer-involved shootings in San Francisco.
"How many more people need to die before she steps in?" an activist and former supporter, Phelicia Jones, told the San Francisco Chronicle in 2016, regarding the string of police shootings in the city.
"We don't even know that you care," Jones said, directing her comments at Harris. "You have turned your back on the people who got you to where you are."
Vox reported that her office fought to release fewer prisoners in the state, even after the U.S. Supreme Court found California's prisons to be so overcrowded that they were deemed unconstitutional and cruel and unusual punishment.
An op-ed published in the Times listed several instances in which Harris's office appeared to be fighting to keep people in prison even after they were found innocent, attempting to argue minuscule details.
Both her supporters and Harris herself say that she did not always play a direct role in every case, including the more controversial ones. Nonetheless, Harris takes responsibility for some of those decisions, she said.
"The bottom line is the buck stops with me and I take full responsibility for what my office did," Harris said during a 2019 campaign press conference. "There are cases...where there were folks that made a decision in my office and they had not consulted me and I wish they had."
But those who criticize her argue that Harris could've changed her office's policies if she really wanted to, instead choosing to go along with the status quo because it was easier.
She seemed to flip-flop on her stance in regards to the death penalty, appealing a judge's decision which deemed California's death penalty system unconstitutional. It was her job as attorney general to defend the state's law, she argued.
Harris was elected in 2017 to represent her state in the U.S. Senate, where she became an outspoken proponent of criminal justice reform before Democratic presidential candidate Joe Biden named her as his running mate in August.
Harris launched her own presidential run in January 2019, where she advocated for all sorts of criminal justice reforms including scaling back incarceration, ending the death penalty and solitary confinement, banning private prisons and ridding cash bail, Vox reported.
But Harris struggled to reconcile these calls for reform with her own record on the same issues, the Times found, and she ultimately decided to end her bid in December.
Her stance on policing, however, is one issue that seems to have evolved greatly in the past decade. In her 2009 book Smart on Crime: A Career Prosecutor's Plan to Make Us Safer, Harris wrote: "If we take a show of hands of those who would like to see more police officers on the street, mine would shoot up."
Earlier this summer, following the officer-involved death of George Floyd in Minneapolis, Harris told the Times that it is status-quo thinking to believe that putting more police on the streets creates more safety. "That's wrong. It's just wrong," she said.