Was a Shark Swimming in Florida Street After Hurricane Ian Storm Surge?
It's common for hoax photos and videos of sharks swimming in flooded streets to surface during hurricanes and they're often quickly debunked. But a new video of a shark in Hurricane Ian's storm surge has people thinking it is the real deal.
Hurricane Ian slammed into Florida on Wednesday as a Category 4 hurricane with winds just a few miles per hour away from bumping the classification up to a Category 5. The hurricane resulted in a massive storm surge, and that surge appeared to have pushed a shark into a flooded street in Fort Myers, Florida.
While some Twitter users tried to take credit for the video or said they got the video from a friend, the Associated Press has confirmed the video was authentic after speaking with the person who filmed the shark struggling to swim in his backyard.
According to the AP report, Dominic Cameratta, a local real estate developer who said he filmed the video Wednesday morning, filmed the shark from his back patio when he saw it flopping around in his neighbor's backyard. Cameratta said at first, he thought the animal was a large fish but soon realized it was a shark. He estimated the shark to be 4 feet long.
Cameratta lives near a retention pond, and he said he assumed the shark made it up Hendry Creek and into the pond. The pond then overflowed from storm surge and heavy rain, transporting the shark into the flooded backyard. Some experts told AP they thought the shark looked to be a juvenile.
Twitter user THE Alex shared the video at approximately 10 a.m. on Wednesday. The video shows what appears to be a shark flopping around in an apparently flooded street. The animal in the video is seen thrashing its tail back and forth as winds gust in the background.
"My buddy just sent me a video of this shark swimming down his back yard in Fort Myers," THE Alex tweeted Wednesday.
Leslie Guelcher, an assistant professor of intelligence studies at Mercyhurst University who goes by Dr. G on Twitter, was one of the people who questioned the video's authenticity. Prior to AP's verification, Guelcher tweeted that the video index showed a creation date of June 2010. She later told Newsweek she misread the index data, but she is unconvinced the video is real because the video was taken before the storm surge rose in earnest in Fort Myers.
"I'm still not convinced it is accurate although the person who commented provided the name of who filmed it and where," Guelcher said. "However, a reverse image search on Google, limiting to site:Twitter.com shows a number of posts with at least one being from before the storm surge hit."
She later said she could see how a shark could go from the Gulf of Mexico into a retention pond.
However, some experts expect the shark may have sensed a drop in barometric pressure signifying the approaching hurricane. It may have attempted to flee shallow waters to somewhere safer. However, the shark could have accidentally entered the creek and then the pond in its attempts to flee, or flooding could have forced the animal into the residential area.
The video's confirmation was the culmination of five years of searching for Jane Lytvynenko, a freelance reporter who has spent years debunking hoaxes. Before the video was confirmed as real, Lytvynenko implied it had credibility.
"I can't believe I'm looking at an honest-to-god street shark," Lytvynenko tweeted. "Good to finally meet you, pal."
Shark hoaxes have emerged in many hurricanes since a fake image of a shark swimming through a flooded highway was first posted in 2012. Social media agency Storyful also verified the video was authentic but couldn't confirm if the footage showed a small shark or a different fish, such as a cobia.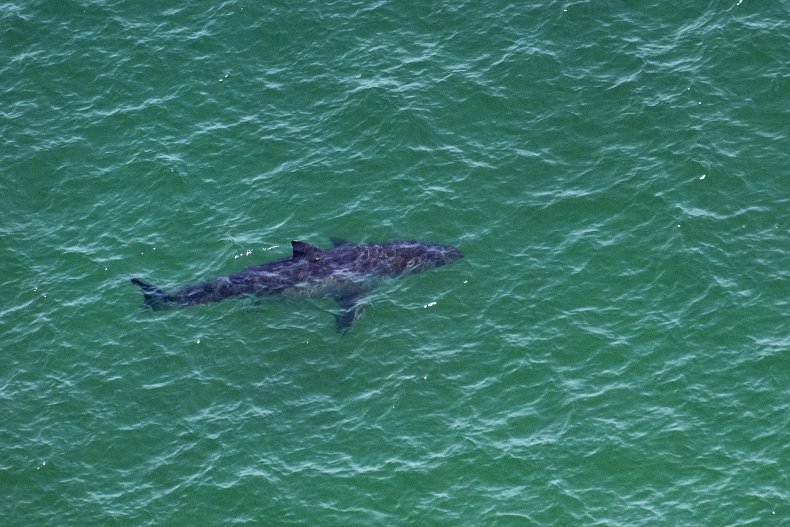 Florida officials warned residents that some wildlife might emerge during the storm, namely bears, alligators and snakes, as wildlife becomes more active and disoriented during massive storms.
Newsweek reached out to Florida Fish and Wildlife for comment.
Update 9/30/2022 11:15 a.m. ET: This story has been updated with additional information.