Watch Buddy the Cat Loving Life and on Road to Recovery After Dog Mauling
Buddy the cat is enjoying a loving life in foster care as he continues to recover from being mauled by two dogs, footage shows.
The cat, who was left with life-threatening injuries after two teens allegedly set their dogs on him, was transferred to a foster home on April 1 after being treated by the animal welfare charity Pennsylvania Society for the Prevention of Cruelty to Animals (Pennsylvania SPCA).
The footage shows Buddy relaxing on a blanket while his foster carers give him a brush. The cat can be seen kneading the blanket—a sign of comfort and happiness.
Buddy is missing patches of fur from where veterinarians treated him for his severe injuries.
A spokesperson for Pennsylvania SPCA Gillian Kocher told Newsweek that Buddy is doing "so great" in foster care.
"He is adjusting wonderfully to indoor life, playing and lounging. His foster parents are so in love with him!" Kocher said.
The cat will continue to recover from his injuries while in foster care, before he is deemed well enough for adoption.
"He is still taking some medications as he continues his recovery, but for the most part he's completely on the mend," Kocher said.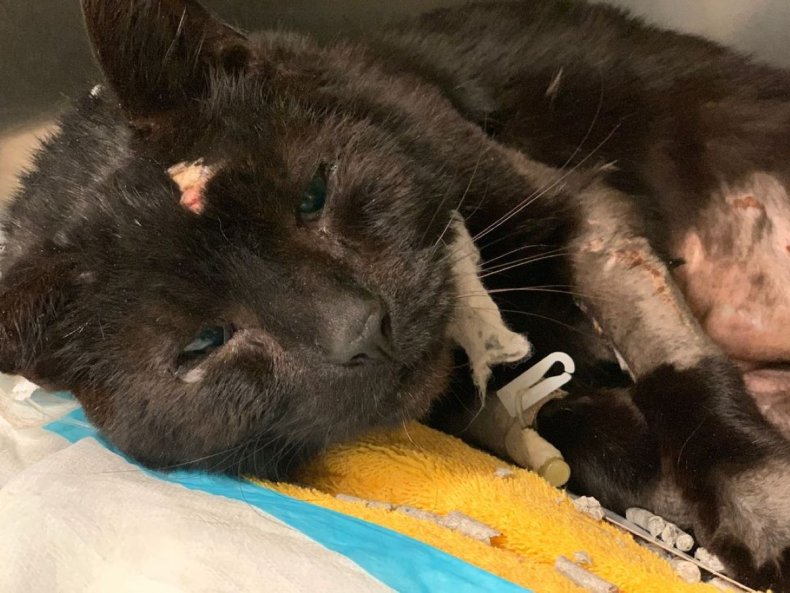 One of Buddy's foster parents is a veterinarian who treated him for his injuries, Pennsylvania SPCA said in a Facebook post.
Another video posted by the charity shows Buddy on the same blanket, happily playing with a new toy.
The incident that left Buddy in critical condition was captured on video. In the video, two teens can be seen watching as their dogs maul Buddy. One of the owners was caught on camera shouting "good boy" at the dog.
The attack ended when a local family, who had been looking after the cat, came outside. The video has since been taken down due to its graphic nature.
In the wake of the attack, Nicole Wilson, the PSPCA's director of humane law enforcement and shelter operations, told CBS Philadelphia that Buddy suffered "extensive damage to his hind abdominal region."
On March 25, the dog owners were identified as two teens and were detained by authorities. They face felony charges of animal fighting and aggravated animal cruelty, and an additional charge of conspiracy.
After the video surfaced, Buddy captured the hearts of social media users. Pennsylvania SPCA received a flurry of donations from all over the world, pouring in for the cat's care.
Buddy had been a stray before the incident, but is now looking for a permanent home.