Watch Golden Retriever Hilariously Falling for Magic Trick: 'Impress Her'
A golden retriever duped by a disappearing ball is melting the hearts of millions of viewers on TikTok.
In the footage shared by Natalie Koppel (@pawbrey), her boyfriend Johnny Perez is performing magic tricks for their dog Aubrey.
In the first clip, Perez is sitting on the sofa with a ball in the palm of his hand, while the 3-year-old retriever watches intently. Perez flips his hand so the ball is out of view, stunning Aubrey, who stands there, blinking in confusion.
In the next clip, Aubrey is lying across Perez's lap. He shows Aubrey his empty left hand to prove there is no ball, then slowly opens his right fist.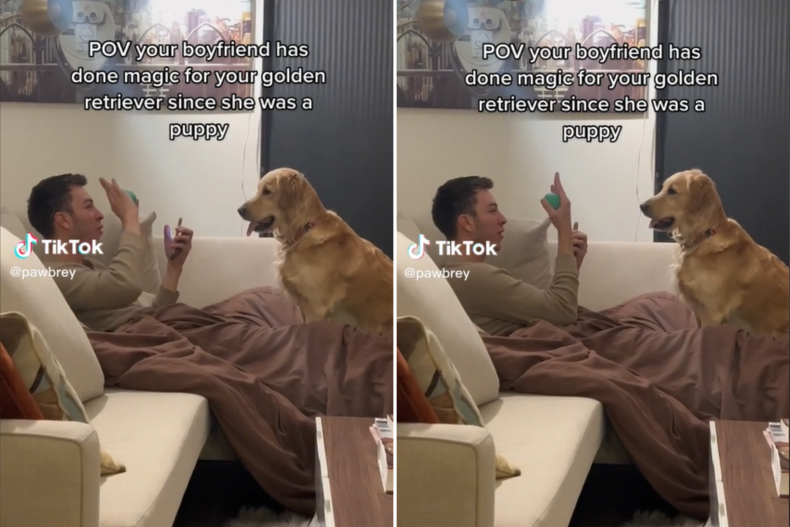 Aubrey, expecting there to be a ball inside, appears bemused—not realizing the ball is between Perez's fingers, hidden behind the back of his left hand.
Bewildered, Aubrey grabs Perez's hand with her paw and begins to sniff, searching for the missing ball.
TikTok users loved the perplexed pup, with the video receiving almost 5 million views and more than 500,000 likes.
'She Loves Them'
Koppel and Perez, from Orange Country, California, adopted Aubrey three years ago. Perez began learning magic tricks when Aubrey was a puppy "solely to impress her."
"I don't think he really knows how to do magic," Koppel told Newsweek. "Just enough to trick our golden retriever."
The magic tricks came in handy while training Aubrey, with the puppy relaxing whenever Perez performed a sleight-of-hand.
"She loves them now. She brings him her toys just so he can do his magic," Koppel said.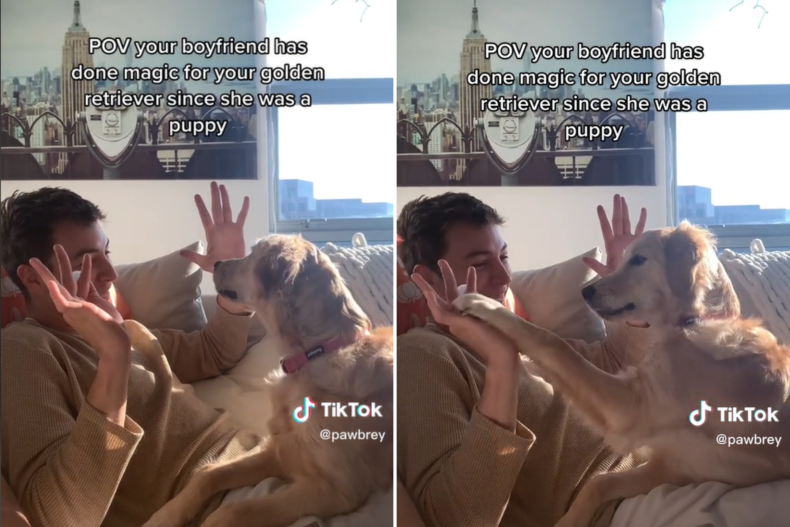 Despite seeing the same tricks time and time again, Aubrey is still mystified.
"She doesn't know all of his secrets," said Koppel. "I think that's what she's trying to figure out."
'A Keeper'
TikToker Eyesick called the clip "the cutest thing I've seen all day."
"This is beautiful," agreed Megan, while Jaz Batzz wrote, "Sobbing."
"The ears when she's surprised!!" commented Rebecca Lawton199.
"I love when people have their unusual bonding stuff with their pets," wrote MegMasullo.
Reilly Reilly wasn't convinced, suspecting that Aubrey was pretending to fall for the trick to keep her dog dad happy. "When the dog can smell where it is and plays along," she posted.
"Do you think the dog thinks it real magic..." asked washamole. "Or she knows it's just tricks and still thinks it's cool?"
The video also earned Perez some new fans, with Katie dubbing him "a keeper."
"Very cute... the dog's also nice," joked Andrea Moncmannová, while Ysovie wrote, "MARRY."
Tylko taki ja commented: "The saddest thing about it is that he is still just your boyfriend."
Do you have funny and adorable videos or pictures of your pet you want to share? We want to see the best ones! Send them in to life@newsweek.com and they could appear on our site.