Watch Mischievous Bear Snoop in Officer's Car Outside Courthouse
A hilarious video from the Sierra County Sheriff's Office in Downieville, California, shows an unusually furry intruder breaking into a correction officer's car.
The clip, featured above, was caught via security camera on June 6 but was released to the public on Sunday. The footage shows a bear approaching a car parked in the otherwise-empty Sierra County Courthouse lot.
The curious creature opens the sedan's back door and pokes its head in for a closer look. After examining the car's backseat, the bear decides to wander off, leaving the door ajar. The incident is said to have occurred at around 9:30 p.m.
"The next morning, when the officer got in her car to go home, she was puzzled to notice the door ajar light illuminated," the Sheriff's Office posted on Facebook. "She confirmed the rear passenger door was not fully latched; knowing the door had not been ajar when she went to work the previous evening, she took a look through the security footage and discovered the culprit."
"Thankfully, this bear found nothing of interest," the post added, along with the following advice: "Please don't forget to lock your doors and secure/remove anything that may attract our bears!"
Viewers couldn't get enough of the clip, which racked up thousands of views since it was posted earlier this week.
"This is something that happens somewhat frequently in Downieville," Sierra County Sheriff's Office Deputy Holly Bayly told Newsweek in a statement. "There have been a few incidents of a bear getting in the car or even stuck in the car. Since this one was captured on video, we thought it would be a great way to raise awareness."
According to Bayly, the officer actually had some snacks in her car, but the bear luckily left them untouched.
"When I remarked that it was fortunate she didn't keep snacks in the car, she [the officer] said, 'Well, there was a bag of diet chips on the back seat. I guess he wasn't interested in diet chips, though,'" Bayly said.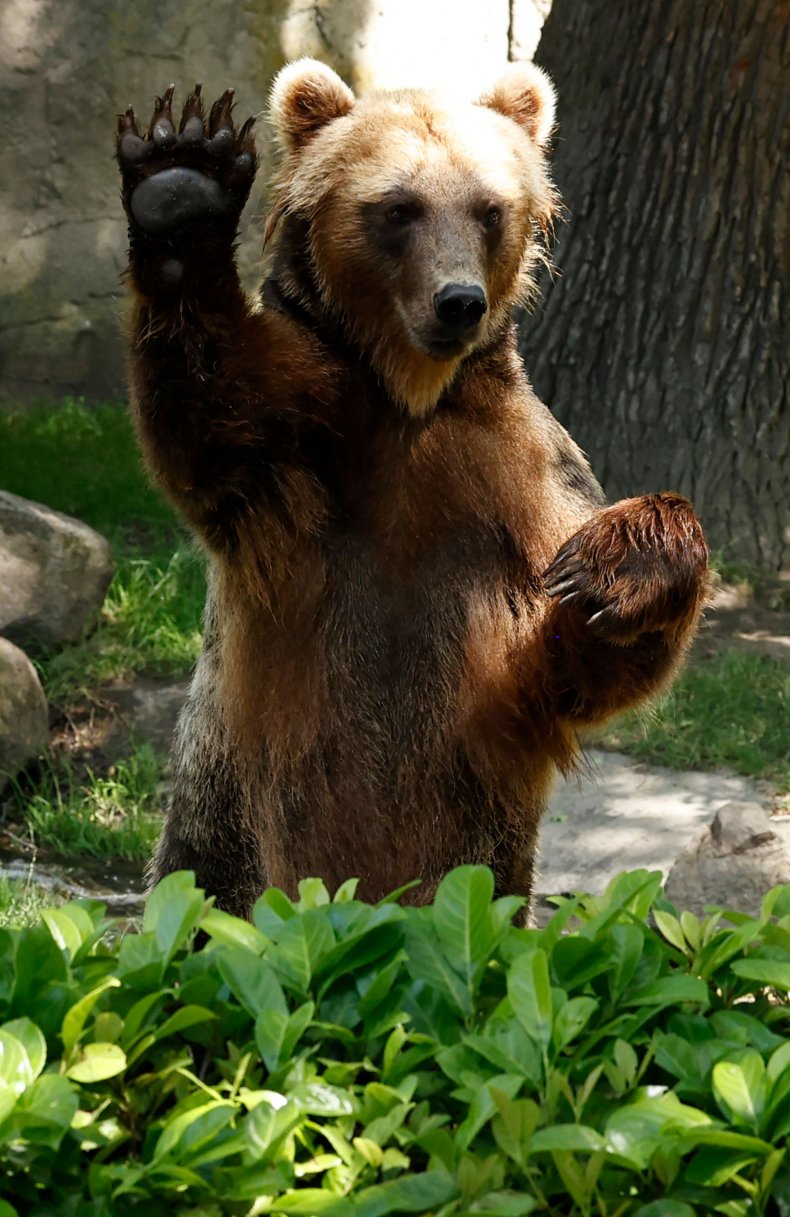 Often mischievous, bears don't shy away from aspects of the human world that interest them—especially if they suspect food is involved. According to the Get Bear Smart Society, bears "will inspect [odors], noises and objects to determine if they are edible or playable."
Last month, a bear became trapped in a car, causing serious damage to the vehicle. As documented in a viral video posted to TikTok, the Gatlinburg, Tennessee, tourist managed to scare the bear away with the help of his friends.
Days later, it was reported that two bears were spotted "checking showtimes" at an AMC Theatre in a Morristown, Tennessee, mall. "Check out our visitor this morning looking for showtimes of Space Jam at AMC College Square 12!" the mall joked on Facebook. "In all seriousness, please be cognizant of two bears in our area. Do not approach or feed the bears."
That warning is echoed by the National Park Service.
"Their behavior is sometimes unpredictable. Although rare, attacks on humans have occurred, inflicting serious injuries and death," the agency posted on its website. "Each bear and each experience is unique; there is no single strategy that will work in all situations and that guarantees safety."
It notes, however, that "most bear encounters end without injury."
Updated 08/04/2021, 4:10 p.m. ET: This story has been updated with comment from the Sierra County Sheriff's Office.