Watch: Tyre Nichols Video Footage Reveals Deadly Police Beating
The Memphis Police Department released police body-camera footage on Friday of law enforcement's encounter with 29-year-old Tyre Nichols, who died in the hospital days after being detained in a traffic stop in Memphis, Tennessee.
Nichols was stopped by Memphis police January 7 on suspicion of reckless driving, according to previous police statements. After being pulled over roughly just 80 yards from his home, police said there was a "confrontation" between Nichols and the officers and he fled on foot.
Memphis officers then pursued Nichols and eventually apprehended him, but, police said, Nichols complained about having shortness of breath and was taken to a hospital "in a critical condition" after being detained.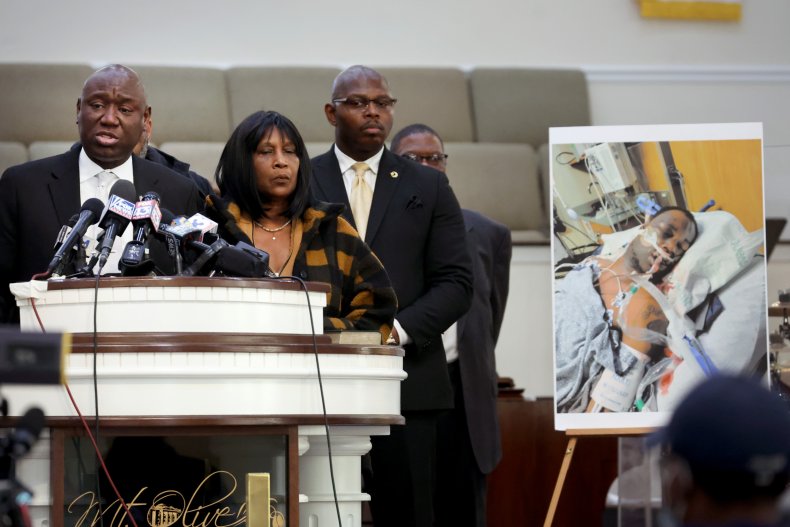 Four separate videos were released on the City of Memphis' Vimeo page Friday night. The link to view the footage can be found here.
WARNING: Video contains graphic content that some viewers may find disturbing.
The videos, which include scenes captured from a pole camera and police body-cameras, show the interactions between Nichols and law enforcement at an intersection and at a second location in a residential neighborhood, according to the videos' descriptions.
In the first video taken at an intersection, one officer is seen forcefully removing Nichols from his vehicle. Other officers then step in to hold Nichols to the ground while attempting to handcuff him.
While Nichols is lying down, the officer whose body camera footage is shown appears to hold a Taser to Nichols' leg. At some point in the confrontation, Nichols and the officers start to struggle, and he flees by foot.
In the second and third videos, officers are again seen restraining Nichols' arms while in a residential neighborhood. While two officers hold Nichols' arms behind his back, other officers are seen kicking or throwing punches at him. Another officer also appears to use a police baton to strike Nichols. In the fourth video, Nichols is seen lying on the ground, appearing to be handcuffed.
Prior to its public release, the body-camera footage of Nichols' detainment was only viewed by the few involved in the investigation, and was described by several viewers as "disgusting." General Attorney Merrick Garland told reporters on Friday that he was told the video was "horrific" based on his briefing about the footage, and FBI Director Christopher Wray said he was "appalled" by what he saw.
Nichols' mother, RowVaughn Wells, said earlier Friday that she had not watched the video, but had been told that her son was calling for her name during the confrontation.
President Joe Biden released a statement Friday, saying that he was "outraged and deeply pained" after watching the footage of the police beating.
"It is yet another painful reminder of the profound fear and trauma, the pain, and the exhaustion that Black and Brown Americans experience every single day," read the statement from the White House.
Last week, Memphis police fired the five officers involved in the "confrontation" with Nichols, saying that an investigation into the incident concluded there had been "excessive use of force" by the officers.
The five men—Tadarrius Bean, Demetrius Haley, Emmitt Martin III, Desmond Mills, Jr., and Justin Smith—have been charged with second-degree murder, aggravated kidnapping, aggravated assault, official oppression and official misconduct. Steve Mulroy, Shelby County district attorney, told reporters at a news conference Thursday after announcing the charges that each of the former officers played a role in Nichols' death.
Several U.S. cities have been preparing for possible protests Friday night in response to release of the police footage. Some businesses in downtown Memphis boarded up their windows and storefronts ahead of the release, and the Department of Homeland Security told CNN on Friday that it was collaborating with law enforcement agencies across the country "to share timely information and to support efforts to keep our communities safe."
In his statement Friday, Biden also called upon protesters to be peaceful, and said that the footage "will leave people justifiably outraged."
"Those who seek justice should not resort to violence or destruction," read the statement. "Violence is never acceptable; it is illegal and destructive. I join Mr. Nichols' family in calling for peaceful protest."
Newsweek has reached out to Ben Crump, Nichols' family attorney, for comment.
Update 1/27/23, 7:53 p.m. ET: This story has been updated with additional information and background.