Video: Vladimir Putin Fires New Kalashnikov Rifle
Russian President Vladimir Putin has been filmed test-firing a new Kalashnikov sniper rifle, the SVCh-308, in the latest media display of his strongman credentials.
Proving that you are never too old to play with a new toy, Russian television showed the 65-year-old president in goggles and earphones firing at a target 600 meters away.
The SVCh rifle is loosely based on the iconic Russian SVD currently used by the country's army, but is said to be more accurate. The semi-automatic weapon has been described as an "ultra-modern rifle for the modern sniper."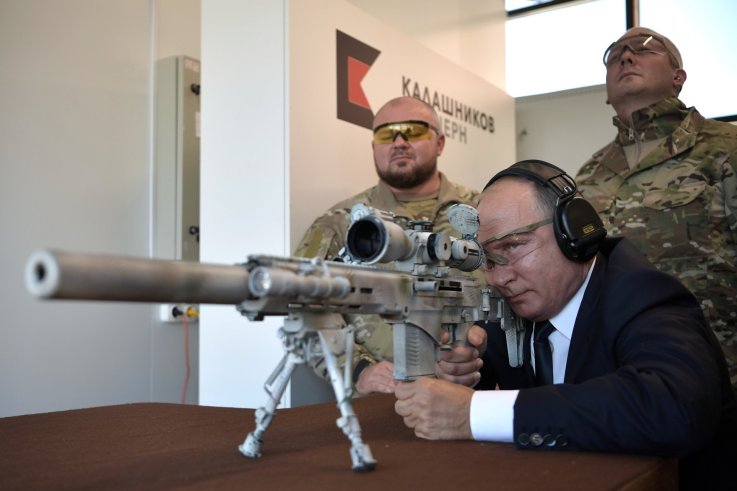 State-funded TV channel Rossiya 24 was breathless with admiration in its coverage of Putin's prowess at the Patriot Park firing range in the Moscow region.
"The target is set up almost at the maximum distance," it reported, adding that, like professional snipers, Putin pressed the trigger while holding his breath and between heartbeats.
"It can be seen that Putin does all this and without breathing, he presses the trigger," the channel said, pointing out that Putin "shot five times and hit the target more than half the time."
The president also laid the foundation stone for the future main cathedral of the Russian Armed Forces, Tass reported.
It is the latest photo opportunity for Putin, who was pictured in August on a hiking holiday in the Tuva region of Siberia, posing in a khaki outfit and looking every inch a man of action.
However, the photos released by the Kremlin did not show him with his shirt off like in 2009, when he was pictured riding a horse while bare-chested.
This week, Putin directed the Russian military to develop futuristic arms because his army needs to have weapons superior to those of rival troops.
"The key issue on our agenda is to form another long-term state program for armaments," he said on Wednesday.
Earlier this week, he dismissed British claims that he had poisoned his enemies. Anna Shapiro alleged that she had been targeted by "Putin's henchmen."
It follows Russia being blamed for the poisoning of former spy Sergei Skripal and his daughter Yulia. The Kremlin denies any involvement.
Video: Vladimir Putin Fires New Kalashnikov Rifle | World