The Wayne Coyne Guide to Oklahoma City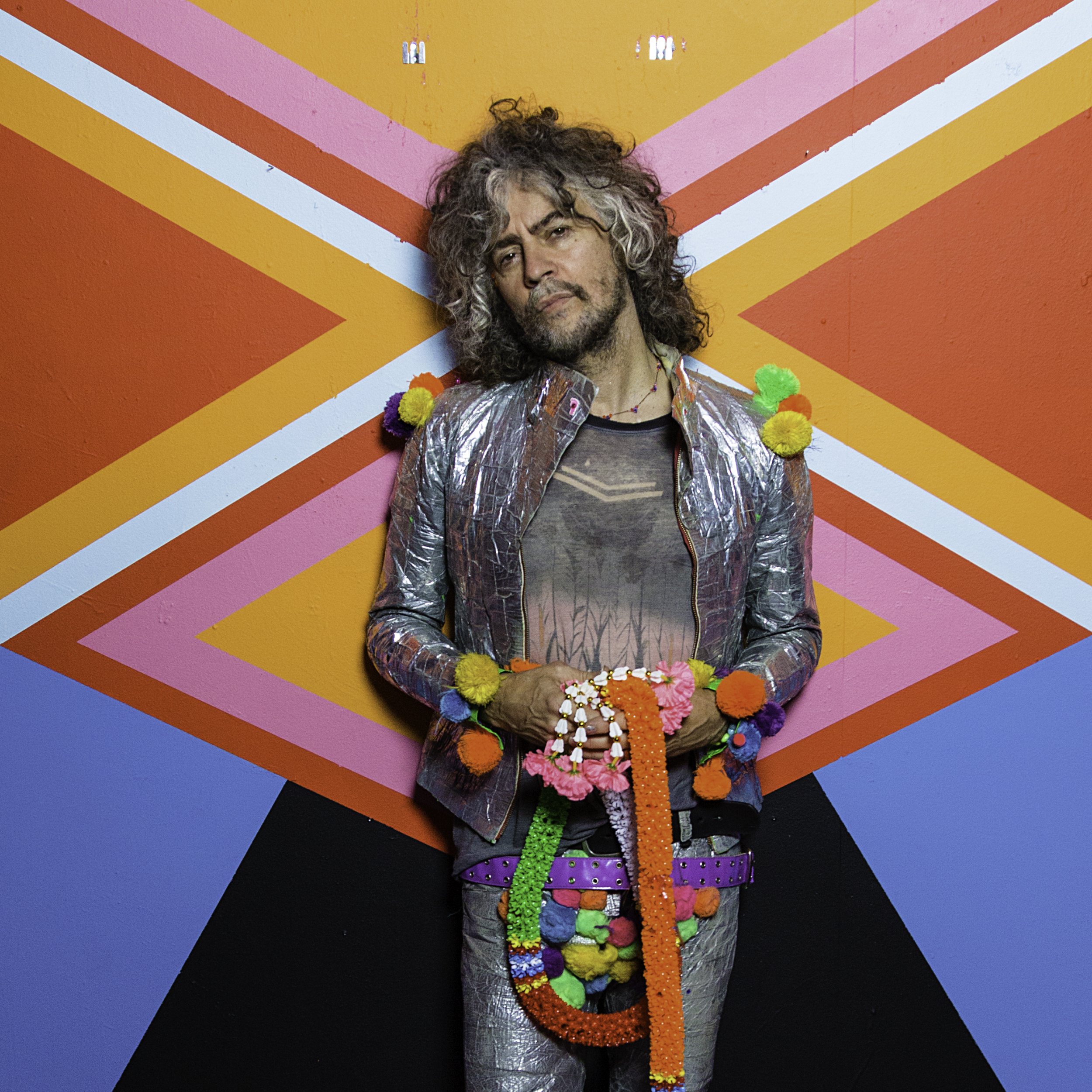 In early 2010, Wayne Coyne was caught on Google Street View taking a bath. Outside. In his backyard, in Oklahoma City. Next to a banner proclaiming, "Blob in the Bath."
"How bizarre is that!" Coyne says, when I ask him in 2017 about the incident, as if he doesn't understand how he'd wound up in the tub either. For some celebrities, this would be a humiliating invasion of privacy. For the Flaming Lips frontman, it was weirdly perfect: That's exactly how you'd imagine he spends his free time in Oklahoma City.
Coyne has lived in Oklahoma City since he was a kid, growing up with four brothers who delighted in marijuana, backyard tackle football and ragtag garage rock. The rocker now resides in a freakish compound of four houses outfitted with stone gargoyles, psychedelic props, a freestanding bathroom "pod" and—when the occasion calls for it—some frightful Halloween decorations. As the Lips have grown in fame and stature, Coyne and Oklahoma City seem to have developed an unspoken contract: He'll bring excitement and quirky cheer to the city in exchange for hometown support. In 2009, then–Oklahoma Governor Brad Henry declared "Do You Realize??" the state rock song. (The current Oklahoma Governor Mary Fallin opted not to renew Henry's exectutive order.) Several years later, Coyne inadvertently shut down Oklahoma City's airport while carrying a "non-explodable" grenade in his suitcase.
Related: The Dinosaur Jr. guide to western Massachusetts
Coyne was in New York this week to promote the Lips' new album, Oczy Mlody (and to weird out Jimmy Fallon). Although he was a long way from home, we asked him to give us a guide to his favorite places in Oklahoma City and beyond.
Cafe Kacao
3325 N. Classen Boulevard
Oklahoma City 73118
"Our favorite [place to eat] at the moment is this place called Cafe Kacao. It does an amazing—I don't know how authentic—but it's meant to be like if you knew a real Mexican family and you went [to their house] for a fancy breakfast. It's utterly packed every day with people trying to get this breakfast that they do."
Gorō Ramen + Izakaya
1634 N. Blackwelder Avenue #102,
Oklahoma City 73106​
"There's a ramen place in the neighborhood. I don't even know what it's called. We just say 'Ramen Place in the Plaza.' We're pretty easy to please. If a place serves booze and french fries [late at night], it's great to us. Whether it really is good or not."
Coyne's Oklahoma City compound
"Yesterday, as I was driving to Edmond, I got a message from—see, when you live in Oklahoma City, your UPS, FedEx, anybody who's delivering stuff, knows our house so well. And they have my number. So if something gets delivered, they'll text me and say, 'Hey, I left some stuff on your porch.' How great is that? So I had to turn around and come back and retrieve the stuff from my porch. As I pulled in, there was a car sitting in front of my house. I could tell it was fans. A lot of time people are driving from the East Coast to the West Coast or West Coast to East Coast. Since Oklahoma City is on I-40, they probably Google what are the restaurants and things. Our gallery, the Womb, will get mentioned. It's easy to find my house. Sometimes people will be there taking pictures of the house. I know that they wave to me."
But seriously, what was going on with that backyard bathtub?
"I have a big house. There was a house next door to us that we tore down once we bought it. [There was] a big empty lot there. Back then, I would do an elaborate Halloween setup. I had bought some old Porta-Potties for a movie thing that we were making. I had them left over in the backyard. I had a bathtub and I had these Porta-Potties. I forget what the theme was; I think it was 'Blobs in the Bath.' I don't do the big elaborate Halloween thing [anymore]. I was doing it back then because in my neighborhood there's a lot of little kids that don't really have anybody to have fun with on Halloween. When I was growing up, when I was five or six years old, my brothers and my friends, we'd run around the neighborhood and just do crazy shit all the time. These little kids, they don't have anybody that's having any fun with them. They would all come and help me scare all the other little kids on Halloween. As more people found out about it, everybody would come into my neighborhood to take a picture of me and their kids in their costumes. So I'd spend most of the night doing that."
Related: The Car Seat Headrest Guide to Seattle
Cain's Ballroom
423 N. Main Street
Tulsa, Okla. 74103
"Cain's Ballroom is up in Tulsa. Everybody plays there now. But it's famous because it's one of the seven places that the Sex Pistols played on the only American tour they did, I think in [1978]. The night that they played, it snowed really bad. A few of us were thinking we were going to drive to Tulsa. Then it snowed really bad and we were like—I was only like 15 or 16, but part of you thinks, 'Oh, they'll come around next year.' And then you're like, 'Wow.'"
Diamond Ballroom
8001 S. Eastern Avenue
Oklahoma City 73149
"A lot of the venues don't stick around for very long. There is one classic old place. It's called the Diamond Ballroom. It's in the old south part of town. It still is a great-looking old place. The last thing I saw there was a Henry Rollins spoken-word thing."
Blue Note Lounge
2408 N. Robinson Avenue
Oklahoma City 73103
"The very first place that [the Flaming Lips] played is a bar called the Blue Note. It was right next to where my dad's office-furniture warehouse was. We rehearsed in the back of my dad's warehouse. None of the really hip places in town would let us play. This bar, we asked them if we could play and they let us play. About four or five years ago, it was getting kind of run-down. I think the roof had collapsed. I don't think anybody could afford to fix it up. Some hipster real estate dudes, I think, got a hold of it. They wanted to make it this classic bar. They liked the fact that the Flaming Lips had played there. Every year, they approach us about doing a show there commemorating—I think it's been there 60 years or something now? We probably will eventually. It's still exactly like it was when we played there in 1983."
Classen-10-Penn of Oklahoma City
Coyne spent his childhood in the neighborhood and still lives there today. "It is hazardous," he says. "So I do warn people—especially if I know people are from out of town—'Don't go just walking around.' It's like, if you're just a dude and you've got kids in the car and you go two blocks further to the south than my house, you could get robbed or something. It's still pretty hazardous in that way. And gunshots, a couple nights a week. There's that sound you get used to that feels like, 'Fuck you, motherfucker! Bam!' You can tell it's a handgun. I've lived in that neighborhood my whole life. You get pretty used to it."
Long John Silver's
Various locations​
Coyne worked as a fry cook at this Oklahoma City seafood-restaurant chain for more than a decade. He started there in high school and stuck with the job until 1990—the year the Lips released their fourth album. (The restaurant would allow him to take weeks or months off to go on tour.) Sometimes the job got boring: "I'd dump ashtrays literally right into the coleslaw and run it through the cutter, just to see if people would notice," Coyne said in 2009. But it was also the site of a formative near-death experience: Long John Silver's was held up at gunpoint one day, and Coyne believed he was finished. Afterward, "we were celebrating like we had just won a million dollars," Coyne recalled in 2002. "The idea of, we are alive and isn't it a fucking great thing? I think it changed me." If you go, just don't eat the coleslaw.