Collectively, we represent people across a range of religious traditions: a bishop of the Roman Catholic Church, the president of the National Association of Evangelicals and the president of the Southern Baptist Convention, the nation's largest evangelical denomination.
We are a diverse group of Christian leaders. We also have significant theological and political differences, as do the congregants whom we lead. But for all of our differences, we agree on the urgency of immigration reforms—and polls show, so do the vast majority of Americans, including super-majorities of Republicans, Democrats and Independents. As President Joe Biden rightly observed in his first State of the Union address, we can and should both improve border security and fix the immigration system.
Despite the inside-the-Beltway sentiment that immigration is a polarizing issue, our experiences within our local congregations are consistent with recent polling that found Americans largely agree on some core immigration issues—and a remarkable 93 percent of all registered American voters said they're frustrated by politicians making promises on immigration policy reforms but failing to work on a bipartisan basis to actually pass legislation.
It's probably no surprise that 92 percent of Republicans say they want strengthened border security. But it turns out 72 percent of Democrats and 82 percent of Independents do, too. President Biden should clearly affirm his own commitment to secure borders, which he might presume is obvious but which many voters have not heard him say. He should then point to common sense steps that could bring order to the humanitarian crisis at the U.S.-Mexico border, keeping out those seeking to do harm, while preserving our moral and legal responsibility to offer refuge to those fleeing persecution and treating everyone humanely.
Americans are also remarkably unified in their recognition that immigrants play an essential role in our economy, a reality the pandemic and recent labor shortages in various sectors have made visceral for many Americans. Nowhere is this more urgent than in American agriculture, which has long depended heavily on immigrant labor. Three-quarters of Americans—including most Republicans, most Democrats and most Independents—want Congress to pass streamlined visa systems to facilitate lawful migration and allow essential undocumented agricultural workers to earn legal status.
It's perhaps no surprise that most Democrats support a path to citizenship for Dreamers—immigrants brought to the U.S. as children, many of whom have temporary legal protections under the Deferred Action for Childhood Arrivals (DACA) program. But it turns out most Republicans and Independents also support this pathway.
What most Americans probably do not realize is just how close we are to the DACA program being dissolved—throwing the lives of 650,000 individuals into turmoil, not to mention their families, the faith communities many are an integral part of and our national economy, which cannot afford to lose authorized workers at a time when there are roughly 4.4 million more job openings than individuals looking for work.
That's because, last summer, a federal judge found the DACA program to be unconstitutional. That court temporarily enjoined the effects of this finding on current DACA beneficiaries, allowing them to continue to live and reside lawfully, renewing their status as necessary, but the judge could withdraw that stay at any time. And even if he keeps it in place, it's very likely, based on past rulings, that the Fifth Circuit Court of Appeals and then the U.S. Supreme Court will eventually affirm the lower court's assessment that DACA was illegally created and end the program altogether.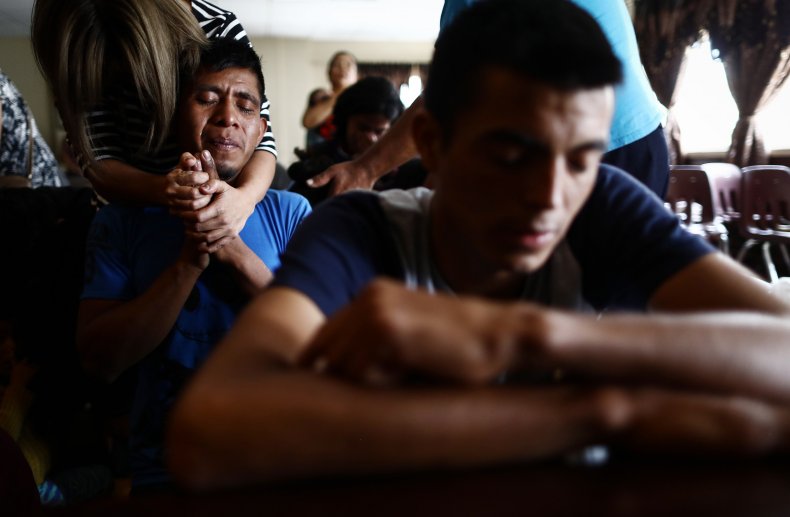 That would mean 650,000 individuals losing their work authorization and thus their jobs and ability to lawfully provide for their families—including an estimated 250,000 U.S.-born children. Those Dreamer parents could even be at risk of deportation, which could mean separating parents from children on an unimaginable scale. Congress should act immediately to avoid this looming tragedy.
These priorities—improvements to border security and management, reforms to ensure an adequate, lawfully-authorized agricultural workforce and a path to citizenship for Dreamers—are remarkably popular, supported by 79 percent of registered voters overall—including 82 percent of Catholics, 82 percent of all evangelical Protestants and 81 percent of white evangelical Protestants. Bipartisan bills separately addressing each of these dynamics have already been introduced in Congress. Congress should package them together—which will upset a few on the fringes of both parties but is likely the only way to reach the thresholds necessary to pass—and send them to the president's desk for his signature.
While the polling data is compelling, as faith leaders, we do not look to opinion surveys to know what is right and just: We look to our scriptures. Despite our disagreements on how to interpret the scriptures—and even what texts are canonical—we agree that immigrants are made in God's image and worthy of respect. We all affirm that God has ordained the government to maintain order, which includes systems to keep out those seeking to do harm while offering refuge to those fleeing harm. And we see God's explicit love and concern for the immigrant repeated throughout the Bible, with the "foreigner" often cited alongside the orphan and the widow as individuals of particular vulnerability, whom God loves and whom he calls his people to love.
Most importantly, Jesus Christ himself said that whatever we do to one of "the least of these"—including a stranger looking for welcome—we do unto him and that he will judge the nations on account of their response.
Our nation is divided. But despite the inside-the-Beltway popular sentiment, addressing our nation's long-dysfunctional immigration policies can be a unique way to heal division. We're praying that our president and our congressional leaders will lead us well.
Bishop Mario Dorsonville is an auxiliary bishop for the Archdiocese of Washington and chair of the U.S. Conference of Catholic Bishops' Committee on Migration.
Walter Kim is the president of the National Association of Evangelicals.
Ed Litton is the president of the Southern Baptist Convention.
The views expressed in this article are the writers' own.