The Weeknd will do something unusual for the Super Bowl Halftime Show this coming Sunday. Though "unusual" is a word typically associated with his recent appearances, which has seem him acting out a story involving facial bandages and reconstructive surgery, in this case it will be how his actual performance will be conducted: He and the musicians will be performing entirely live.
While speaking with Entertainment Tonight, the Halftime Show's executive producer Jesse Collins revealed The Weeknd's plans of placing less precedence on spectacle. Instead, she said, he will focus more on the music and thus recreate his songs entirely live.
"It's gotta be about entertainment from a truthful perspective. Get away from the massive sets, all the hoopla, the flying this and that. And get to the core of what makes an artist special," she said.
Outside of possible performances on awards shows, this Sunday may also be the only opportunity for fans to watch The Weeknd live in 2021. On Wednesday morning, he announced an extensive worldwide After Hours tour won't kick off until January 14, 2022, which will include stops originally scheduled for this year but were pushed forward to allow more time for the pandemic to hopefully subside.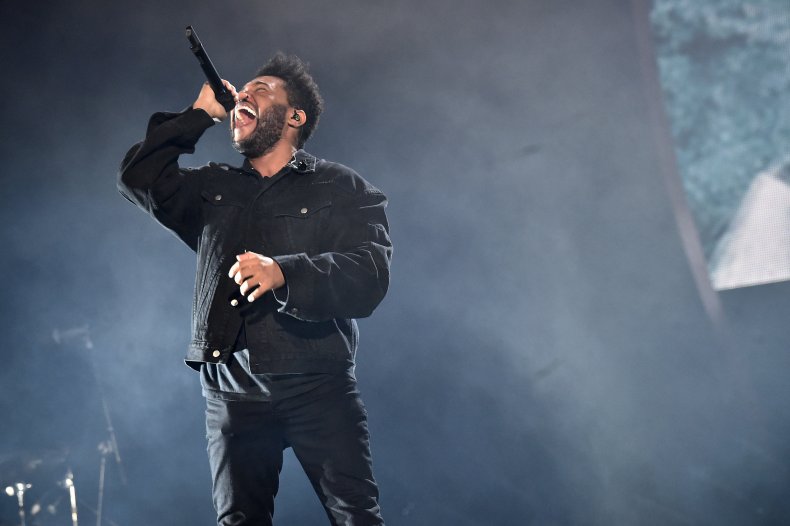 Though a musical act performing live at the Super Bowl may not sound like news on the surface, the fact is most performers in recent years haven't performed entirely live during the show. The NFL and the Halftime Show producers rarely offer much comment in regards to the exact nature of what the musicians do, but it's been widely known for some time that most acts do a combination of live singing with prerecorded elements. That may mean lip-syncing along to those elusive high notes that become ever harder to reach while dancing intricate choreography, or it could describe miming entire songs with only speaking live on-mic between songs to address the crowd.
The reasons for not performing live during the Super Bowl are many. Some artists cite not being able to do a proper sound check immediately before being trotted out for halftime. Others have blame weather conditions when the event is held outdoors, where cold temperatures or rain don't favor vocals or cause instruments to go out of tune.
Last year's co-headliners Jennifer Lopez and Shakira never acknowledged whether or not they were actually singing live, but as social media users pointed out, their mouths were not always aligned with the singing. That show came one day after Lady Gaga performed at a pre-Super Bowl concert and demanded of J.Lo and Shakira: "I better hear no lip-syncing tomorrow!" Gaga, for her part, notably sang live during her own Halftime Show performance in 2017. Perhaps fearing she overstepped with her "no lip-syncing" comment, she later exclaimed to the audience during the same show that night how she loved Shakira and Lopez.
Some artists readily admit to use some "help" during their Super Bowl performances. Katy Perry, who was the halftime star in 2015, fessed up to using pre-recorded vocals before the show even happened. In a press conference leading up to the show, she said, "I think a lot of it will be live," though offered no further breakdown.
Two years before Perry, Beyoncé proclaimed to fans that she would do the show live beforehand, even though some fans wondering what was live and what wasn't. (The Twitterverse will always have doubters, of course.) That performance came on the heels of her admitting to lip-syncing the national anthem at Barack Obama's second presidential inauguration.
Relying on prerecorded vocals has become more standard in recent years. Following the scandal of Janet Jackson's "wardrobe malfunction" in 2004, the show began booking what was perceived as safer acts, namely Boomer-era rock legends like Paul McCartney, The Rolling Stones, Tom Petty and the Heartbreakers, Bruce Springsteen and The Who.
Though these artists seemed to actually be playing live, the show's producers faced backlash for not having enough contemporary acts. But contemporary often means dance- or electronic-focused musicians, who are more reliant on studio effects.
This has led to a "are they live or not?" debate that rages on every year on social media and even in some mainstream press outlets. Some years, that debate gets overshadowed, like in 2019. While headliners Maroon 5 were applauded for what appeared to be live vocals on the part of frontman Adam Levine—though some questioned if the band was actually playing—the singer also drew sharp criticism for the double standard of opting to perform shirtless while Janet Jackson drew outrage for her unintended flashing.
Perhaps the most notorious miming incident occurred in 2014 during Bruno Mars' set. Special guests the Red Hot Chili Peppers joined the R&B singer onstage for a run through one of their hits, though viewers at home quickly noted that the band's instruments were not plugged in to anything.
Bassist Flea owned up to the fact that they weren't really playing, while also throwing the NFL, and potentially other musicians, under the bus.
"When we were asked by the NFL and Bruno to play our song 'Give It Away' at the Super Bowl, it was made clear to us that the vocals would be live, but the bass, drums and guitar would be pre-recorded. I understand the NFL's stance on this, given they only have a few minutes to set up the stage...the NFL does not want to risk their show being botched by bad sound, period," he said in a statement.
The Weeknd had an easy out to not perform live, should he have chosen not to do so. Given the ongoing pandemic, the Canadian star could have easily taped the entire show beforehand and even have elected to do so in another venue. With so many health precautions in place, few fans likely would have faulted such a decision.
In deciding to perform live, The Weeknd will no doubt have the specter of Prince looming over him. The Purple One performed a barnstorming set during his 2007 halftime gig, which many considered one of the best ever. The clouds began storming down on Prince's band during his set, though he resplendently stood upfront and played—live—a memorable solo on "Purple Rain."
The Weeknd, and perhaps no one, may never deliver that sort of lauded performance. However, he has already earned the respect of many before even setting foot on stage.