'Well-Timed Stocks': AOC and David Perdue Spar on Twitter Ahead of Georgia Runoff Elections
Democratic New York Congresswoman Alexandria Ocasio-Cortez fired back at Republican Georgia Senator David Perdue Saturday, after he tweeted an article detailing policies she hopes to enact if Democratic senators are elected in the Georgia runoff election in January.
"@AOC, our offer still stands - come on down to Georgia, we'll buy your ticket!" Perdue tweeted, referring to his previous remarks on Fox & Friends last month inviting the congresswoman to Georgia to debate him on the Green New Deal.
In response, Ocasio-Cortez cited Perdue's controversial record of trading stocks during his time in office, which was investigated for possible insider by the Justice Department earlier this year.
"And what money are you going to buy that ticket with, Perdue? The curiously 'well-timed' stocks you've cashed in on while in office?" she tweeted before following up with a link to a November New York Times article revealing the details of the Justice Department's inquiry on Perdue.
The investigation was prompted after Perdue sold over $1 million worth of stock in Cardlytics—the financial company where he previously sat on the board— following an email from the CEO referencing "upcoming changes," according to the Times.
The Justice Department closed the case this summer, citing no meaningful nonpublic information had been included in the conversation. In a campaign ad last month, Perdue claimed he was "totally exonerated" by federal overseers after his Democratic Senate challenger Jon Ossoff accused Perdue of "using his office to enrich himself" in a news conference.
New scrutiny came last week when the Times reported that Perdue made 2,596 trades— accounting for nearly one-third of all senators' trades in the past six years—during his first term, including in FireEye, a federal cybersecurity contractor, while he sat on the Senate cybersecurity subcommittee.
It was also reported that the senator bought and sold coronavirus-sensitive stocks, including Pfizer and DuPont, a PPE manufacturer that he rarely traded prior to this year. Although Perdue's office told the Times that he didn't attend the Senate briefings on the coronavirus in January, several of those stocks were the same ones that prompted a Justice Department investigation into trading by fellow Georgia Republican Senator Kelly Loeffler, as well as GOP Senators Richard Burr of North Carolina and James Inhofe of Oklahoma and Democratic Senator Dianne Feinstein of California. All inquiries except for Burr's have since been closed by the Justice Department.
"I thought "free" stuff was your thing?" Perdue tweeted in response to AOC's comeback. "Either way, I'm in Georgia talking to voters. We'd love to have you."
In his Fox & Friends interview, the senator criticized Ocasio-Cortez, claiming she "wants the Green New Deal without compromise."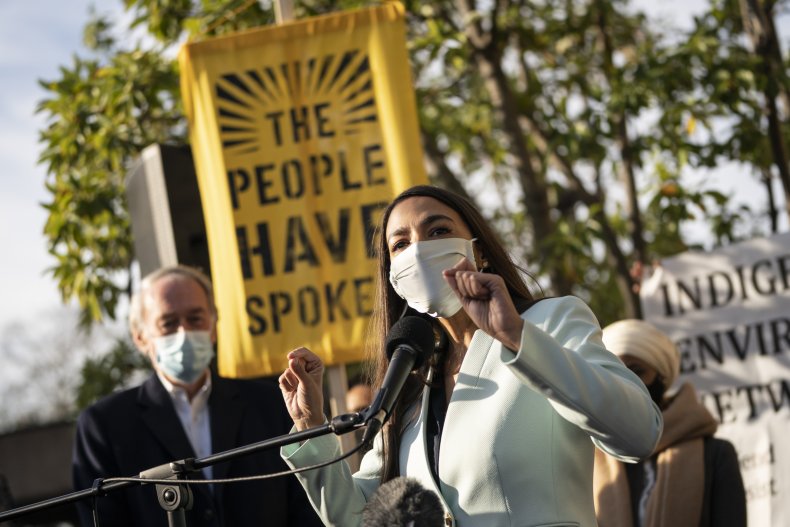 Loeffler accused Ocasio-Cortez of wanting to "lock down our economy, lock the American people in their homes, and put the government in charge of every single part of our lives" in a tweet last month, adding that it's "no wonder she supports" Loeffler's Democratic challenger Rev. Raphael Warnock.
Ocasio-Cortez fired back at the GOP senator, tweeting, "Disclosures show you seem to have gifted yourself private jet on public dime & exploited corrupt tax loopholes to do it" along with an article from Salon.
The two hotly contested Georgia runoff races between Perdue and Ossoff, as well as Loeffler and Warnock, will likely determine the Senate majority come January 5, just weeks before President-elect Joe Biden is expected to take office. Perdue skipped a debate that was scheduled between him and Ossoff this past Sunday.
In an Instagram Live on Thursday, Ocasio-Cortez detailed the objectives she and progressive House Democrats hope to achieve if Ossoff and Warnock win the runoffs.
"If we win these races in Georgia, we'll be able to get people COVID relief without the funny business," she said. "If we win Georgia, we can help transition this country to a $15 minimum wage; we can make sure that we expand people's access to health care."
Last year, Ossoff explained his admiration of progressive policies like Medicare for All and a Green New Deal, telling the Times that he commends Senators Bernie Sanders and Edward Markey, as well as Ocasio-Cortez, for supporting these policies. However, he said the structure of these policies don't align with his own.
He reiterated those remarks in an appearance on Axios on HBO last month, where he stated he doesn't support the Green New Deal, Medicare for All, expanding the Supreme Court, defunding police or abolishing ICE.
Newsweek reached out to the offices of Ocasio-Cortez and Perdue for comment.