'We're Shutting the Party Down': Rochester Protesters Take Over Restaurants in Third Night of Protests
A video circulating on social media captured a group of Black Lives Matter (BLM) protesters as they marched through Rochester, New York, taking over restaurants by forcing diners up from their tables on the city's third night of demonstrations.
The footage was captured and posted to Twitter Friday night by user "ScooterCasterNY," a multimedia journalist with FreedomNews TV. It shows dozens of protesters, chanting "Black lives matter," climbing up the stairs of a restaurant as outdoor diners look on. (WARNING: Video contains some strong language.)
Glass can be heard shattering in the background as protesters approach the diners, seemingly requesting that they leave. One woman shouts, "Go, go," as she begins to run from her table when something shatters behind her.
"There's no need to run. Nobody's hurting you," a protester says. "We're shutting the party down."
The video shows protesters throwing chairs onto the restaurant's upper patio, smashing the plates and cups left on the tables.
"No, no. Don't throw sh*t," shouts a man standing on the patio above the crowd.
In another part of the footage, protesters chanting, "We shut sh*t down," enter the patio of a different restaurant and approach diners. One protester, holding a sign, comes up to a table of six women and appears to smash their glassware.
The two restaurants featured in the video are Swan Dive and Ox and Stone, located across the street from one another, ScooterCasterNY told Newsweek.
The journalist witnessed staff members at a neighboring restaurant watch what had happened and move all their things indoors.
"They had a discussion with someone from the group, I didn't hear what the group said but the restaurant stated 'We have to protect our business,'" ScooterCasterNY told Newsweek.
Newsweek contacted Swan Dive and Ox and Stone for comments, but did not hear back in time for publication.
Both restaurants are located on Alexander Street in downtown Rochester, near the intersection of East Avenue. Another incident followed at the same intersection a few hours later, where video footage posted to Twitter early Saturday morning captured a driver firing a can of pepper spray at a crowd of BLM protesters.
Screams are heard as someone in a red sedan drives through the group, a heavy cloud of yellow spray launching from the driver's open window. As the car turns right, the driver appears to strike a protester. Someone wearing a white hoodie and black pants bounces off the car's windshield and falls to the ground, as other protesters rush to help them.
While only one car is seen in the video, local journalist Dan Schrack tweeted four photos Saturday morning, writing that "two cars just Pepper sprayed and hit demonstrators with their vehicles."
Newsweek contacted the Rochester Police Department (RPD) for comment, but did not hear back in time for publication.
The RPD said in a statement to the Democrat & Chronicle, a local newspaper, that "upwards of 2,000 people" were walking through the city's downtown area Friday night in the third day of protests following the release of graphic footage depicting the arrest of Daniel Prude.
The protest grew violent, with some members of the crowd throwing rocks, bottles and other forms of debris at the officers, according to the statement. RPD officers "utilized pepper balls and pepper spray" to disperse the crowd. Later, after midnight, officers "deployed tear gas" to disperse another crowd, where some members had set small fires and hurled commercial grade fireworks "directly at officers."
As a result of Friday's protests, 11 people were arrested and three officers were being treated for injuries, the Democrat & Chronicle reported.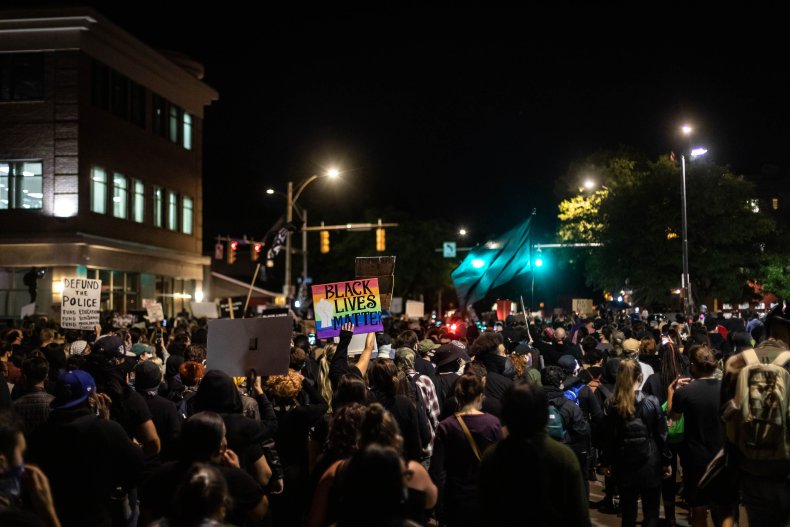 Protests have occurred daily in Rochester since a video depicting Prude's arrest in March was released Wednesday. Prude, a 41-year-old Black man from Chicago, was visiting family in Rochester when he was apprehended by police officers after members of his family believed Prude was suffering a mental health crisis.
The video, which was obtained by Prude's family via a public records request, shows Prude naked as officers tell him to get on the ground and place his hands behind his back. Prude begins to shout, and officers place a spit hood over his head. An officer then holds Prude's head against the street after complaints that Prude was still attempting to spit. Another officer places a knee in Prude's back.
Prude remained on life support for seven days before his death on March 30, which was ruled a homicide caused in part by "complications of asphyxia in the setting of physical restraint," according to an autopsy report.
Rochester Mayor Lovely Warren announced Thursday that seven officers involved in Prude's arrest have been suspended.
"I have never shied away from taking action in holding our police or anyone that fails in their duties in our community accountable," Warren said during a news conference. "That is why I am suspending the officers in question today."
Those who gathered in Martin Luther King Jr. Memorial Park Friday discussed what they would be marching for, including justice for Prude and his family, the resignations of Warren and RPD Chief La'Ron Singletary, and the reformation of the police's role in Rochester, the Democrat & Chronicle reported.