Were Trump Supporters Asked to Leave DeSantis Book Signing? What We Know
A security guard asked supporters of former President Donald Trump to leave as they were protesting outside a book signing event for Florida Governor Ron DeSantis on Tuesday.
DeSantis, Trump's potential 2024 GOP presidential primary opponent, signed copies of his new book, The Courage to Be Free: Florida's Blueprint for America's Revival, on Tuesday afternoonat a Books-a-Million store in Leesburg, at Florida's Lake Square Mall.
Far-right conspiracy theorist and failed congressional candidate Laura Loomer shared videos to Twitter of herself and other Trump supporters being confronted and asked to leave by a man wearing a security guard uniform.
Some of the videos shared by Loomer falsely referred to the guard as a "police officer," although others noted that he was a security guard who had called police on the protesters. A Leesburg Police Department patrol car can be seen in one of the videos.
It is unclear whether the guard was working for DeSantis, the mall, the bookstore or someone else. He was wearing a bracelet that declared his own allegiance to Trump, while accusing Loomer and the other protesters of being like "the far left."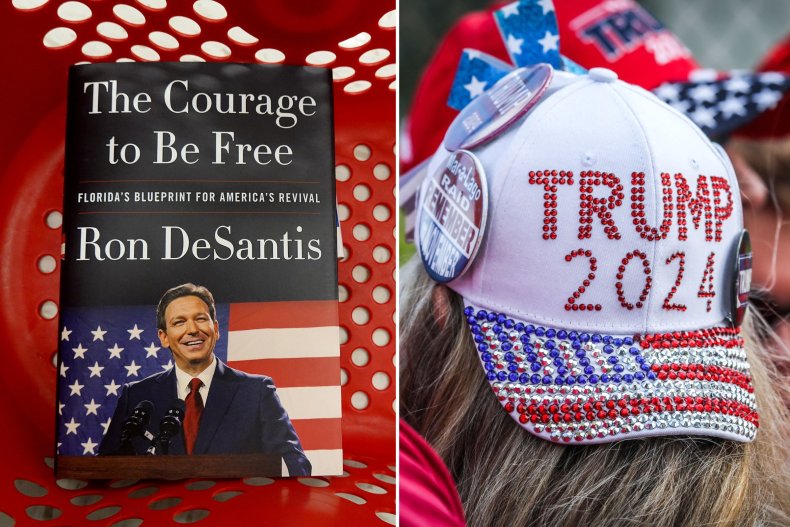 "You're acting like the far left," the guard says in one of the videos. "They told me to say anybody wearing Trump has to go right now ... During the signing. Well, I'm sorry guys, I have to call LPD now."
"Listen, I am a Trump supporter," he adds in another video. "I'm doing my job, dude. You're on private property, you need to leave."
Conservative commentator and former Newsmax host John Cardillo was one of several on Twitter who questioned whether the incident could have been "fake" or "staged."
"Sorry but this looks staged," Cardillo tweeted in response to one of Loomer's videos. "Very easy to call the bookstore and confirm whether or not this was their security guard."
"Then call them John!" replied Loomer. "You are insane to accuse me of hiring a fake security guard. I would never do something like that. This is a real video and I have even more videos that I haven't posted from when he called the actual Leesburg police and they threatened to arrest us."
Newsweek called the bookstore to inquire about the guard but was referred to the larger Books-a-Million company, which had not responded to request for comment at the time of publication.
Newsweek has also reached out to Lake Square Mall, the Leesburg Police Department and the office of DeSantis for comment.
Tensions between Trump and DeSantis supporters have been intensifying amid speculation that the former allies will be pitted against each other in 2024, although the Florida governor has yet to officially announce his candidacy.
Trump himself has recently been ramping up his rhetoric against DeSantis, repeatedly referring to the governor as "Ron DeSanctimonious" in posts to Truth Social.
The former president also recently amplified a false claim that Democratic mega-donor George Soros endorsed DeSantis and shared a rumor that he was guilty of "grooming" teenage girls with alcohol while working as a teacher in the early 2000s.