Trump Amplifies False Rumor George Soros 'Endorsed' Ron DeSantis
Former President Donald Trump is spreading a false rumor that claims Democratic mega-donor George Soros, who frequently features in right-wing conspiracy theories, has "endorsed" Florida Governor Ron DeSantis for president.
In a Truth Social post on Tuesday, Trump linked to an article from far-right misinformation site The Gateway Pundit, featuring the headline "The Kiss of Death—Florida Governor Ron DeSantis Endorsed by George Soros."
The former president pushed the endorsement claim after months of launching increasingly vitriolic attacks on his potential 2024 challenger, whom he now often refers to as "Ron DeSantimonius."
The claim and the article shared by Trump are based on a video clip of the 92-year-old billionaire weighing in on the 2024 election during a recent speech at the Munich Security Conference.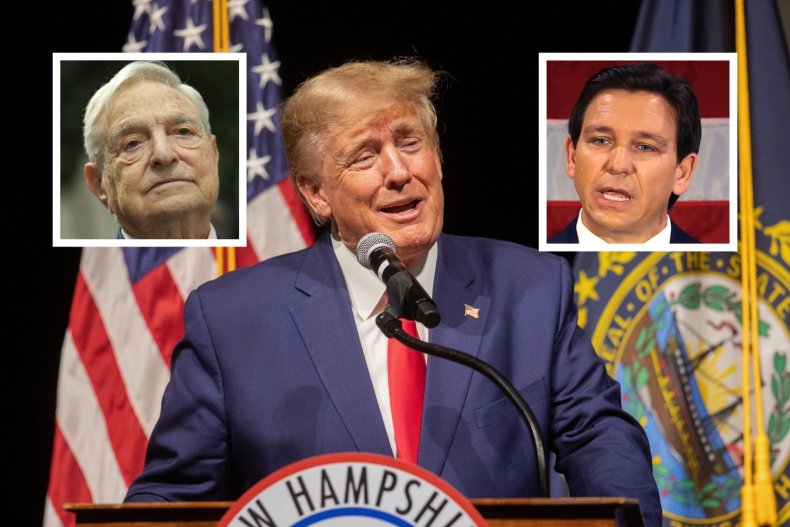 The clip—which rumbled MAGA world while making the rounds on social media last week—does not show Soros expressing his support for DeSantis, who has yet to officially announce his candidacy despite widespread speculation that he will enter the race.
Instead, Soros said that he hoped DeSantis would defeat Trump in the Republican primary and prompt the "pitiful" former president to be overcome by his "narcissism" and launch a run as an independent instead.
Although Soros did call DeSantis "shrewd, ruthless and ambitious," his comments clearly did not amount to an endorsement. Soros suggested that DeSantis and a newly independent Trump would split the conservative vote and hand an easy victory to President Joe Biden or another Democratic candidate.
"My hope for 2024 is that Trump and Governor DeSantis of Florida will slug it out for the Republican nomination," Soros said during the conference. "Trump has turned into a pitiful figure, continuing mourning his loss in 2020. Big Republican donors are abandoning him in droves."
"DeSantis is shrewd, ruthless and ambitious," he continued. "He is likely to be [the] Republican candidate. This could induce Trump, whose narcissism has turned into a disease, to run as a third-party candidate. That would lead to a Democratic landslide and force the Republican Party to reform itself."
In a Truth Social post earlier on Tuesday, Trump argued that Florida would be "great" regardless of DeSantis, while also praising former Florida Governor Charlie Crist—DeSantis' Democratic 2022 election opponent—for having "very good numbers."
"Florida was doing GREAT long before Ron DeSanctus got there," Trump wrote. "People are fleeing from New York to Florida (and other places) because of high TAXES and out of control CRIME, not because of Governor (thank you President Trump!) DeSanctimonious."
"Rick Scott did great, and even Charlie Crist had very good numbers," he added. "SUNSHINE AND OCEAN, very alluring!!!"
Tuesday was not the first time that Trump took to Truth Social to spread potentially damaging rumors about DeSantis. Earlier this month, the former president used the platform to boost an allegation that the governor was guilty of "grooming" underage girls while working as a high school teacher in Georgia.
Newsweek has reached out to the office of DeSantis for comment.