Trump's Praise for DeSantis' Democratic Opponent Rankles MAGA World
Former President Donald Trump on Tuesday criticized Republican Governor Ron DeSantis of Florida, but a compliment he paid to a Democrat in a message about DeSantis upset some of his supporters.
In two posts on his Truth Social platform, Trump railed about the coverage DeSantis recently received on Fox News during the former president's recent trip to New York City. One of the messages included an aside about Charlie Crist, who ran on the Democratic ticket against DeSantis in Florida's gubernatorial race last year.
"Florida was doing GREAT long before Ron DeSanctus got there. People are fleeing from New York to Florida (and other places) because of high TAXES and out of control CRIME, not because of Governor (thank you President Trump!) DeSanctimonious. Rick Scott did great, and even Charlie Crist had very good numbers. SUNSHINE AND OCEAN, very alluring!!!" Trump wrote.
"Amusingly, Trump would rather credit Charlie Crist (who is now a Democrat and three-time loser) than give DeSantis any credit or dare to mention the guy who actually began it all, Jeb Bush," Jeffrey Blehar, a podcaster and writer for the conservative magazine National Review, tweeted.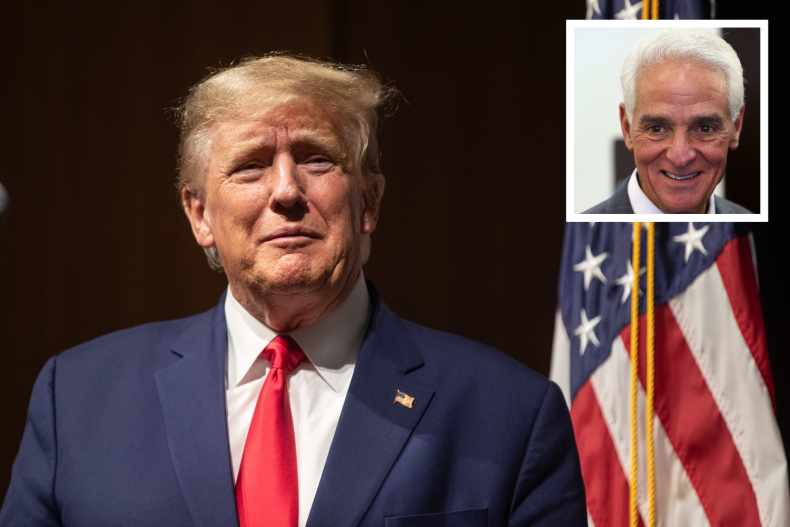 Though Crist was a Republican during his 2007 to 2011 stint as Florida's governor, it was not lost on many social media users that Crist unsuccessfully ran as a Democrat last year.
"So after Trump claimed Florida was closed during Covid for far too long (after praising DeSantis at the time) and later somehow implied the governor was a groomer of teen girls, the latest line of attack is to ... praise Charlie Crist? This ain't 2016 and these aren't landing," Fox News contributor Joe Concha tweeted.
"Is Trump actually trying to lose support at this point? Is this what 5D chess without a full set looks like? People want competency and that's exactly what we have in Florida," Dave Rubin, a noted Trump supporter in 2020 and host of the conservative talk show The Rubin Report, tweeted.
"Donald Trump: Charlie Crist cheerleader," former Newsmax host John Cardillo wrote.
"As a lifelong Indy who wrote in my English bulldog in 2016, then voted for Trump in 2020 because he *did* do some good things. I'm done. I will not vote for him in 2024, even if he's the candidate," political blogger Kimberly Morin posted on Twitter.
Conservative filmmaker Dinesh D'Souza tried to strike a conciliatory tone when addressing Trump's messages about the Florida governor.
"I don't think Trump needs to attack DeSantis. Nor should he. Makes DeSantis look like the presumptive nominee, when Trump clearly is," D'Souza tweeted. "Trump and DeSantis ought to be making an alliance which is the best way to achieve both of their ambitions. Also best for the GOP and the country!"
Newsweek has reached out to Trump and DeSantis for comment.