Did George Soros Endorse Ron DeSantis? Clip Sends MAGA Into a Tizzy
Billionaire George Soros recently appeared to praise Florida Governor Ron DeSantis, prompting many conservative voices to call it a political endorsement.
On Thursday, Soros, 92, spoke at the Munich Security Conference and mentioned a potential 2024 Republican primary election for the presidency between DeSantis and former President Donald Trump.
"My hope for 2024 is that Trump and Governor DeSantis of Florida will slug it out for the Republican nomination," Soros said in a video clip shared widely on social media. "Trump has turned into a pitiful figure, continually bemoaning his loss in 2020. Big Republican donors are abandoning him in droves. DeSantis is shrewd, ruthless and ambitious. He is likely to be the Republican candidate."
The comments by Soros, who has been a big contributor to the Democratic Party in recent elections, come amid ongoing rumors about a potential 2024 presidential run by DeSantis.
The Florida governor has not yet officially announced a plan to run in next year's election, but if he does, he will become Trump's second major Republican challenger, following the recent announcement by Nikki Haley, a former South Carolina governor and United Nations ambassador.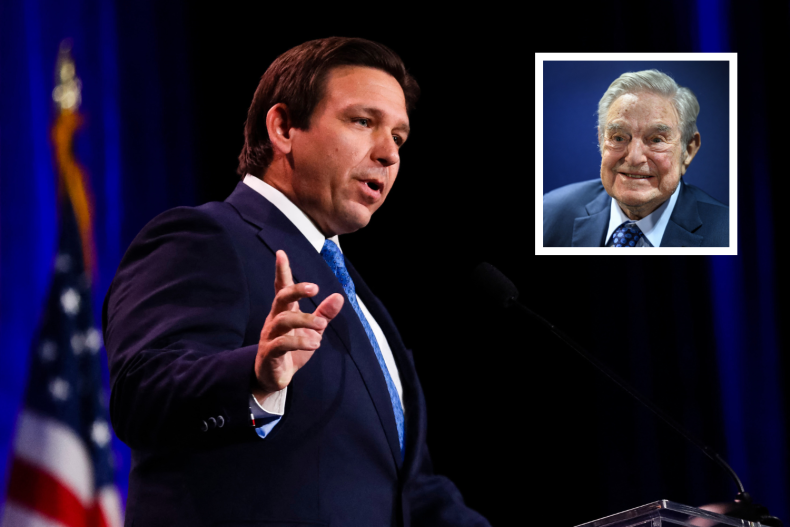 Shortly after the clip of Soros' comments was shared on social media, several conservative and MAGA voices chimed in to say that the remarks were a political endorsement of DeSantis over Trump.
Former Arizona Republican gubernatorial candidate Kari Lake shared a story from the Gateway Pundit with a headline that said, "The Kiss of Death - Florida Governor Ron DeSantis Endorsed by George Soros (VIDEO)"
Former congressional candidate and far-right activist Laura Loomer also responded to the video, saying, "In case you need any more of a reason to not support Ron DeSantis, George Soros is now rooting for him. Speaks volumes that Soros wants DeSantis to be the nominee. PS: How does he know Trump will 'lose'? Is there already a plan to steal 2024 from Trump?"
However, some other social media users pointed out that Soros' comments were not a political endorsement but instead just praise for the Florida governor over Trump.
Sebastian Gorka, a former adviser to Trump and conservative commentator, wrote, "I get George Soros attacking President Trump, but praising DeSantis?"
Conservative pro-Trump radio host Bill Mitchell wrote, "GEORGE SOROS DID NOT ENDORSE DESANTIS! I've been hearing this laughable rumor. No, SOROS predicted DeSantis would defeat Trump for the nomination and then Trump would run 3rd party, allowing the Democrat candidate to win. Huge difference between that prediction and an endorsement."
In another tweet, Mitchell wrote, "I've seen several Trump supporters post that 'George Soros has endorsed DeSantis.' Not true, he merely 'predicted' DeSantis would win because he is smarter and less narcissistic than Trump, which is actually true."
Jenna Ellis, a former legal adviser to Trump, shared a fact-check article in a tweet saying, "FACT CHECK: Soros did not endorse Ron DeSantis. Lying about DeSantis isn't going to help Trump."
Ryan Fournier, the founder of Students for Trump, responded to Lake's tweet and said, "He also said that his hope is for DeSantis to run against Trump and ultimately win the Republican nomination. I support the guy who is hated by Soros. #Trump2024."
Newsweek reached out to DeSantis' office for comment.