Why Donald Trump Will Be Delighted Nikki Haley Is Running Against Him
While still very early in the GOP presidential primary season, there are no suggestions that Donald Trump is worried about the prospect of facing off against Nikki Haley.
Haley is the former governor of South Carolina and one-time U.S. ambassador to the UN in the Trump administration. She became the first serious Republican challenger to confirm they will go against the former president for the GOP's 2024 nomination.
Haley looks set to be an also-ran candidate in the Republican primary, with polls often suggesting she receives low-single-digit figures in terms of support from GOP voters.
In response to her campaign announcement, Trump reverted back to his 2016 tactic in mocking his primary challengers. Haley's polling numbers are just one line of attack that the former president has in his chamber.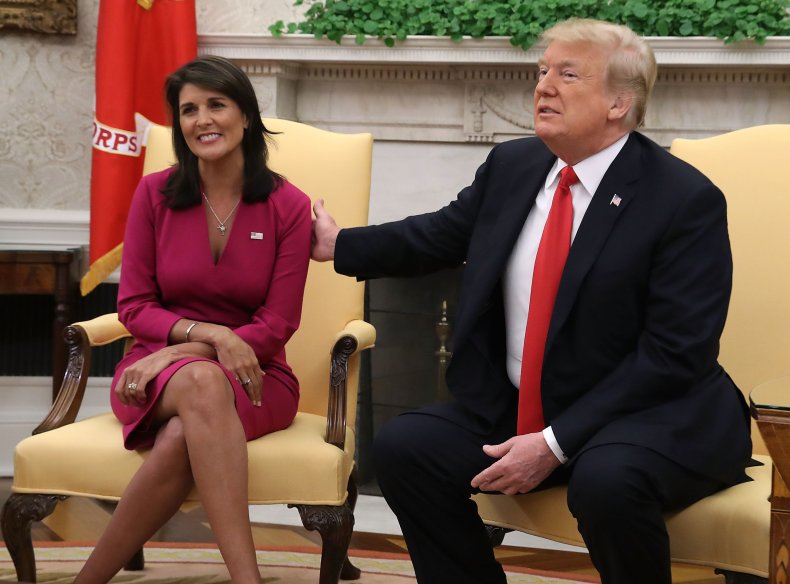 "Nikki Haley had a hard time making the decision to run for President because she very publicly stated that she 'would never run against the President,'" Trump posted on Truth Social on Wednesday.
"I told Nikki to follow her heart, not her ambition or belief. Who knows, stranger things have happened. She's polling at 1%, not a bad start!!!"
Just like in 2016, Trump may also benefit from a larger pool of GOP candidates in the primary, especially if they can take votes away from his potential main rival, Florida Governor Ron DeSantis.
While DeSantis has not announced he will be running for president in 2024, he has long been thought of as the ideal replacement for Trump, whose reputation and influence took a major hit following the GOP's poor midterm performance. The former president is also facing the serious prospect of being indicted in a number of criminal investigations against him.
On February 8, a Yahoo News/YouGov poll found that Republican voters prefer DeSantis (45 percent) to Trump (41 percent) for the next GOP presidential candidate.
However, when Haley is added to the equation, support for DeSantis drops to 35 percent, with Trump overtaking the Florida governor on 38 percent. Haley herself comes in a distant third at 11 percent.
DeSantis and Trump are likely to be the final two candidates left in the GOP primary. Michael Binder, professor of political science at the University of North Florida, told Newsweek that any other candidate such as Haley hoping to paint themselves as anti-Trump may ultimately benefit the former president.
"Trump's core base is his base. They won't leave him. The 'Trump was useful, but has too much baggage' wing of the Republican Party will have more difficulty solidifying around a singular candidate. The 'Never Trumpers' couldn't do [that] in 2016, and I suspect it won't be easy to do that in 2024," Binder said.
"But, and this is a big but, that assumes there are a large number of candidates still in the race come primary time. I suspect more than a few will not be able to continue raising the necessary money to stay alive through Iowa and New Hampshire.
"If that happens, it will be vital for whoever is left standing opposite Trump, be it DeSantis or anybody else, that they can consolidate the non-Trump voters," Binder added. "It's easier said than done. Because some people will get a look at those folks and be unimpressed and move back to Trump."
Just like Haley, Trump has already started frequently attacking DeSantis in preparation for the governor announcing his 2024 ambitions. These attacks have ranged from sharing primary polls on Truth Social that show the former president heavily beating DeSantis, to insinuating that the Florida governor groomed teenage girls when he was a teacher.
For Binder, no matter how large the GOP primary pool gets, it will only be when and if DeSantis puts his name in the hat that things will get interesting.
"Trump is the biggest fish in the pond right now, but he can't eat all the other fish one at a time, by himself, like he did in 2016 because most candidates underestimated him," Binder said.
"It's going to be wildly entertaining once DeSantis is fully in the race and ultimately takes the gloves off. That will have to happen because Trump has never had gloves and doesn't play by the old rules."