George Soros Praise for Ron DeSantis Rattles Trump Supporters
Supporters of Donald Trump have expressed their fury on social media after business tycoon George Soros described the former president as a "pitiful figure," and predicted he will lose the 2024 Republican presidential nomination to Florida Governor Ron DeSantis.
Soros, a Hungarian-American billionaire and philanthropist who has become a favored target for conspiracy theorists, was speaking at the Munich Security Conference, which is taking place in the German city between February 17 and 19.
The 92-year-old said: "My hope for 2024 is that Trump and Governor DeSantis of Florida will slug it out for the Republican nomination. Trump has turned into a pitiful figure, continuing mourning his loss in 2020. Big Republican donors are abandoning him in droves.
"DeSantis is shrewd, ruthless and ambitious. He is likely to be [the] Republican candidate. This could induce Trump, whose narcissism has turned into a disease, to run as a third-party candidate. That would lead to a Democratic landslide and force the Republican Party to reform itself."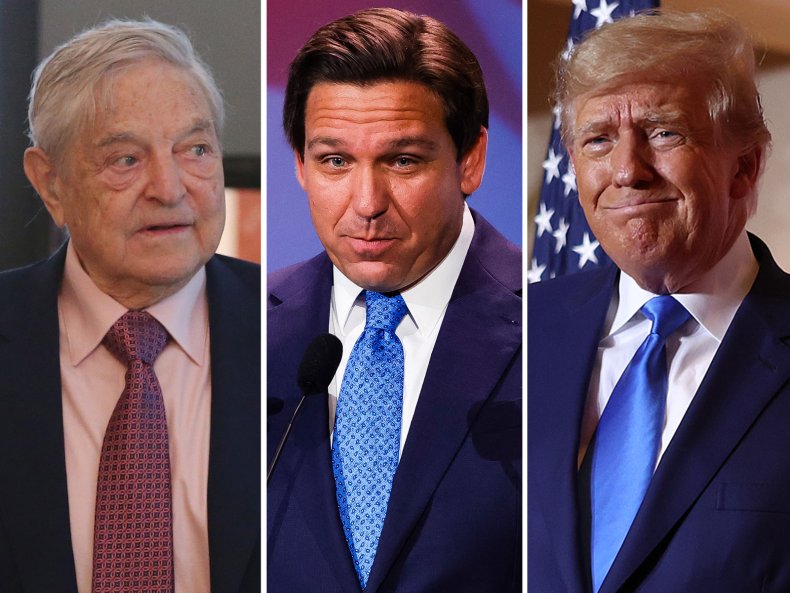 Trump announced he is seeking another term in the White House in November during a speech at Mar-a-Lago, his Florida home and private members club.
Polling suggests DeSantis is by some margin the best-placed Republican to defeat Trump, though the Florida governor has not announced his intention to run.
Soros, who was born into a Jewish family and survived the Nazi occupation of Hungary from 1944-45, has been a leading financial supporter of liberal causes around the world.
This has turned him into a hate figure for some on the political right, including current Hungarian Prime Minister Viktor Orban, and has made him a target for conspiracy theories, some of which are antisemitic.
Soros's comments in Munich triggered an angry response from some of Trump's most outspoken supporters online.
Kari Lake, a Republican who lost the November Arizona gubernatorial election, and is currently trying to get that result overturned in the courts, described Soros's remarks on Twitter as the "kiss of death."
Sebastian Gorka, who in 2017 served as President Trump's deputy assistant, tweeted a video of Soros speaking, adding: "I get George Soros attacking President Trump, but praising DeSantis?"
Ryan Fournier, the founder of Students for Trump, wrote on Twitter: "George Soros coming out this strong against Trump is another reason why we need to support Donald Trump. Trump is the greatest threat to the Globalists."
Laura Loomer, who in 2020 ran unsuccessfully as a Republican candidate in Florida for the House, tweeted: "In case you need any more of a reason to not support Ron DeSantis, George Soros is now rooting for him. Speaks volumes that Soros wants DeSantis to be the nominee."
Trump, who still refuses to accept his 2020 presidential election defeat, has begun taking potshots at DeSantis via his Truth Social website.
Last week, he shared a graphic that described DeSantis as "DeSanctimonious" and suggested, without providing evidence, that he had been "grooming high school girls" when he worked as a teacher in Georgia.
This sparked an angry backlash from some conservative commentators, with Ian Miles Cheong tweeting: "Trump is falsely accusing DeSantis of pedophilia. It is only fair to point out the fact that he traveled on Epstein's Lolita Express seven times. It is also fair to point out that Trump lied about the number of times he traveled on that plane."
Newsweek reached out to Trump and DeSantis for comment.