Kari Lake Telling U.S. To 'Buckle Up' After Legal Setback Divides Internet
Kari Lake has suffered another legal setback in her bid to get the 2022 Arizona gubernatorial election overturned, with her claims of electoral fraud dismissed by the Arizona Court of Appeals.
Republican Lake lost November's contest by 17,000 votes to Democratic rival Katie Hobbs, who was sworn in on January 2.
However, Lake continues to claim the election was stolen from her, despite her claims of malpractice being rejected repeatedly in court.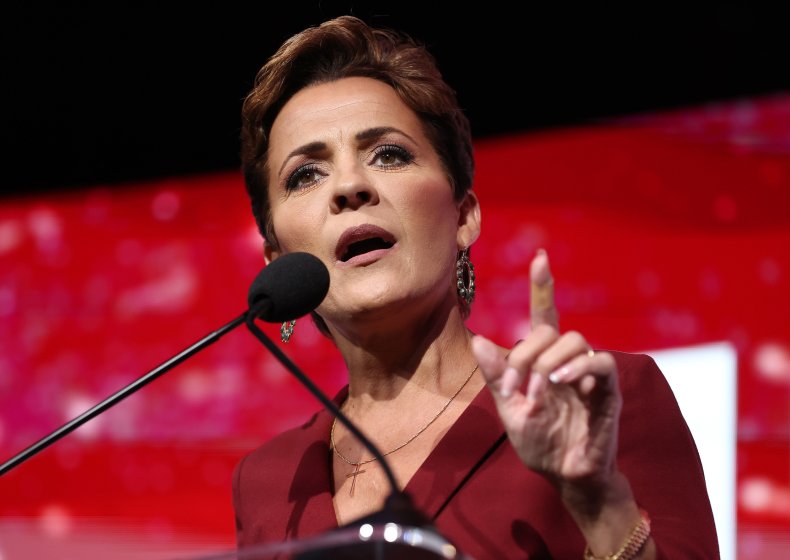 On Thursday Lake vowed to take her case to the Arizona Supreme Court, after the Arizona Court of Appeals rejected her appeal against an earlier ruling made by Maricopa County Superior Court.
In its ruling, the Court of Appeal said: "Lake's arguments highlight Election Day difficulties, but her request for relief fails because the evidence presented to the superior court ultimately supports the court's conclusion that voters were able to cast their ballots, that votes were counted correctly, and that no other basis justifies setting aside the election results."
Responding to the verdict Lake tweeted: "BREAKING: I told you we would take this case all the way to the Arizona Supreme Court, and that's exactly what we are going to do. Buckle up, America!"
She accompanied the tweet with a link to where supporters can donate to her legal campaign.
This triggered a divided reaction from other Twitter users, with some saluting Lake's ongoing legal campaign whilst others branded her a bad loser.
Twitter user Garet Claborn, from Texas, tweeted: "I don't have faith in the system but am inspired by you fighting, forcing the system to hear you. Who knows if you'll have to go to SCOTUS next and whether any courts have the balls to be honest."
Another commentor added: "It must be done. Rooting for you, Kari!"
However Cathalena Burch, from Tucson in Arizona, said: "And there's the gift! She doesn't care about the election that she LOST. She wants to take the suckers for every dime. Don't fall for it."
Greg Jonsson, a Twitter user from St Louis, sarcastically replied: "Thank you for keeping your promise to lose all the way to the Supreme Court, very impressive."
The Court of Appeal ruling was welcomed by Maricopa County Board of Supervisors Chairman Clint Hickman, a Republican, in a statement posted online.
He said: "The appeals court ruling affirms what we have known to be true for months... every valid vote was counted in a midterm election that saw near-record turnout.
"While Kari Lake and her legal team continue to find success getting their disproven theories of election malfeasance parroted by friendly media sources and some elected officials, there are two places where she has not succeeded: at the polls, when Arizona voters rejected her bid to be Governor, and in a court of law, where her many claims have been dismissed again and again.
"These, unfortunately for her, are the only two places that matter."
In December a civil case filed by Lake, against Maricopa County election officials and Hobbs, was rejected by a Maricopa County court.
Presiding Judge Peter Thompson concluded: "Every single witness before the Court disclaimed any personal knowledge of such misconduct. The Court cannot accept speculation or conjecture in place of clear and convincing evidence."
The judge also ordered Lake to pay Hobbs $33,040 for her court appearances in witness fees.
Lake's latest legal setback comes just days after she caused controversy by refusing to stand for the Black national anthem, during the Super Bowl on Sunday.
Newsweek has contacted Lake for comment.