West Must Ready for 'Long Haul' in Russia-Ukraine 'War of Attrition': NATO
NATO Secretary General Jens Stoltenberg said Thursday that the Russia-Ukraine war has become a "war of attrition."
"We just have to be prepared for the long haul," Stoltenberg said during a trip to the U.S., where he met with President Joe Biden and Vice President Kamala Harris in the White House, according to Agence France-Presse. "Because what we see is that this war has now become a war of attrition."
Stoltenberg added that Ukrainians are "paying a high price for defending their own country," and that Russia is "taking high casualties," according to Radio Free Europe.
In a statement, Stoltenberg said he "commended" the U.S. for its support of Ukraine during the war.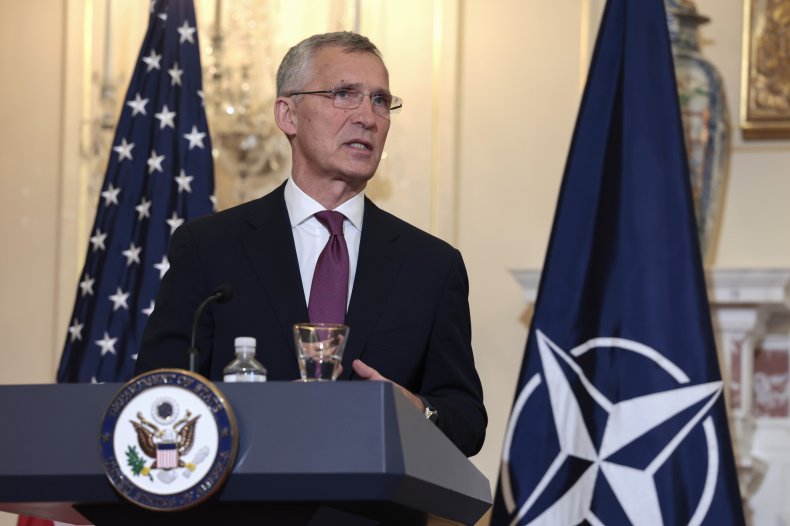 "[Russian] President [Vladimir] Putin wanted less NATO and therefore he invaded Ukraine. But he is getting more NATO, with more NATO presence in the eastern part of the Alliance and also with more members," Stoltenberg said.
He also called recent moves by Finland and Sweden to apply for NATO membership "historic decisions."
"Finland and Sweden as NATO members will strengthen NATO and also strengthen our transatlantic bond," Stoltenberg said.
Turkey has blocked talks on Finland and Sweden entering NATO. According to Agence France-Presse, Stoltenberg said NATO is in talks with Turkey to find a "united way" to address concerns.
Newsweek reached out to the Russian Foreign Ministry and Ukrainian Foreign Ministry for comment on Thursday afternoon.
On Wednesday, Stoltenberg said that the cost of Putin winning the war in Ukraine would be greater than the cost of providing Ukraine aid during the conflict.
"European allies, of course—as the United State—have imposed sanctions. They have a price, also for us," Stoltenberg said during a joint news conference with U.S. Secretary of State Antony Blinken at the State Department in Washington, D.C.
"But the alternative—not to support Ukraine—that would actually enable President Putin to win. That would be dangerous for all of us, and the price we'd have to pay would actually be higher than to now invest in the support for Ukraine."
Putin moved to fire five generals and one police colonel on Monday, according to a report from Moscow-based media group RBC. The firings come as Putin has spent billions on the war while the Russian military is struggling.