Joe Manchin Enjoys Being a 'Wild Card' in Senate, Says West Virginia Paper
Democratic Senator Joe Manchin is relishing his status as centrist power broker in a tied upper house in Congress and PACs are wasting their money trying to influence him, a newspaper in his home state of West Virginia has said.
The op-ed in the Charleston Gazette-Mail points out Manchin's significance on key Democratic concerns like scrapping the filibuster, getting the COVID-19 relief package passed and the Raise the Wage Act 2021.
Increasing the minimum wage to $15, which he said should not be part of the relief package, has been dealt a blow after it was deemed by the Senate parliamentarian not to be part of the budget reconciliation process requiring only a simple majority.
But Manchin also opposed the confirmation of Center for American Progress president Neera Tanden to lead the White House Office of Management and Budget, demonstrating the power he wields over the Democratic Party agenda.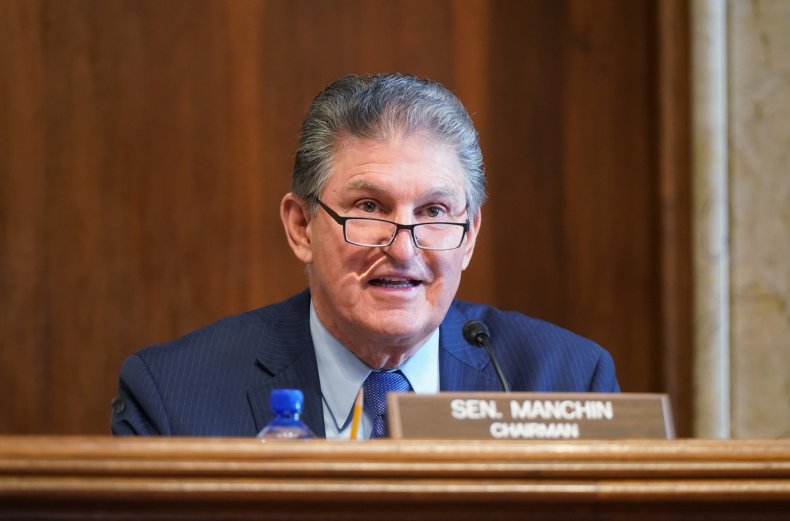 The Gazette-Mail piece said as both parties try to get the ear of the West Virginia lawmaker in a Senate tied at 50-50, "the only person who ever knows what Joe Manchin will do is Joe Manchin."
It described an ad buy targeting West Virginia to get Manchin to agree with $1,400 stimulus checks that he had initially rejected as showing how important Manchin had become, "as the last conservative Democrat in the Senate, representing a state that is, but for him, as red as it gets."
"People are falling over themselves spending money trying to influence how Manchin thinks and what he supports by trying to reach the people he represents. It also goes to show just how little conventional political operations apply to Manchin."
The op-ed said that those lobbying Manchin directly to raise the federal minimum wage to $15 an hour once left a meeting with the senator "flabbergasted" that they were unable to sway him.
He also keeps those in both parties guessing, having considered leaving the Senate to run for governor again.
"Sure, he can be predictable in some ways. His behavior has never been random, nor impulsive. He zigs and zags just enough to put a question mark over his chair on a Senate seating chart," the op-ed said.
"So, some advice to all of those PACs that are flooding West Virginia's airwaves: Spend your money someplace else, or at least keep your powder dry until 2024."
"Talking to him directly has always been more effective, but that's not a guarantee of anything, either. He's something of a wild card, and there's a sense that he enjoys it," it added. Newsweek has contacted Manchin's office for comment.