West Virginia State Treasurer Riley Moore announced Thursday that banks his office believes are engaging in "boycotts of fossil fuel companies" can no longer do business with the state, according to a new law.
That news comes as West Virginia Senator Joe Manchin, a Democrat, reached an agreement with Democratic leaders on a major bill to address climate change this week, and marks contrasting approaches from West Virginia officials in addressing climate issues.
In a news release on Thursday, Moore said that BlackRock Inc., Goldman Sachs, JP Morgan Chase, Morgan Stanley and Wells Fargo are no longer eligible to enter into state banking contracts.
"As treasurer, I have a duty to act in the best interests of the State's Treasury and our people when choosing financial services for West Virginia," Moore, a Republican, wrote.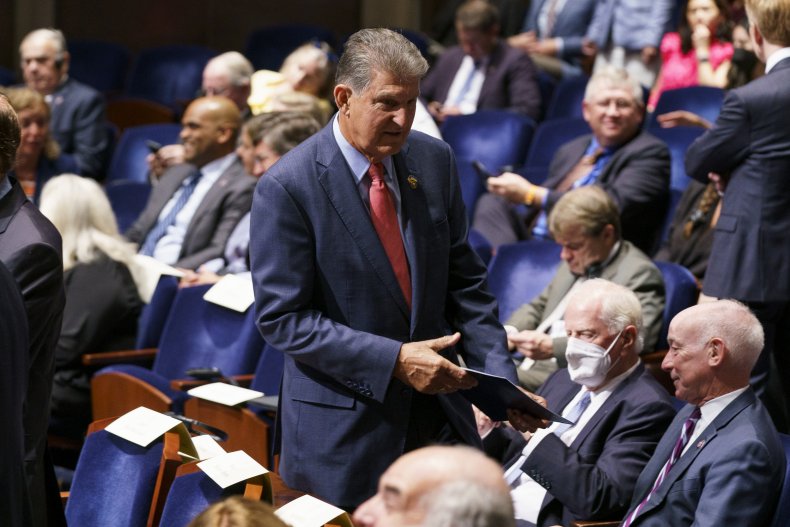 "Any institution with policies aimed at weakening our energy industries, tax base and job market has a clear conflict of interest in handling taxpayer dollars," he added.
Moore's office noted that a law that had been recommended by the treasurer and passed earlier this year gives him discretion to disqualify financial institutions from state banking business.
Manchin—a federal official who had no authority over the state's decision to boycott the banks—took a different step this week, allowing Democrats to reach a legislative deal that would drastically cut carbon emissions. He had previously served as an obstacle to Senate Democrats who have wanted to pass climate change legislation. Even earlier this month, Manchin signaled he wouldn't back a climate package.
In a statement announcing the deal on Wednesday, Senate Majority Leader Chuck Schumer said it will represent the "greatest pro-climate legislation that has ever been passed by Congress" and put the nation "on a path to roughly 40% emissions reductions by 2030, all while creating new good-paying jobs in the near- and long-term." The legislation includes $370 billion to address the climate crisis.
Manchin said Wednesday that the legislative package will allow the U.S. to "decarbonize while ensuring American energy is affordable, reliable, clean and secure. The need to balance all of these critical energy priorities is no longer open to debate given the energy threats we face."
In a statement, he added that the legislation invests "in the technologies needed for all fuel types—from hydrogen, nuclear, renewables, fossil fuels and energy storage—to be produced and used in the cleanest way possible."
"It is truly all of the above, which means this bill does not arbitrarily shut off our abundant fossil fuels," Manchin said.
Manchin was blasted by Republicans this week for supporting the legislation.
Newsweek has reached out to Manchin's office for comment.