Dem Senate Whip: Frustrated by Manchin But Won't Strip Him of Energy Chair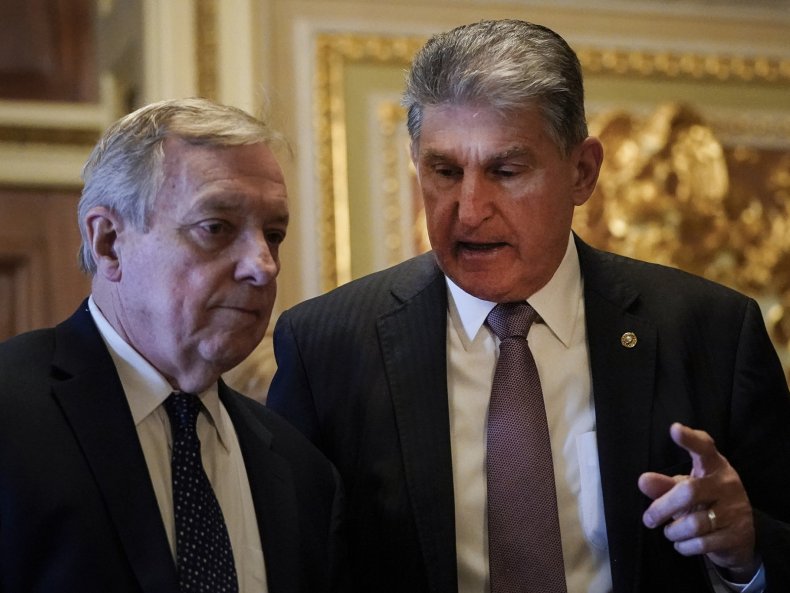 Senate Majority Whip Dick Durbin says that he is unwilling to strip Senator Joe Manchin of his position as chair of the Senate Energy Committee despite frustration over him blocking Democratic efforts to address climate change.
Manchin, a moderate Democrat from West Virginia, added to his reputation as a thorn in the side of President Joe Biden's agenda by signaling that he would refuse to support climate change legislation during a meeting with Senate Majority Leader Chuck Schumer last week. Several Democratic and progressive senators lashed out at Manchin in response, with Senator Martin Heinrich of New Mexico suggesting that he should no longer be in charge of the Energy Committee.
As majority whip, Durbin is responsible for ensuring that Democrats fall in line with the party agenda, and on Monday reportedly indicated that he was willing to do little more than voice his own frustrations about Manchin's stance.
The Illinois Democrat blasted Manchin for having "wasted a lot of time" and said that he "should have made his position clear a hell of a long time ago," but was unwilling to go any further, according to Politico. Durbin maintained that removing Manchin from the Energy Committee could be detrimental to Democrats due to the party controlling an evenly divided Senate.
"We're not gonna go down that road. We're in a 50-50 Senate," Durbin reportedly said on Monday afternoon. "We shouldn't be purging our ranks and turning over the majority."
Manchin told reporters that he had not "walked away from anything" on Monday. He said that runaway inflation was his "greatest concern" but he remained open to addressing climate change.
Biden said in a statement issued after the negotiations broke down Friday that "action on climate change and clean energy remains more urgent than ever," promising to address the issue regardless of Manchin's position.
"Let me be clear: if the Senate will not move to tackle the climate crisis and strengthen our domestic clean energy industry, I will take strong executive action to meet this moment," the president said.
Democratic Senator Ron Wyden of Oregon, who chairs the Senate Finance Committee, said on Monday that further attempts to convince Manchin should continue, reportedly arguing that addressing climate change with executive orders from Biden would lead to "a flood of Republican lawsuits."
"Conversations on clean energy must continue to preserve our options to move forward," Wyden said in a statement, according to Insider. "Without long-term certainty, investment in clean domestic energy will fall far short of what is necessary to reduce carbon emissions and secure lower prices for American consumers ... Legislation continues to be the best option here."
Newsweek has reached out to Durbin's office for comment.