'Westworld's' Aaron Paul Was Kept in the Dark Over 'Insane' Episode 4 Twist
Westworld is known for its shocking plot twists that pull the rug from under viewers' feet and changes everything they know about the show, and it seems that the same goes for its cast.
Aaron Paul, who plays Caleb Nichols in the HBO sci-fi drama, told Newsweek how he was kept in the dark about a surprising revelation to do with his character that is revealed in Season 4's fourth episode.
Warning: This article contains spoilers for 'Westworld' Season 4 Episode 4.
'Westworld's' Aaron Paul Was Kept in the Dark Over "Insane" Episode 4 Twist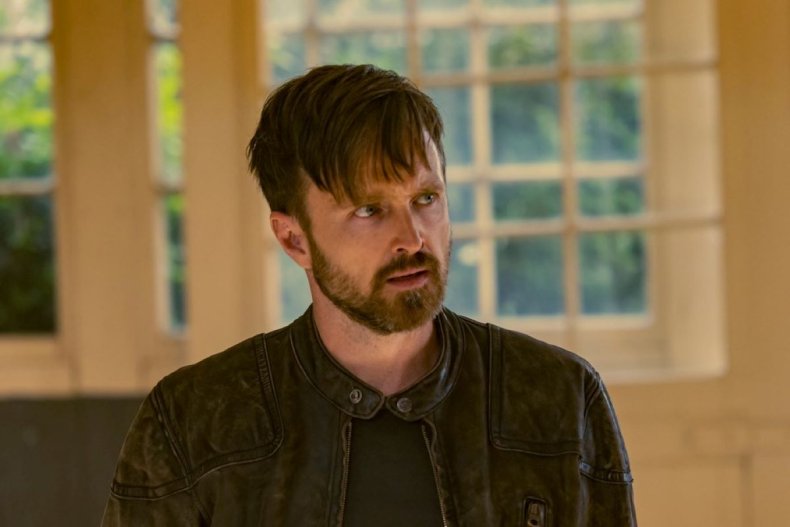 Caleb Nichols has spent the better half of Westworld Season 4 traveling with host Maeve Millay (Thandiwe Newton) to try and find William, also known as The Man in Black (Ed Harris), and stop him from targeting his family.
During their journey the pair learn that, in fact, William is a host and works for Charlotte Hale (Tessa Thompson), whose plan is to enslave humanity to do her bidding as punishment for what they did to hosts.
Caleb gets caught up in Charlotte's trap after she lures him into a room with a host copy of his daughter Frankie (Celeste Clark), only for Frankie's robot face to open up and release a parasitic swarm of flies at, and into, him.
Episode 4 sees Caleb and Maeve take Charlotte captive and fight off host William, with Maeve sacrificing herself so that Caleb can get away safely. Except Charlotte drops a truth almost too shocking to believe: Everything we have seen with Caleb has already happened, he failed to get away and was killed by Charlotte's men.
Charlotte adds that everything Caleb has gone through, and by association viewers have witnessed, actually happened 23 years ago and humanity is already under her complete control. The Caleb we know is also the 278th version of himself, a human host.
When asked about this twist, Paul told Newsweek: "Oh my God! Well, you know, yeah I mean it's insane.
"They keep us all in the dark up until the moment that they can't, and so [...] reading that, there's just so many things going on, as a fan I'm just like, 'Oh my God, this is crazy.'
"But, then as an actor, it's like, 'Oh no, how am I going to do this?' You know, it's so beautiful to have the trust and these incredible writers hoping that their actor doesn't f**k it up, you know what I mean?"
He added: "We're all pinching ourselves, you know? We all want to do the best work possible. It's on the page, the show has the budget to just be as big as possible and so, as a performer, you got to do the best you possibly can. And the writers really write for their cast, it's really wonderful to be a part of."
Alison Schapker, the show's executive producer, was in the interview alongside Paul, and said the reason why they keep the cast in the dark is to ensure that they give them the best script possible.
"It's so true, I mean we have such incredible trust in the cast, we really do," Schapker told Newsweek in response to Paul's comments. "But, we also try and protect that, like part of the reason we wait until we feel like a script is in a place that we can sort of stand behind and that is solid enough, [is so] we're not going to jostle the actors around, you know?
"That they can, when they are given the material, have a trust in the material they're getting, and then they can invest immediately, and so it's fun that way. We love our cast, it's mind boggling what they do every day."
Westworld airs Sundays at 9 p.m. ET on HBO, and episodes are also available to stream on HBO Max.