'Westworld' Star James Marsden Weighs in on His Return in Season 4
Westworld returned for its fourth season on Sunday, June 26, featuring the surprising yet welcome return of James Marsden.
Marsden previously portrayed Theodore "Teddy" Flood in the HBO show, who romanced Evan Rachel Wood's Dolores Abernathy but the pair suffered significantly at the hands of their human overlords before his death in Season 2.
The character took his own life after Dolores reprogrammed him to become a ruthless killer and from then on he remained in the Sublime—a pseudo-heaven for host's minds to be uploaded into.
Despite his character's shocking end, Marsden returned to the show in the closing seconds of the Season 4 premiere.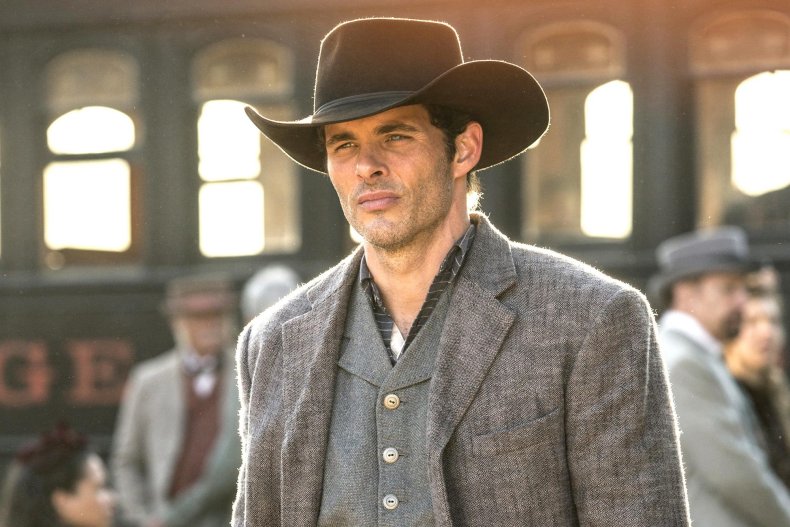 'Westworld' Star James Marsden Weighs in on His Return for Season 4
Marsden first confirmed that he was returning to Westworld at the ATX TV Festival in Austin in early June, per Entertainment Weekly.
At the time he claimed he avoided spoilers by telling co-stars Wood, Tessa Thompson, Ed Harris, Jeffrey Wright and Angela Sarafyan at the festival: "I just miss you guys. I miss talking about the show together."
Speaking to the publication on June 22, though, Marsden said he wanted to "remain a little mysterious about where you find me."
He then said about the new episodes: "The themes of exploring human urges of violence and things like that are going to continue.
"And this season maybe we explore what the world looks like after Dolores set the humans and the robots free. Are they going to cooperate or are they going to vie for control? What happens when they vie for control? Will the hosts inherit these urges of violence?
"Some of the basic things that we continue to explore on this show, and definitely in Season 4—we ask a lot of those questions. What happens next?"
Is James Marsden Playing Teddy Flood in 'Westworld' Season 4?
While Marsden's return is welcome, what fans are no doubt wondering is whether the actor has come back as Teddy or if he's playing a new character like co-star Wood is with Christina.
Marsden appeared at the very end of Season 4's first episode when he stepped out of the darkness and watched Wood's Christina who was standing at her balcony. He had no lines in the first episode and his dress was modern to match the setting both characters are now in.
The name of Marsden's character in Season 4 has yet to be revealed, and so it's not certain if the actor is portraying Teddy once more or if, like Wood, he has been given a new character to bring to life this time around.
Given the proximity Marsden's character has with Wood's Christina it seems like the pair have some connection to the hosts they previously played and it will likely be revealed in the coming episodes if this is the case.
In an interview with ET Online, Wood avoided giving away any spoilers by saying of Marsden's return: "Is he Teddy? Who is he? Is he good? Is he bad? We don't know."
Westworld airs Sundays on HBO at 9 p.m. EDT and episodes are also available to stream on HBO Max.