What Beaches Are Open for Memorial Day? What to Know Before You Go
In much of the United States, Memorial Day often marks the beginning of warmer days, cooler drinks and the unofficial start to summer. But this year things are different. With COVID-19 still impacting hundreds of thousands of people across the U.S., the rules of social distancing are affecting plans to head to the beach even for just a day.
As COVID-19 numbers begin to slowly decline in parts of the country, local politicians are beginning to lessen restrictions and open up businesses and outdoor spaces like beaches. With Memorial Day weekend upon us, many beach lovers may want to gear up to celebrate the kickoff to summer, but before dusting off your flip-flops and folding chairs keep in mind a few things.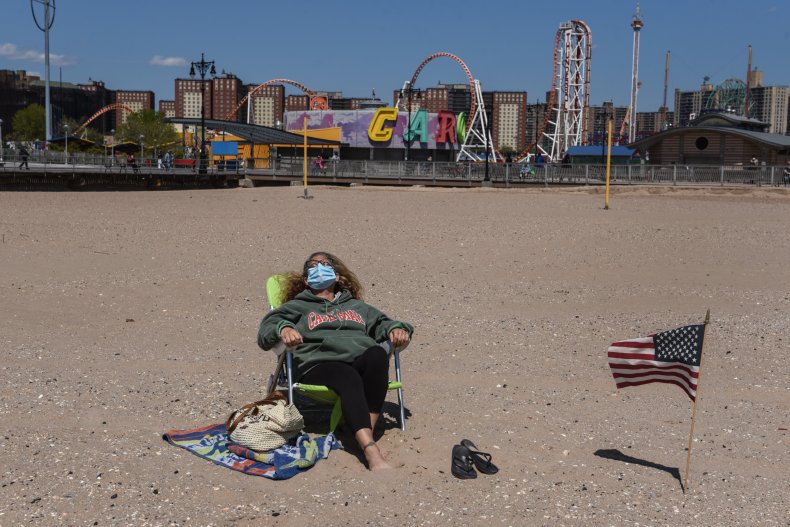 New York Governor Andrew Cuomo announced last week that he would be following the lead of other governors in the tri-state area by allowing beaches to open in time for the holiday weekend. Cuomo said that if New York state did not do so, he would worry about the flow of New Yorkers traveling to neighboring states and creating overcrowding.
"We want what's best for New York, but we want what's best for New Yorkers," Cuomo said Friday. "It's not in New York's interest to have New Yorkers going to a Jersey beach which is now going to be overcrowded because you have people from New York and New Jersey going to that beach."
Beaches in New York, New Jersey, Connecticut and Delaware will all follow similar regulations such as limiting capacity at 50 percent and prohibiting contact activities like volleyball and other beach sports. Mayor Bill de Blasio, however, has said that New York City beaches would not be opening up at all just yet.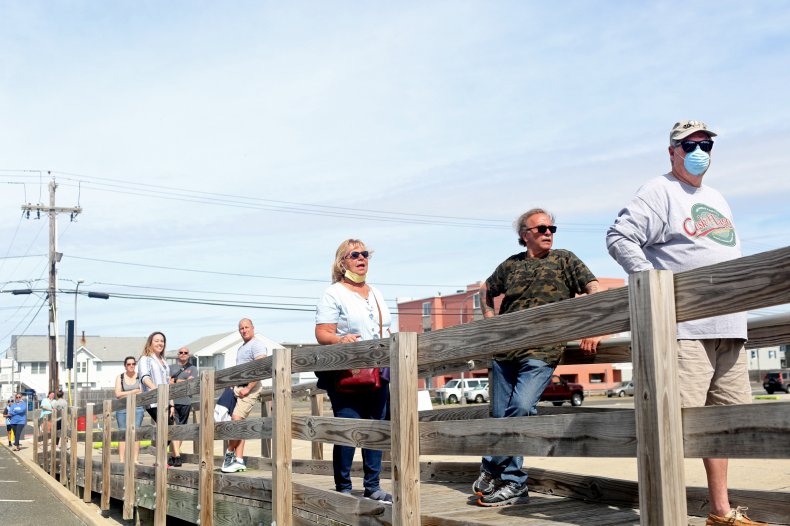 In many seaside towns around the country, residents often have to purchase passes for the season in order to gain access to the beaches. May 16 was the first day passes were sold in the Belmar, New Jersey, as the area preps for next weekend. Though the long lines of people waiting for passes caused some concern; Mayor Mark Walsifer told NJ Advance Media that the lines were not a matter of selling more than usual but rather just everyone coming at once.
Some Jersey Shore towns used last weekend to test the waters, so to speak, for the holiday weekend. Though Governor Phil Murphy ordered beaches to observe social distancing, people were packed in together—some without wearing masks—over the weekend in Ocean City, New Jersey, CBS reported. A nearby town implemented parking restrictions to try to combat such crowding.
In other parts of the country such as Florida, Alabama, Mississippi, Louisiana, California, Maine, Maryland, Texas, Georgia, North Carolina and South Carolina (and in Massachusetts if you're able to get there by foot—parking lots remain closed) beaches have also started opening, giving local governments a glimpse at what a holiday weekend might look like.
In Los Angeles County, beaches opened on May 13 for activities such as swimming and running, though group activities including picnicking and sunbathing are not permitted and parking lots, bike paths, piers and boardwalks remain closed. Face coverings must be worn at all times on county beaches when not in the water if other people are nearby, and of course beachgoers are advised to stay at least six feet away from those not in their family, according to protocol.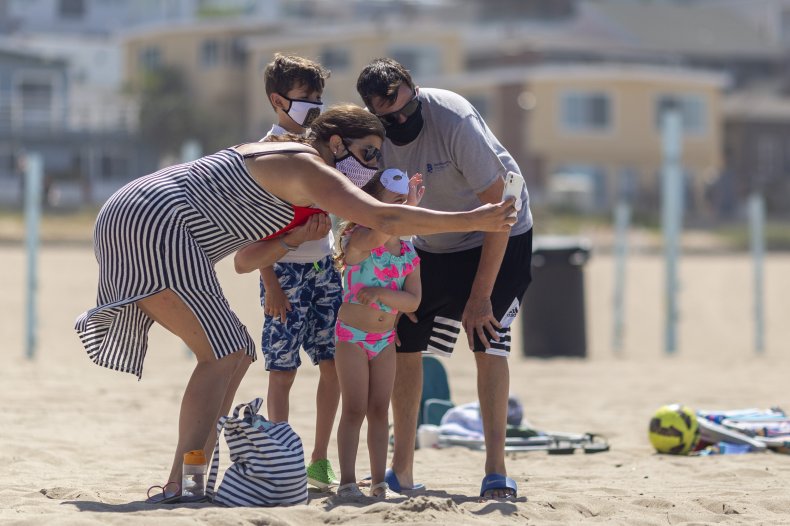 In Folly Beach, South Carolina, beaches opened on May 15 for what Mayor Tim Goodwin described as a practice run for the upcoming holiday weekend.
"It was very, very busy," Goodwin, tells Newsweek. "Most people were trying to practice some social distancing. Of course when the tide came in, that pushed them up into bigger groups and closer together."
Goodwin says while he wishes otherwise, there is no way he could restrict access to the beaches, at least not until the parking lots are full. While thousands flocked to the beach this weekend, law enforcement was present and handed out citations for parking as well as other violations like bringing glassware onto the beach or consuming alcohol.
Goodwin says he and the mayors from two other South Carolina beach towns, Isle of Palms and Sullivan's Island, often joke that they don't want to be like the mayor in Jaws trying to figure out whether or not to open up the beaches.
As a storm makes its way up the East Coast, Goodwin says that "sometimes you pray for rain," and hopes the rough weather will result in less crowding on an otherwise very busy weekend.
He and neighboring mayors are working on a social media campaign to spread the slogan: "Don't make this Memorial Day weekend lead to your memorial."
His biggest advice? Try to plan another activity to celebrate the holiday with your family either at home or another venue: "The beach is here all summer, you don't have to all be here at one time."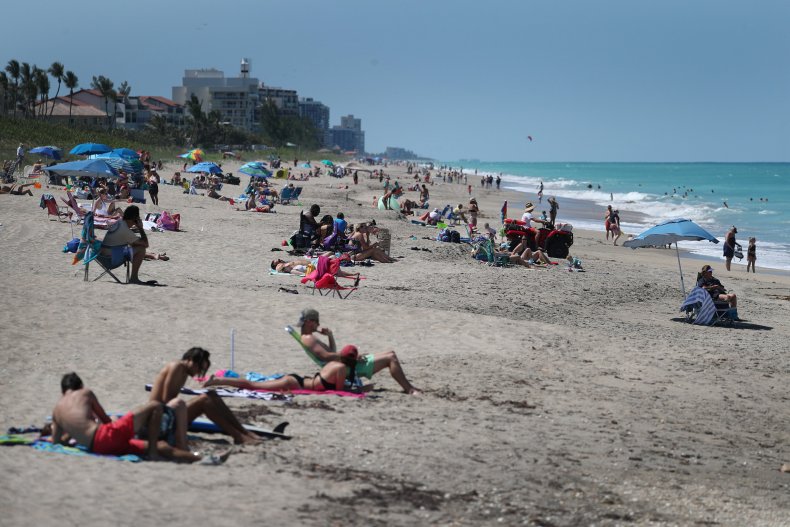 If you do venture out, it is important to check the local rules—as they vary from state to state and even beach to beach.
Eugene Chudnovsky, a physicist at Lehman College of City University of New York and CUNY graduate school, explains how the virus spreads in outdoor spaces is affected by the weather and wind patterns. Chudnovsky was asked to contribute to research on COVID-19 in March by the United States Department of Energy's Office of Science.
"It appears obvious that people staying on the beach should avoid prolonged exposure to the air blown in their direction from other people nearby," Chudnovsky tells Newsweek. "This can be achieved by arranging families of beach goers in chess order."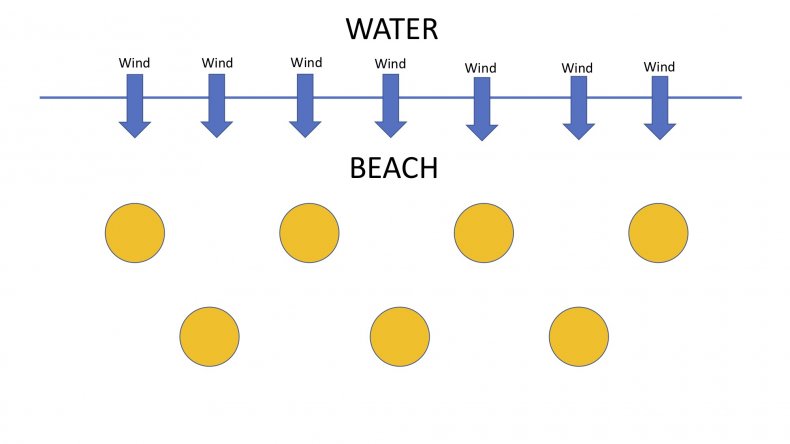 While beachgoers typically choose to go out on a sunny day over a cloudy one, it might also be important when thinking of how to best protect yourself from contracting the virus while outside.
"Sun kills viruses," Chudnovsky says. "Also, sunny days are typically more windy than cloudy days. In a large open space, wind tends to dilute the infection, while in calm air it would linger around infected people for a longer period of time."
Overall, Chudnovsky believes spending time outdoors is better than staying confined indoors because in a confined space such as an apartment or house the aerosol virus emitted by infected persons would accumulate and can be present in a dangerous concentration.
The graphic below, provided by Statista, illustrates the 10 states worst affected by COVID-19 as of May 20.