What the Biden Admin Has Said About Reports of Restarting Construction on Trump's Border Wall
President Joe Biden may restart construction on leftover portions of the controversial southern border wall, according to reports from administration officials.
Speaking with U.S. Immigration and Customs Enforcement officials last week, Homeland Security Secretary Alejandro Mayorkas said that while Biden made it a priority to cancel border wall construction, some areas may still be worked on to fill leftover "gaps" in the barrier, The Washington Times reported.
"The president has communicated quite clearly his decision that the emergency that triggered the devotion of DOD funds to the construction of the border wall is ended, Mayorkas said, referring to the Department of Defense.
"But that leaves room to make decisions...in particular, areas of the wall that need renovation, particular projects that need to be finished," he added.
Mayorkas noted that those areas include "gaps," "gates" and locations "where the wall has been completed but the technology has not been implemented," according to the Times.
On his first day in office, Biden vowed to halt all taxpayer funding for border wall construction, calling former President Donald Trump's flagship project a "waste of money" and bad immigration policy.
"It shall be the policy of my administration that no more American taxpayer dollars be diverted to construct a border wall," Biden said at the time. "I am also directing a careful review of all resources appropriated or redirected to construct a southern border wall."
That announcement left more than 200 miles of federally funded sections of the barrier incomplete or in preconstruction phases. At the time of Biden's inauguration, U.S. Customs and Border Protection contractors had completed 452 miles of the border wall.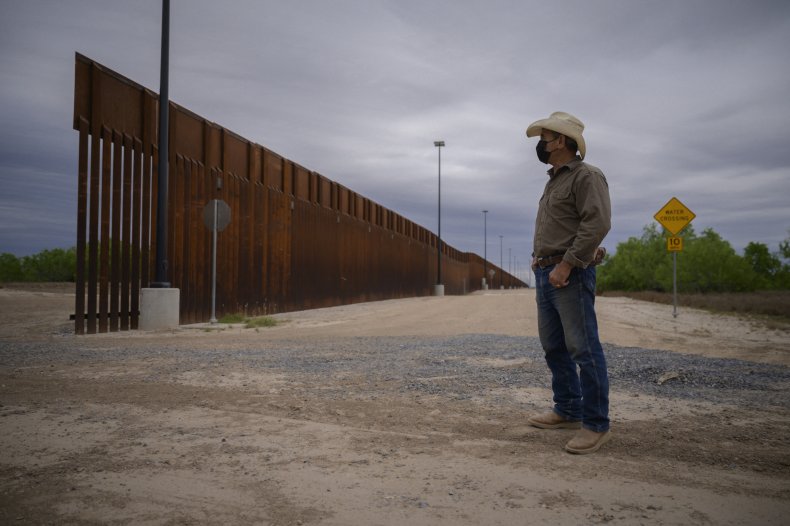 On January 20, Biden gave contractors seven days to halt all construction. The administration then set a 60-day deadline for a plan to reallocate funds that Trump put aside for the multibillion-dollar project.
But when that deadline passed in March, administration officials said they were still working to "develop a plan to submit to the president soon," Business Insider reported.
On Tuesday, White House press secretary Jen Psaki confirmed that border wall construction has been paused while agencies develop that new plan. However, she added that "limited construction" on the border has already been funded.
"Wall construction remains paused, to the extent permitted by law. So some has already been funded through a congressional authorization and funding allocation. But as agencies develop for a plan—it's paused while agencies are developing a plan for the president on the management of the federal funds," she said during a press briefing.
"There is some limited construction that has been funded and allocated for, but it is otherwise paused," she added.
Biden's decision to halt most border wall construction has been met with pushback from Republicans, who view the decision as a threat to border security at a time when immigration there has hit its highest levels in years.
Chad Wolf, the acting secretary of the Department of Homeland Security (DHS) under Trump, said Wednesday that he believes the Biden administration is under "immense pressure" from law enforcement to refocus on the wall.
"The men and women from [U.S. Customs and Border Protection] and Border Patrol are pleading with DHS leadership and the White House to finish sections of that border wall system," Wolf told Fox News. "They know how effective it is, and they know they need it to do their job."
But since assuming office, Biden has vowed to take a more humanitarian approach to immigration issues than his predecessor did and has instead focused some efforts on tackling the root causes of illegal immigration—such as poverty and insecurity—in order to give migrants a reason to stay in their home countries.
Newsweek contacted the White House for additional comment but did not hear back in time for publication.