What Is the Brooks Brothers Riot? 'Stop the Count' Protests Draw Comparisons to November 2000 Election Chaos
As poll challengers demanded that elections employees in Detroit stop counting ballots on Wednesday, some observers drew parallels between their continued rallying cries and the "Brooks Brothers Riot" that unfolded during the presidential election two decades ago.
The Brooks Brothers Riot occurred in November of 2000, about two weeks after Election Day. That year's election—which former Republican president George W. Bush won, despite Democratic nominee Al Gore securing a majority of popular votes—is remembered as one of the closest presidential races in U.S. history. A court order instructed Florida's elections officials to conduct a recount in the election's aftermath, since both candidates were neck-and-neck and conflicting news reports prematurely called wins for Gore, then Bush, on election night.
The riot played out on November 22, amid Florida's recount. Hundreds of protesters, later identified as paid Republican operatives, rushed the Miami-Dade County building where the state's ballot recount was under way. Those who participated in the chaotic demonstration demanded that poll workers stop their recount, pushing the elections officials involved to move locations and restrict media access. Unable to meet the court's deadline to submit a reviewed vote tally, Florida ultimately did not complete its recount.
The Miami-Dade County Canvassing Board, which led the recount effort as mandated by Florida's Supreme Court, cited a lack of sufficient time—and public perception that the recount was not transparent—in its rationale for abandoning the proceeding. The riot's reference to Brooks Brothers alludes to the protesters' attire, since they were described primarily as middle-aged men dressed in corporate suits and ties.
Some noted that Wednesday's demonstration in Detroit bore similarities to the events in south Florida prior to Bush's election. Protesters, and apparent supporters of President Donald Trump's re-election, gathered at the city's TCF Center on Wednesday calling for an end to ballot tabulation proceedings taking place inside.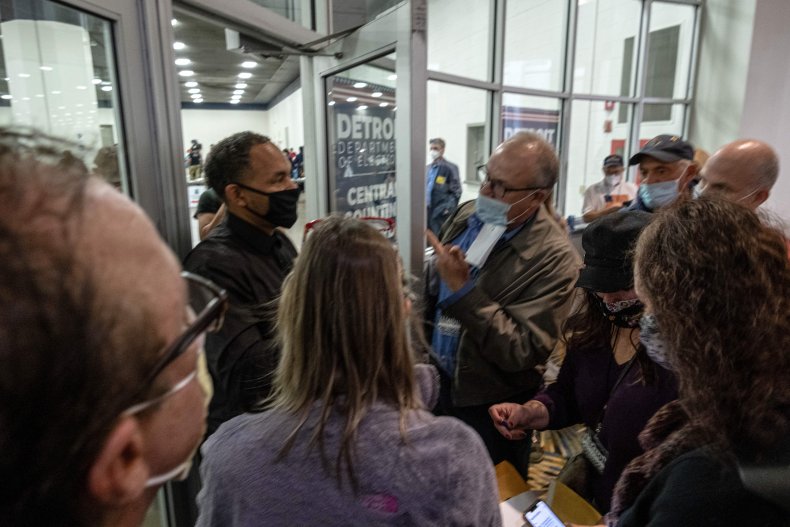 "Stop the count!" they chanted through a panel of glass doors and windows separating the group from poll workers. Videos recorded at the scene, and later shared to social media, showed guards preventing demonstrators from moving past the entryway. The protests came soon after Trump's re-election campaign filed a lawsuit to halt ballot counting in Michigan, claiming it was not given "meaningful access" to observe the process.
The campaign's Michigan lawsuit was one of several similar legal filings that attempt to suspend tabulation procedures in key swing states, each arguing it should be granted increased permission to monitor and review ballots that have been, or will be, counted. The suit, filed with the Michigan Court of Claims on Wednesday, lists Secretary of State Jocelyn Benson as defendant, citing her role in overseeing statewide election operations.
Newsweek reached out to Benson's office for comment but did not receive a reply in time for publication.