What is the DeLorean Alpha5 and How Can I Buy One?
The name DeLorean brings to mind gullwing doors, a stainless-steel body and the Back to the Future trilogy of movies. Earlier this year the sold-and-reborn company, now headquartered in Texas, announced its first product in the Alpha5.
The futuristic electric vehicle (EV) was designed to look like the classic DMC DeLorean, only produced from 1981 to 1983.
It was officially unveiled at the Pebble Beach Concours d'Elegance in August, along with several other concepts, where its design, performance specifications and on-sale date (but not price) were revealed.
What are the origins of DeLorean?
The original DeLorean Motor Company with John DeLorean at the helm went bankrupt in 1982, leaving about 9,000 vehicles without parts or service. A U.S.-based company bought the remaining inventory from the factory in Northern Ireland in 1983. That cache was first used to repair the orphan cars, and was eventually bought, including distribution rights, by auto service station owner and DeLorean specialist Stephen Wynne in 1997.
What is the DeLorean Alpha5?
The Alpha5 is a separate project from that Classic DMC business and lives under the DeLorean Motors Reimagined banner. Both its CEO Joost de Vries and CMO Troy Beetz came from EV-maker Karma, and the pair is setting up a new corporate headquarters for the EV venture in San Antonio.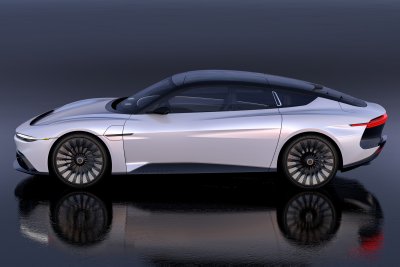 What does the DeLorean Alpha5 look like and who designed it?
Like the original DMC DeLorean, the all-wheel drive Alpha5 was penned with help from Italdesign, and keeps the hallmark doors, rear window louvres and three-layer taillights of its predecessor. Though it wore a coat of red paint at the Concours in August, it is also being sold in white and gray.
How fast is the DeLorean Alpha5?
The new DeLorean Alpha5 will be quicker than some supercars from a stoplight. It can sprint to 60 miles per hour (mph) in just 2.99 seconds and has a projected top speed of 155 mph. It will have a 100-kWh battery, a bit bigger than the Porsche Taycan, and have a company-estimated range of 300 miles.
"As one of the premier events in the world, Pebble Beach Concours d'Elegance is an important steppingstone in the future of DeLorean Motors Reimagined, and we are grateful to be a part of this year's event to showcase the Alpha5 and its predecessors," said Troy Beetz, chief marketing officer of DeLorean Motors Reimagined in a press release, also speaking of the Alpha2, Alpha3 and Alpha4 concepts shown on the lawn from the company.
How can I order a DeLorean Alpha5?
The Alpha5 will be a 2024 model, but order books to purchase one of the 9,351 examples open on September 30 at 6 p.m. PST. To reserve a production slot, buyers need to join DeLorean's Alphas Club by purchasing a lifetime membership for $88.
That allows buyers access to their production slot, and to get early access to future products, collectibles and content. That slot can transferred, traded or sold, as long as it's to another Alphas Club member. Then they can purchase the production slot for an additional $2,500.
DeLorean says pricing will not be revealed before orders open.