What do we know about Putin's family?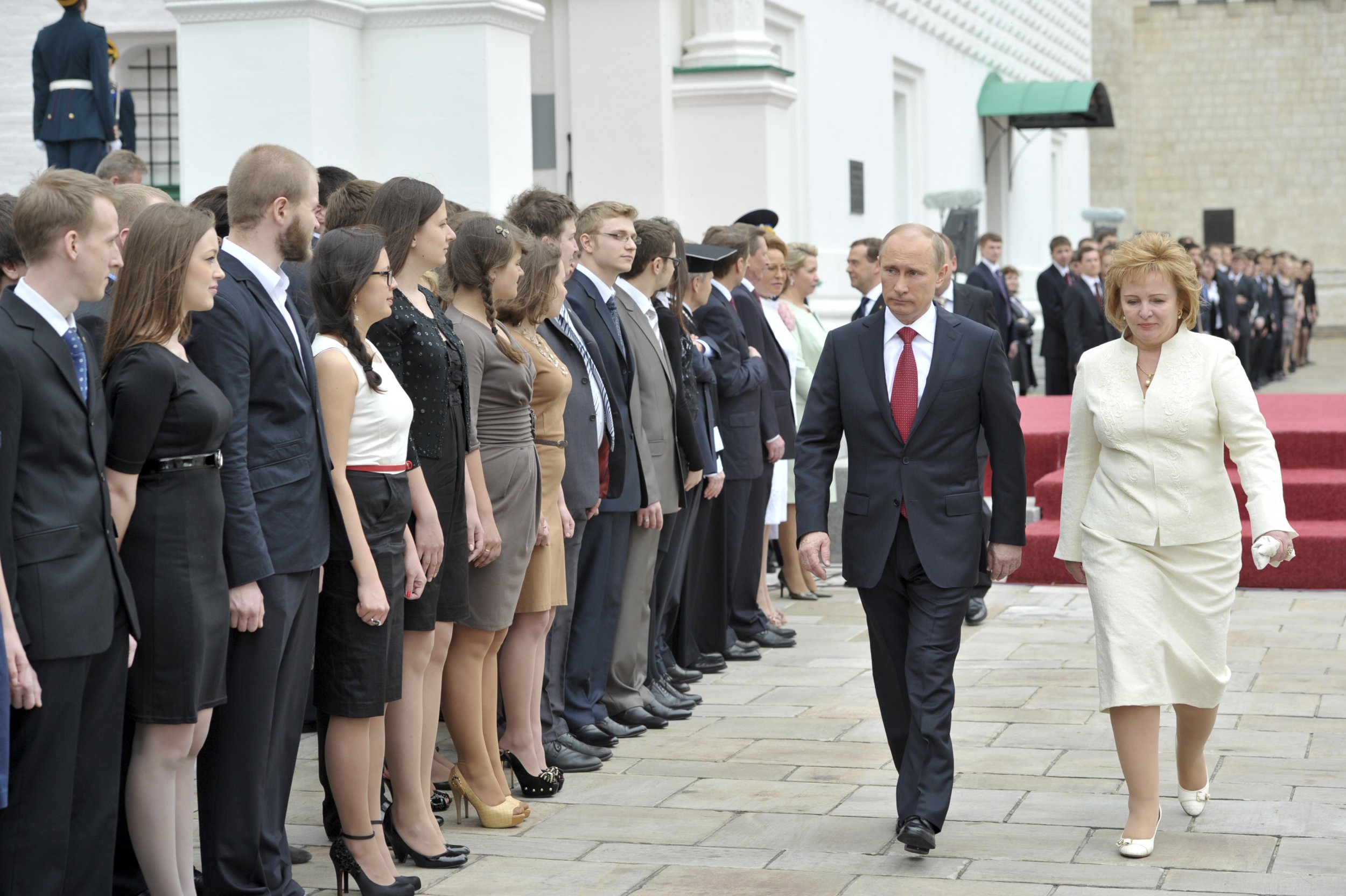 Russian President Vladimir Putin has been in the public eye virtually non-stop since succeeding Boris Yeltsin as head of state in 2000, yet his personal and family life remains an area of conjecture. It is known he is divorced from his ex-wife Lyudmila, with whom he has two daughters. But Putin is never pictured with his children and their whereabouts, appearance and even names have been the subject of much speculation in the Russian media.
On Monday, Russian current affairs magazine the New Times published a file of evidence claiming to have uncovered Putin's eldest daughter Maria. The file alleged that a woman going by the name of Maria Vladimirovna Fassen nee Vorontsova was in fact Maria Vladimirovna Putina—the President's eldest daughter.
The story, if true, revealed nothing one would not expect of the daughter of Russia's three-term president. It is claimed that she studied at Moscow's prestigious state university (MGU), where classmates were unaware but suspicious her father was a highly placed official. She has cruised across the Mediterranean, from Spain to Italy to Monte Carlo, on private yachts. Today she lives in a heavily secured apartment building in Moscow, opposite the U.S. Embassy, where reporters were waved away by a capped, mystery man. A separate Reuters investigation has previously alluded that Maria did study biomedical science at MGU and in St. Petersburg.
Perhaps most compellingly, the New Times published photos collated from social media of a women they allege is Maria Putina—an official photo of whom has not been published since she was a child. The photographs show her either at a friend's birthday party, on holiday, or posing in costume for a Dutch carnival. The only time either daughter previously spoke to the Russian press was 2000—the year Putin succeeded Boris Yeltsin as president, while the only photo of Maria on Putin's official site is easily at least 20 years old. She's 30 now. To a curious Russian public, a glimpse of her appearance today is in itself a revelation.
Yet the Kremlin line was resolute. Dmitry Peskov told journalists during his daily press brief that he would not answer any questions about reports concerning the President's family. Before the day was done the New Times website suffered brief outages and the Russian online watchdog Roskomnadzor swiftly slapped it with a fine and a threat of a ban over an apparently unrelated story, printed in the January issue of the magazine, Russian business news channel RBC reported.
To date, Putin has openly unveiled very little about his family. In his annual press conference in December, he boasted that both of his daughters "speak three languages fluently" and at the same event the year prior he told journalists his daughters lived in Moscow.
Fascinated observers and some critics have wanted to delve in deeper. His other daughter, Maria's sister Katerina, has also been reportedly tracked down by the press. Investigative journalist Oleg Kashin and anti-corruption blogger Alexey Navalny have both alleged a young MGU academic and dancer called Katerina Tikhonova is Putin's other daughter, living under her mother's maiden name.
Navalny's investigation into MGU files was slightly more provocative than the New Times revelations, alleging that Tikhonova had been awarded senior positions in the university she may not deserve. Videos of Tikhonova enjoying one of her hobbies—competitive modern dance—were shared widely in 2014 after reports she was in fact Putin's daughter. Reuters' own investigation into Tikhonova appeared to confirm claims she was Putin's younger daughter.
When asked about Tikhonova last year, Putin's spokesman Peskov said he did not know who Katerina Tikhonova was. When he was asked if Putin's daughter worked for MGU, Peskov was again dismissive. "I don't know. It is not my business," he said. "I deal with the president, not his children."
Recent reports that Putin's ex-wife Lyudmila, whom he divorced in 2013 after three decades together, had remarried also reminded the Russian public that she too had drifted away from the limelight. The story that she had remarried, sourced from publically available property information, ran in newsweekly Sobesednik last week. In it, the magazine identifies 37-year-old Arthur Ochertniy as her new husband—something he did not confirm. According to Russian media, Ocheretny had been working at the Center for the Development of Interpersonal Communications—one of Lyudmila's projects promoting Russian language and culture—for several years.
When asked about the reports, Peskov once again refused to confirm or deny them, saying he was "not authorized" to comment on the president's ex-wife. NTV, one of the most Kremlin-loyal state-run TV networks, aired a segment last week on reports that Putin's ex wife had remarried and even tracked her likes on her reported new husband's Facebook page.
However, according to Radio Free Liberty the segment which is now on YouTube only aired in Russia's far east and once it was time for the program to air in central and western Russia, it was pulled. No explanation was seemingly given as to why the footage did not air nationwide.
When it comes to Putin's own love life the mystery is even more impenetrable to the world outside the Kremlin. Alina Kabaeva an Olympic gymnast, is the woman most often rumored to be linked with Putin by Russian and foreign tabloids.
The Kremlin has always denied reports of their relationship, however this has not curbed the enthusiasm of the press. When Putin disappeared from the limelight in March, reports from Switzerland speculated that he had come to the Alpine country with Kabaeva for the birth of their secret child. In May, Kabaeva made her much anticipated first public appearance since the reports, with journalists noting she appeared more plump than usual. The Russian version of celebrity magazine Hello! reported that she had appeared at a sports event in the pro-Russian, separatist Georgian region of South Ossetia in November wearing an engagement ring but made no links with Putin.