Rosh Hashanah, the Jewish New Year, is a time meant for celebration and self-reflection.
The holiday, which begins this year at sundown on Friday and ends at nightfall on Sunday, is a joyous occasion in the Jewish faith and marks the birth of the universe when God created Adam and Eve.
People celebrating Rosh Hashanah reflect on the past year and pray for a prosperous year to come. The Ten Days of Repentance follow, concluding with Yom Kippur, the Day of Atonement.
A large dinner is customary on Rosh Hashanah, and families often include people who don't observe the holiday to join then for the meal. Among the traditional foods eaten are challah bread, pomegranates and apples dipped in honey. The latter dish is meant to symbolize the hope of a sweet year.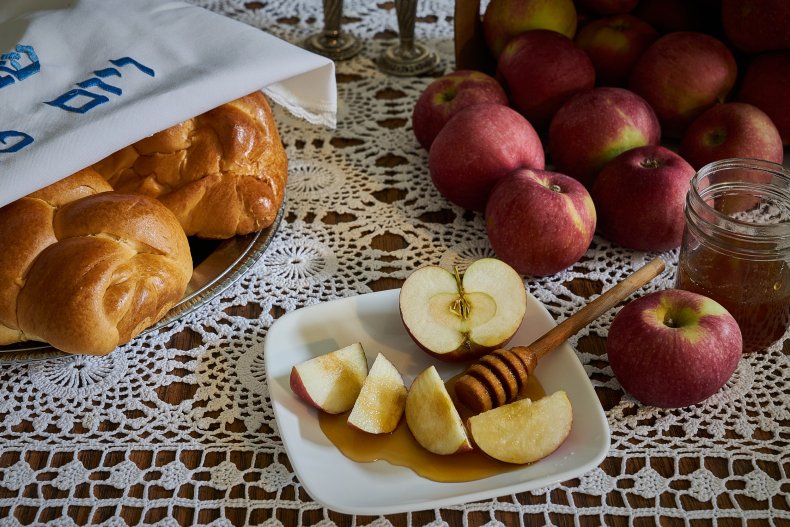 What Do You Say on Rosh Hashanah?
A customary greeting on Rosh Hashanah is a simple "Happy New Year" or "L'Shana Tova."
Rosh Hashanah Prayers and Blessings
Lighting candles is an important part of Jewish holidays. On Rosh Hashanah, the traditional blessing spoken over the lighting of candles is, "Blessed are You, Lord our G-d, King of the Universe, Who sanctified us with His commandments and commanded us to kindle the Yom Tov light."
According to My Jewish Learning, this blessing in Hebrew is pronounced: "Baruch ata Adonai, Eloheinu Melech ha-olam, asher kidshanu b'mitzvotav vitzivanu l'hadlik ner shel yom tov."
The common Jewish prayer known as Shehechiyanu expresses gratitude to God for making it possible that family and friends reached the holiday season. In English, it reads: "Blessed are You, Lord our G-d, King of the Universe, who has kept us alive and sustained us and brought us to this holiday season."
In Hebrew, the Shehechiyanu is pronounced, "Barukh ata adonai elohenu melekh ha'olam, shehecheyanu, v'kiyimanu, v'higiyanu la'z'man ha'zeh."
Another prayer—called the Hamotzi—is said before eating. Meant to be spoken over the bread, this prayer reads as, "Blessed are You, Lord our G-d, King of the Universe, who has brought forth bread from the earth."
Per My Jewish Learning, participants pronounce this prayer in Hebrew as, "Baruch ata Adonai, Eloheinu Melech ha-olam, hamotzi lechem min ha'aretz."
Rosh Hashanah Kiddush
A prayer known as the Kiddush is said over wine (or grape juice) when Rosh Hashanah falls on Shabbat—the Jewish day of prayer from sundown Friday to sundown Saturday—likes it does this year.
The Kiddush prayer reads:
"And evening came, then morning came: the sixth day. The heavens and the earth were completed and so were all their hosts. And G-d completed, by the seventh day, His work which He had done; and He abstained on the seventh day from all His work which He had done. And G-d blessed the seventh day and sanctified it, for on it He abstained from all His work which G-d had created to do."
The prayer then ends with the following words: "Blessed are You, Lord our G-d, King of the universe, who creates the fruit of the vine."