What Does The Future Hold for IT? Thomas Could Be on the Move Again after Joining Lakers
A year ago Isaiah Thomas was one of the brightest stars in the NBA firmament, as the Boston Celtics romped into the playoffs with the best record in the Eastern Conference.
However, in the nine tumultuous months that have followed, the Washington State native has been traded twice and could soon be on the move again. Thomas insisted "all you need is one team to love you" but admitted he did not know what free agency would hold for him in the summer.
"You just need one team," he told ESPN's Ohm Youngmisuk on Thursday.
"So that is all I am doing and working toward. Until then, I am focused on doing whatever I can to make this the best team possible.
"My resume speaks for itself. What I can do on the basketball floor speaks for itself. I can't do nothing but control what I can control, and that is taking advantage of any opportunity that I am given and playing my heart out," he said.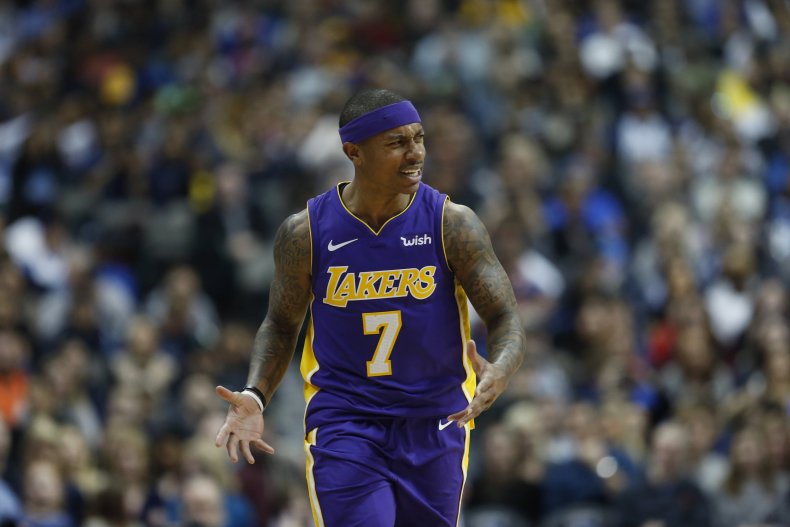 Thomas was instrumental as the Celtics reached the conference finals for the first time in five years, scoring more than 30 points in his team's first eight post-season games, including a 53-point game against the Wizards, that saw him become only the fifth Celtic to score 50 or more in a playoff game.
However, Thomas played only the first two-and-a-half games of the conference final before a hip injury ruled him out for the remainder of the season, as the Celtics fell 4-1 to the Cleveland Cavaliers.
The Cavs welcomed Thomas with open arms a few months later, as he swapped Massachusetts for Ohio alongside Ante Žižić, Jae Crowder and the Brooklyn Nets' unprotected 2018 first-round draft pick, while Kyrie Irving went the other way.
Thomas, however, did not return from injury until January 2 and played only 15 games for the Cavs, before the 2016 NBA champions traded him, Channing Frye and a 2018 first-round pick to the Los Angeles Lakers in exchange for Jordan Clarkson and Larry Nance Jr.
In Los Angeles, Thomas has so far averaged 15.4 points in 23.6 minutes. The figures are way down from the 28.9 points in 33.8 minutes he put up in the regular season last year but it is worth bearing in mind he has been utilized mainly off the bench by the Lakers and he is still working his way back to full fitness.
"Whatever opportunity they give me, I am going to take advantage of it," Thomas said.
"But I mean, it depends on what you are asking for […] I am not sitting here begging for more minutes. Whenever my name is called, I am going to be ready and take advantage of my opportunity."
On Thursday, the University of Washington product, converted six of his 11 three-point attempts as he racked up 29 points in 29 minutes, together with six assists and four rebounds, as the Lakers beat the Miami Heat 131-113.
His performance in Florida caught the eye of Dwyane Wade, who briefly played with Thomas for the Cavs, before he was himself traded and returned to Miami.
"I like the way that he's playing out there," he told Tania Ganguli of the Los Angeles Times.
"He looks free, has a different bounce in his step, and he will continue to get his confidence back in his body and game. I enjoyed my time being his teammate."
Wade, who scored 25 points in the defeat against the Lakers, added Thomas had the talent and the work ethic to return to the level he reached last season.
"One thing I know about him, you don't become a household name at 5-foot whatever he is, without having grit, without having toughness and knowing you can overcome anything," he added.