What Is Drill Music and Why Did Rolling Loud Remove It From the Lineup?
Although drill music has become a popular subgenre of hip-hop, its success has brought huge amounts of controversy. This was exemplified by a Thursday report that at least three drill music rappers were removed from this weekend's Rolling Loud festival in New York City.
The New York Times reported that representatives for the rappers Sha Ek, Ron Suno and 22Gz said the artists were pulled from the hip-hop festival's lineup at the request of police. No official announcement has been given regarding the artists allegedly being disinvited from the event, though a similar situation occurred in 2019 after the New York Police Department (NYPD) notified organizers it wanted several artists taken off that year's Rolling Loud lineup. 22Gz was among those removed in 2019, as well as popular rappers Pop Smoke (who died in 2020), Casanova and Sheff G.
Drill music has also faced high-profile scrutiny from officials such as New York City Mayor Eric Adams and law enforcement in the United Kingdom, who cracked down on online platforms sharing that type of music.
However, despite its appearance in news headlines, many people may not be overly familiar with drill music.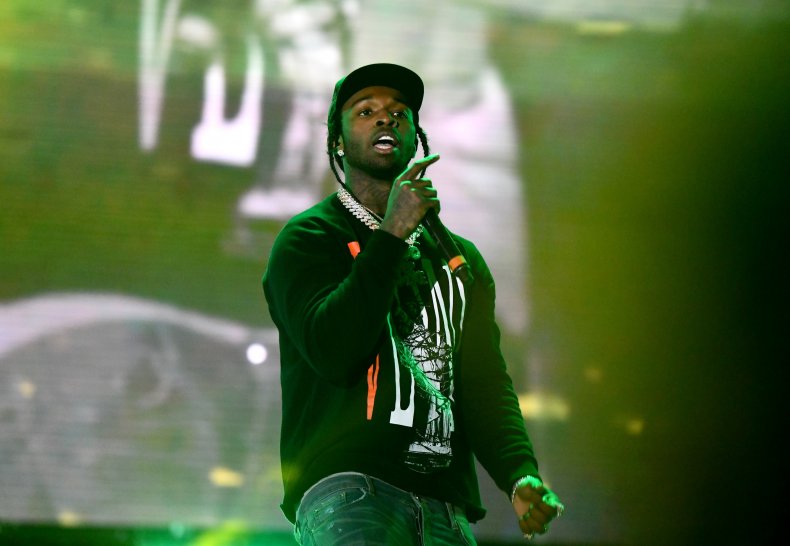 What Is Drill Music?
Drill's origins trace back to Chicago in the early 2010s. Lyrically, the subgenre of hip-hop is most closely aligned to gangsta rap and frequently contains violent allusions. The musical accompaniment is similar to trap music, though often played at slower tempos.
In 2012, AllHipHop wrote that the term "drill" was first used in connection to the new musical style by the late Chicago rapper Pacman. The website said veteran Chicago hip-hop duo L.E.P. Bogus Boyz explained "drill" is a slang term "that can be used for anything from females getting dolled up to all out war in the streets."
Chief Keef and Lil Durk were among the first Chicago artists who broke through into the mainstream with major label deals. Kanye West was an early promoter of drill, saying it had influenced his 2013 album Yeezus, which featured vocals from Chief Keef.
Drill soon spread east, and rappers of the genre became popular in New York City.
Brooklyn rappers Bobby Shmurda and Rowdy Rebel were early standouts in the city. Other artists from the borough that later found success include Sheff G, 22Gz and Fivio Foreign. Among the most famous Brooklyn drill rappers was Pop Smoke, who was murdered by a group of men in 2020.
Pop Smoke's posthumous debut studio album—Shoot for the Stars, Aim for the Moon—was executive produced by 50 Cent and spawned the top-10 single "For the Night," featuring DaBaby and Lil Baby.
Despite the genre's success, drill music has become extremely controversial due to well-publicized acts of violence like Pop Smoke's killing, and many popular hip-hop DJs have stopped playing it.
Newsweek reached out to the NYPD for comment in regards to Rolling Loud.
Mayor Adams Addresses Drill Music
Earlier this year, drill rappers CHII WVTTZ and TDott Woo were killed in shootings days apart from one another. Mayor Adams responded by condemning drill music and linking it to gun violence.
"Violent people who are using drill rapping to post who they killed and then antagonize the people who they are going to kill is what the problem is," the mayor told reporters in February.
Days later, though, Adams met with a group of drill rappers. Afterwards, the parties involved characterized the meeting as a positive talk about music and its relation to violence in the city.
Drill Music Around the World
Drill music hasn't just found an audience in the United States, however. Drill music has been shared online by artists in Russia, Spain and Australia.
In the U.K., drill has become so popular that Amazon Prime will soon be rolling out a six-part scripted series that chronicles the scene in London. Entitled Jungle, the show premieres on September 30.