What Game Critic Stacey Henley Said About J.K. Rowling That Led to Apology
The BBC has apologized after a game critic called for a boycott of the upcoming Harry Potter game Hogwarts Legacy.
During a BBC Radio 4 PM program, gamers were invited to review and discuss the upcoming game with host Evan Davis. However, one of the guests is refusing to review the game over the its links to Harry Potter author J.K. Rowling. Rowling has become a controversial figure in recent years after being accused of multiple instances of transphobia.
The links between Rowling and Hogwarts Legacy have sparked a call for a boycott of the game to stop her profiting from sales. Despite the negative reactions from some, the boycott appears to have failed as the game remains a popular purchase.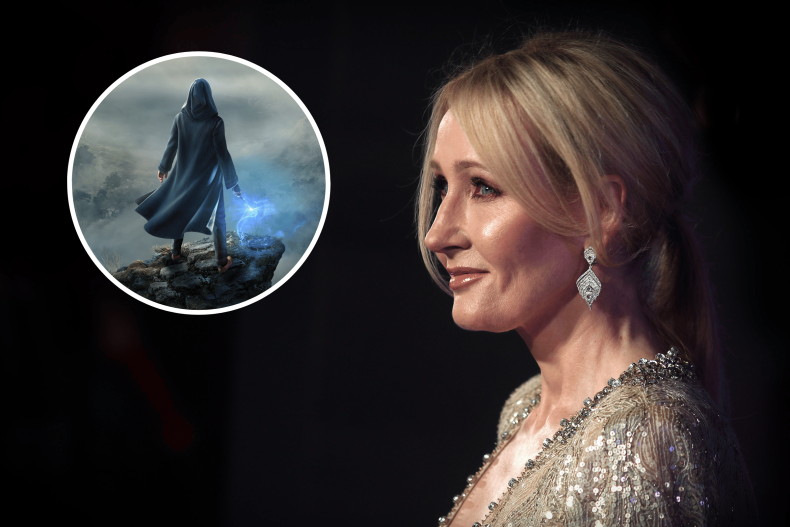 Game reviewer and editor-in-chief of the website The Gamer, Stacey Henley, is the guest who prompted the BBC to apologize. Responding to Newsweek's request for a comment, she said she's "disappointed" in the BBC and host Davis that they told her "the interview would be on boycotting the game itself, not a debate about Rowling's beliefs." However, she was later accused of not expanding on her points about Rowling, after attempting to limit her comments.
Speaking to host Davis on the February 2 show, Henley explained that her website wouldn't be covering the game because of its ties to Rowling. "She has a platform that she uses to push transphobia, uses it to build up what I would call a campaign against trans people, especially in Britain."
She continued, "I think moving forward you're not being asked to give up all those childhood memories. What you're being asked to do is think of the impact of continuing to support future endeavors [of Rowling's]."
Rowling's representatives declined to comment when approached by Newsweek.
After the broadcast aired, some criticized the BBC for airing Henley's views. The creator of the British sitcom The IT Crowd, Graham Linehan, said Rowling was "slandered and demonized" on-air.
Responding to the backlash, a BBC spokesperson said: "This is a difficult and contentious area which we do try very hard to cover fairly. However, we should have challenged the claims more directly and we apologize that we did not."
The fallout from the conversation spilled over onto social media, with both host Davis, and the contributor Henley, speaking about the backlash.
Davis said he accepted criticism over the broadcast as they were trying not to debate Rowling's views. "While I did assert it, I should have made it clearer that @FiveTacey's (Henley's Twitter handle) view of JK is her own premise for boycotting the game and is heavily contested."
Henley, who is transgender and identifies as female, told Newsweek what she thought of the BBC's statement over the broadcast.
"For the BBC to apologize for their own parameters and yet style the apology specifically as failing to pushback against me is yet another example of the hostile environment the BBC is creating for trans people."
Henley continued, "I also find it ironic that JK Rowling's biggest fans will demand that I point out any example of her transphobia in one breath and then call me a man/pervert/deviant with the next. While Rowling mostly keeps her hands clean of any violently or overtly transphobic rhetoric, she is well aware that those who have no problem crossing the line into insults, hatred, and violence see her as an icon. That she has failed to speak up against or dissuade this is the basis for my beliefs about her."
On February 6, a few days after the Radio 4 broadcast, Henley responded to the Hogwarts Legacy reviews, and in particular took aim at the games website IGN after it explained why it would be covering it.
"I was going to avoid the review drama, but for IGN's review to state 'As critics, our job is to answer the question of whether or not we find the game to be fun to play and why' is a dismal misunderstanding of what a critic is," she began in a Twitter thread.
When someone pointed out IGN's wider quote in context, Henley explained her own reasons behind not reviewing the game. "I state multiple times my issue is not with this game in particular or with the decision to cut JKR from score consideration. My point is that 'is this game fun' is an incredibly shallow question for a critic to ask," she wrote.
Rowling stirred controversy in 2019 when she publicly supported Maya Forstater, a U.K. tax specialist who was fired over tweets deemed anti-trans.
In an essay published on her personal website in June 2020, Rowling shared some of her views on transgender issues. She wrote: "When you throw open the doors of bathrooms and changing rooms to any man who believes or feels he's a woman—and, as I've said, gender confirmation certificates may now be granted without any need for surgery or hormones—then you open the door to any and all men who wish to come inside. That is the simple truth."
That same month, Rowling reacted to an article that referred to "people who menstruate," tweeting: "I'm sure there used to be a word for those people. Someone help me out. Wumben? Wimpund? Woomud?"
While some trans activists branded Rowling a "TERF"—an acronym for trans-exclusionary radical feminist—she stood her ground on the issue.

Rowling tweeted at the time: "If sex isn't real, there's no same-sex attraction. If sex isn't real, the lived reality of women globally is erased. I know and love trans people, but erasing the concept of sex removes the ability of many to meaningfully discuss their lives. It isn't hate to speak the truth."
"I respect every trans person's right to live any way that feels authentic and comfortable to them," she went on. "I'd march with you if you were discriminated against on the basis of being trans. At the same time, my life has been shaped by being female. I do not believe it's hateful to say so."
Update 02/07/2023, 10:39 a.m. ET: This article was updated to include comments from Henley and with a new headline.