Canada Trucker Protests Latest as Ottawa Declares State of Emergency
The mayor of Ottawa declared a state of emergency Sunday as an ongoing protest against COVID-19 vaccine mandates and restrictions continued to roil Canada's capital.
Thousands of protesters in Canada—part of a self-described "Freedom Convoy"— have taken to the streets for a second weekend in a row, paralyzing downtown Ottawa and the area around Parliament. Demonstrations also took place in other cities, including Toronto and Quebec City.
The protest was initially organized to oppose vaccine mandates for truckers crossing the border from the U.S., but grew into a movement against pandemic restrictions in general and Prime Minister Justin Trudeau's government.
Ottawa's police chief Peter Sloly described the protest as "a siege" that authorities could not manage on Saturday.
A day later, Mayor Jim Watson declared a state of emergency.
In a statement, he said the declaration "reflects the serious danger and threat to the safety and security of residents" and highlights the need for support from other jurisdictions and levels of government.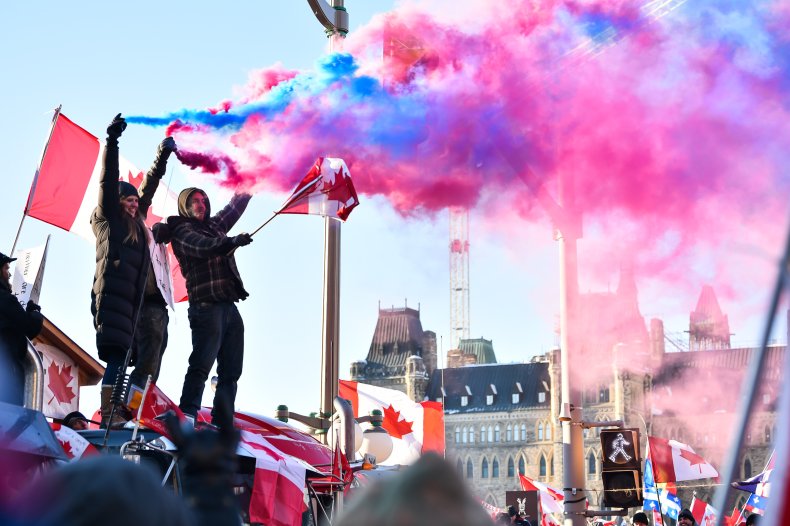 He also said it gives the city some additional powers around procurement and how it delivers essential services to residents, which could help purchase equipment required by frontline workers and first responders.
Watson later warned that the demonstrations could turn deadly. "We're in the midst of a serious emergency. The most serious emergency our city has ever faced," Watson said in an interview with CTV.
"And we need to get moving much more quickly and much more proactively, to bring order back to the streets. Someone is going to get killed or seriously injured because of the irresponsible behavior of some of these people."
Ottawa Police said there are over 60 criminal investigations connected to the protest so far, primarily for mischief, thefts, hate crimes and property damage.
The protesters have infuriated Ottawa's residents and local businesses, who have endured days of noise and traffic disruptions as well as harassment.
But they have attracted support from prominent Republicans in the U.S. including former president Donald Trump, who branded Trudeau "a far left lunatic" who has "destroyed Canada with insane Covid mandates."
Meanwhile, Bruce Heyman, a former U.S. ambassador to Canada under former president Barack Obama, has urged groups in the U.S. to stop interfering in Canada's affairs.
"Canada US relations used to be mainly about solving technical issues," Heyman said in a tweet.
"Today Canada is unfortunately experiencing radical US politicians involving themselves in Canadian domestic issues. Trump and his followers are a threat not just to the US but to all democracies."
In another tweet, Heyman said "under no circumstances should any group in the USA fund disruptive activities in Canada. Period. Full stop."
GoFundMe on Saturday said it would issue refunds to everyone who donated to a fundraising page set up by protest organizers that raised millions.
"We now have evidence from law enforcement that the previously peaceful demonstration has become an occupation, with police reports of violence and other unlawful activity," the crowdfunding platform said in an earlier statement after canceling the fundraiser.
Trudeau, who is in isolation after testing positive for COVID-19 last week, has called the protesters a "small fringe minority" and emphasized that almost 90 percent of the country's truckers are vaccinated.
Last week, he condemned those who desecrated war memorials, carried Nazi symbols and stole food from the homeless.
"I know this pandemic is frustrating. It's frustrating that, after two years, we're not done fighting COVID-19. But over the past few days, Canadians have been shocked – and, frankly, disgusted – by the behaviour displayed by some people protesting in our nation's capital," Trudeau said on Twitter.
"I want to be very clear: We're not intimidated by those who hurl abuse at small business workers and steal food from the homeless. We won't give in to those who fly racist flags. And we won't cave to those who engage in vandalism, or dishonour the memory of our veterans."