Homeland Security Secretary Kirstjen Nielsen insisted Tuesday that federal agencies will not prioritize deporting immigrants brought illegally into the United States as children if Congress and the White House don't reach a deal to keep their protected status.
"It's not going to be a priority of the Immigration and Customs Enforcement to prioritize their removal. I've said that before. That's not the policy of DHS," Nielsen told CBS This Morning.
Nielsen added that these immigrants will remain a low priority "in perpetuity," but noted that if any of them commit a crime, "we will enforce the law."
The Deferred Action for Childhood Arrivals (DACA) program, enacted by President Barack Obama in 2012, allowed immigrants who illegally entered the country as minors to receive a renewable two-year stay from deportation.
In September 2017, the Trump administration announced its plan to phase out DACA by March 2018 unless Congress could rescue it with new immigration legislation. By then, nearly 800,000 "Dreamers" depended on DACA to legally remain in the U.S.
Congress has spent months trying to reach a deal that redefines and cements Dreamers' legal status while assuring tough immigration measures. But negotiations have stalled as Republicans and Trump insist that any deal to protect Dreamers must include funding for a Mexican border wall and other security measures. Democrats have balked at the GOP's proposals, arguing that Dreamers should not be used as "bargaining chips."
Congress has until January 19 to reach a deal as part of negotiations that could lead to a government shutdown if no agreements are reached. Nielsen said federal immigration authorities will not seek to immediately deport Dreamers if the deadline is missed.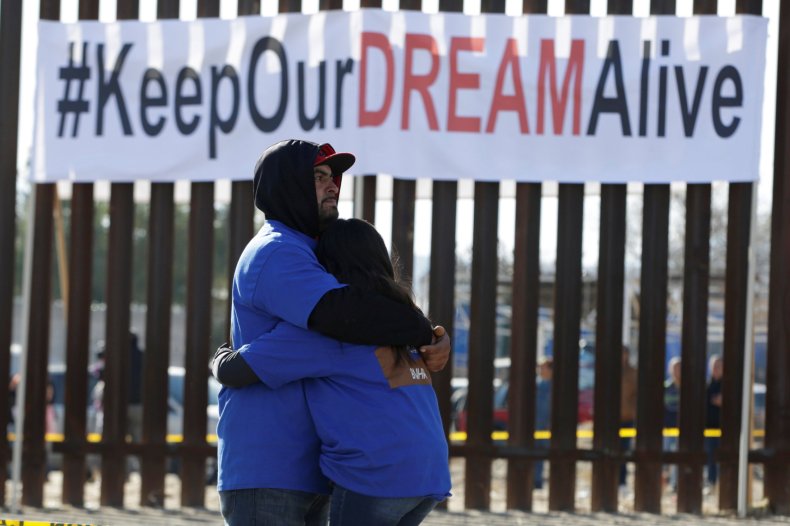 Last week, U.S. District Judge William Alsup in San Francisco ruled that the Trump administration cannot end the DACA program until challenges to the Department of Homeland Security brought by the University of California system, 16 state attorneys general, and a DACA participant are fully litigated. On Saturday, immigration authorities announced they would accept DACA renewals, per Alsup's ruling.
Immigrant rights' groups have raised concerns over Dreamers facing deportation since Trump's decision to curtail DACA. The U.S. Customs and Immigration Services (USCIS), which processes DACA applications, has repeatedly said it will not "proactively" share applicants' information with ICE. However, as reported by The Daily Beast in September, USCIS also maintains that it will give ICE information on Dreamers' home addresses, places of employment, and other information if requested to do so.
In April 2017, Juan Manuel Montes, 23, became the first DACA participant to be deported by the Trump administration. Montes, who arrived in the U.S. when he was 9, was detained by Customs and Border Protection officers after he couldn't produce his ID or proof of his DACA status. The agents proceeded to deport Montes to Mexico within three hours of his arrest.
"Some people told me that they were going to deport me; others said nothing would happen," Montes told USA Today. "I thought that if I kept my nose clean nothing would happen."