What Has Dr. Fauci Said About a Coronavirus Vaccine?
Days after describing the goal of securing a coronavirus vaccine by the end of 2020 as "aspirational," Dr. Anthony Fauci said it was possible there would be a deployable vaccine by December.
The director of the National Institute of Allergy and Infectious Diseases and member of the White House's coronavirus task force explained some of the strategies the federal government has taken to hasten vaccine development during an interview with CNN's Jim Sciutto Wednesday morning.
"We have a good chance, if all of the things fall in the right place, that we might have a vaccine that would be deployable by the end of the year, by November-December," Fauci said.
Fauci's earlier projections for a coronavirus vaccine estimated that it would not be readily available until 12 to 18 months after the virus first began spreading globally at the beginning of the year. During the CNN interview, he said efforts to speed up the production of vaccines still in development could shave months off the time it usually takes to prepare vaccines for distribution—so long as one of them works.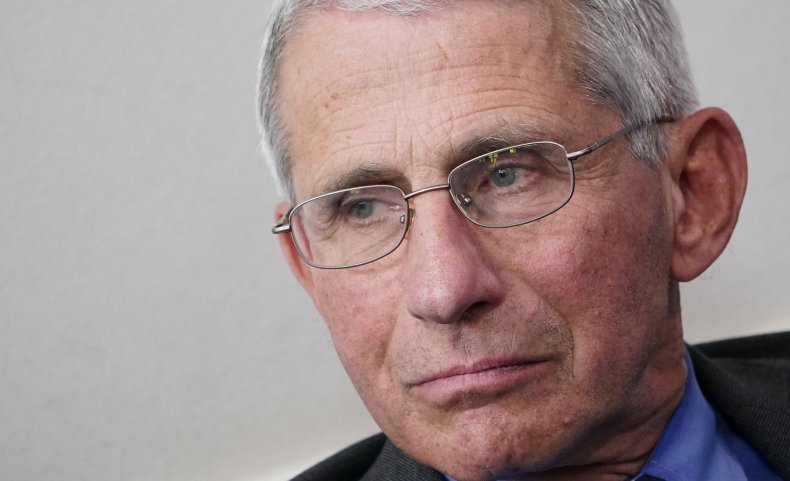 Investment in resources to produce vaccines typically doesn't happen until after they have been proved effective. But because of the novel coronavirus' highly contagious nature and its impact on the U.S. economy and the population at large, the Department of Health and Human Services (HHS) has been instructed by President Donald Trump's administration to design a plan, called Operation Warp Speed, to quickly direct resources toward vaccines that show promise.
While announcing the Operation Warp Speed team at the White House earlier this month, Trump said experts had already identified 14 of the more than 100 vaccines in development worldwide that may be worth early investments in resources. The multipronged approach to vaccine development for the virus was a way to "eliminate any unnecessary delay," the president said.
Trump's appointed head of the team, Dr. Moncef Slaoui, said during a May 15 news briefing that data from one clinical trial made him "feel even more confident that we will be able to deliver a few hundred million doses of vaccine by the end of 2020."
Six days later, HHS announced it was working on procuring 300 million doses of a vaccine in development by AstraZeneca, which are expected to be ready by October.
Newsweek reached out to the White House for comment regarding the expected vaccine timeline but did not hear back before publication.
Debate about the projected availability of a vaccine has heated up as states reopen their economies and ease lockdown restrictions. Last week, Fauci said during an interview with The Hill that the possibility of a vaccine being ready by the end of 2020, though possible with the right funding and the necessary scientific successes, was "aspirational." Earlier this month, he co-authored a scientific paper that suggested more than one vaccine may be necessary to effectively stop the pandemic.
Even so, Fauci seemed optimistic about the progress made thus far toward developing a vaccine and preparing it for mass distribution. During an interview with Newsweek, he said the initial goal of having a vaccine ready within 12 to 18 months after the pandemic began was still on track. Though he acknowledged that none of the vaccines in development are guaranteed to work, he said the data that has come in so far from one clinical trial looks promising.
"Assuming that we have a safe and effective vaccine, a timetable that we would have enough doses by December I think would be not an unreasonable assumption," he added.