What J.K. Rowling Said on International Women's Day
J.K. Rowling is campaigning for governmental clarity on the meaning of "biological sex" this International Women's Day.
The Harry Potter author has been accused of having transphobic views in the past, usually in regards to what constitutes a woman, but her supporters have said that she is helping to protect women-only spaces.
The debate has been reflected in recent U.S. disputes. Republicans in over two dozen states are trying to stop gender-affirming care for minors and drag shows in front of youngsters in steps they say are intended to protect children. Critics say such measures are harming all LGBTQ people, particularly vulnerable youths, and depriving them of their rights.
Using her considerable platform, Rowling tweeted out a number of links on Wednesday and included the hashtag "#Internationalwomenday2023."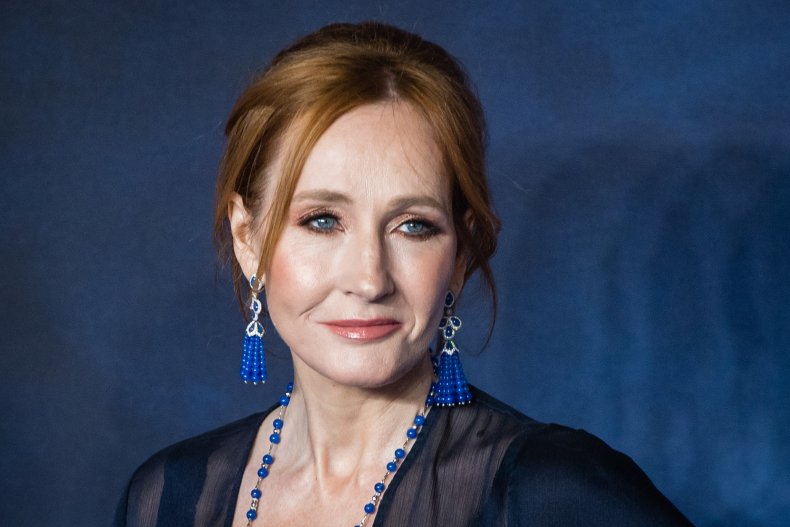 One of the most notable was a "Sex Matters" petition, calling for the British government to "make the Equality Act clear" by defining the protected characteristic of "sex" as "biological sex." Thousands replied in the comment section of Rowling's Twitter, with some congratulating her for standing up for women's rights, while others accused her of attempting to "force charities and organizations to discriminate."
March 8 marks International Women's Day, a global day celebrating the social, economic, cultural, and political achievements of women. Rowling used the day to make her position clear. Newsweek has contacted her for comment.
"If you're concerned about the erosion of women's rights in the UK - the right to single sex spaces like domestic violence refuges, rape crisis centers and prisons - sign the Sex Matters petition to make the Equality Act clear," she wrote on Wednesday morning, including a link. The petition in question currently has over 87,000 signatures, with 100,000 needed to guarantee it will be debated in the British Parliament.
The petition hosted on sex-matters.org clarifies what it's asking for. "Sex Matters is asking people in the UK to sign our official petition calling on the government to update the Equality Act 2010 to make clear that the protected characteristic of "sex" means biological sex, and is not modified by the holding of a gender recognition certificate," the campaign says.
Rowling has often spoken out about gender and sex, and first raised the issue in December 2019 when she retweeted an article about a woman who lost a job for expressing her own gender views. In June 2020 she mocked an article which referred to people biologically born as women as "people who menstruate."
The debate has since continued between Rowling, her supporters, and members of the trans community. Rowling recently addressed the uproar on The Witch Trials of J.K. Rowling podcast. "I never set out to upset anyone. However, I was not uncomfortable with getting off my pedestal," she said.
In response to her latest tweet sharing the petition, she received support from a number of verified accounts. "Thank you as ever for standing up for women and girls!" an account called Women's Voices wrote. Many thanked her, and others commented to say they'd signed.
"The equality act is clear," wrote the LGBTQ Twitter account holder known as @CriticalCupcake, taking the opposite view. "You are trying to force charities and organizations to discriminate." Some other comments threw accusations and names at Rowling for her tweet.
Rowling also tweeted out links for a domestic violence charity fund, and a link to an article highlighting women and girls in Afghanistan who'd been forced out of education.
On International Women's Day in 2022, Rowling caused another stir when she sent out a series of tweets accusing politicians of not being able to "define what a woman is." She continued in a tweet to British MP Anneliese Dodds, "What's the plan, lift up random objects until you find one that rattles?"