What Kamala Harris Has Said About Mike Pence's Debate Fly
Democratic Vice-Presidential candidate Kamala Harris confirmed Wednesday that she was aware of the fly that landed on Vice President Mike Pence's head during the October vice-presidential debate.
The fly stayed on Pence's head for roughly two minutes as the debate neared its conclusion. Social media users immediately seized on images of Pence and the fly, posting memes across the internet. Harris appeared not to notice the intruder on her opponent's head but revealed during a Wednesday interview that she was aware of the insect.
"I did see the fly and I just assumed it would fly away because it was a fly," Harris said during an interview on the Rickey Smiley Morning Show on Wednesday. "You know, I didn't want to embarrass the man, right, and make a deal out of it on the stage because there was too much to talk about like the fact that they're trying to get rid of people's health care. But it certainly was—I guess it turned out to be something that people talked about."
In a separate interview on The Rachel Maddow Show on MSNBC on Wednesday, Harris dissolved into laughter before politely side-stepping a question about the stowaway on Pence's head.
"I think that it's important that we find a way, all of us, to move on and kind of fly away from this subject on to something else," Harris told Maddow.
Pence said that he had no idea the fly had landed on him until his children informed him. "They're the ones who told me," Pence told Fox News on Monday. "I didn't know he was there."
Reaction to Pence's dark passenger came swiftly on the internet. On the night of the debate, comedian Patton Oswalt tweeted, "EWWWWWWWWW that fly has Mike Pence on his stomach."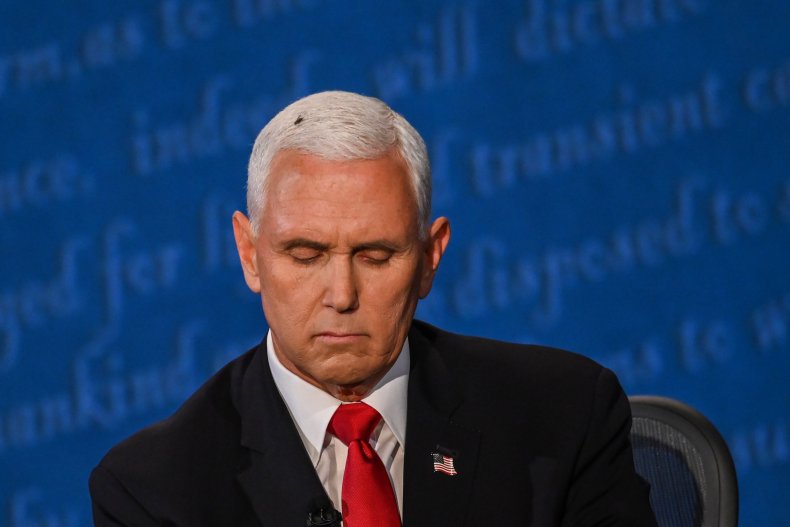 Actor Sheryl Lee Ralph tweeted a photo showing a fly holding a Biden/Harris campaign sign. "The Fly won last nights #VPDebate," Ralph wrote.
Biden's campaign capitalized on the fly incident by launching flywillvote.com, which redirected visitors to a voter registration website hosted by the Democratic National Committee. In exchange for a $10 donation, Biden's campaign offered fly swatters emblazoned with the legend, "Truth Over Flies." The item quickly sold out.
Newsweek reached out to the Biden campaign for comment.
Pence was tangentially involved in another debate controversy after the contest ended. Second Lady Karen Pence, who had been observed wearing a face mask during the debate proper, joined Mike Pence on the stage without a face covering despite coronavirus precautions. The Commission on Presidential Debates had expressly stated that wearing a face mask was a condition for being in the debate hall.
Harris's husband, Doug Emhoff, also left the audience to join his wife on stage. Emhoff left his face mask on.
In an October statement reported by Fox News, Karen Pence's communication director Kara Brooks said that Karen Pence was following an agreement made before the debate took place. "Both sides agreed that the spouses would remove their masks when they walked onto the stage at the end of the debate," Brooks wrote.