What LeBron James Has Said About Tom Brady Winning Super Bowl 2021
LeBron James has called Tom Brady's achievements "inspiring," but the NBA star is not ardently set on trying to emulate the quarterback's longevity at the top.
In his 21st season in the NFL, Brady won a record seventh Super Bowl ring as the Tampa Bay Buccaneers defeated the Kansas City Chiefs in Super Bowl LV on Sunday, meaning he has won the Vince Lombardi Trophy more times than any of the 32 NFL franchises.
Super Bowl LV was Brady's 10th appearance in the NFL championship game and the third since turning 40, more than Drew Brees, Aaron Rodgers and Hall of Famer Dan Marino have in their careers combined.
With a seventh title, he surpassed Michael Jordan in the list of most successful players in the history of U.S. sports, drawing level with Babe Ruth. Brady is also three titles ahead of James, who won his fourth NBA championship last October when the Los Angeles Lakers defeated the Miami Heat in six games.
"I've been watching him for quite a while now, and just to see him go out and do the things that he's done in his career, for him to win another one yesterday [Sunday] in the fashion that he won, it was pretty cool," James said on Monday night, following the Lakers' 119-112 win in overtime over the Oklahoma City Thunder.
"It was very inspiring for a guy like myself. But two different sports, two different positions."
Brady has made no mystery of his desire to play until his 45th birthday and reiterated his commitment in the lead-up to Super Bowl LV.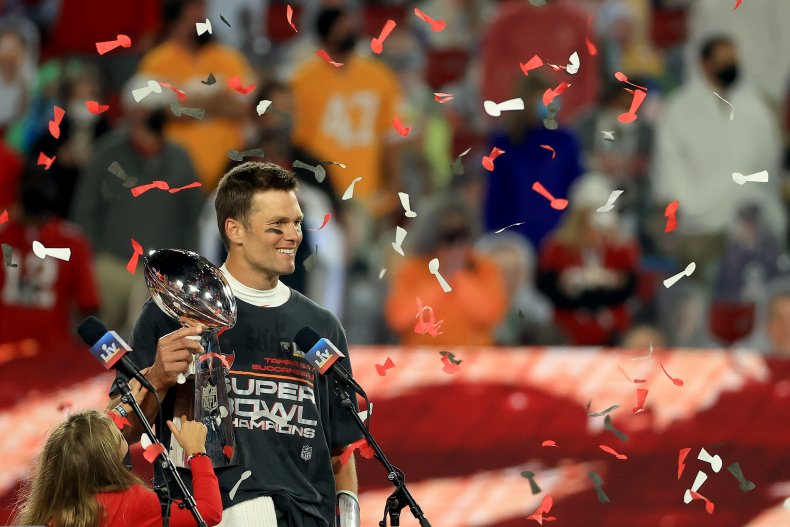 "Definitely. I'd definitely consider that," the veteran quarterback said.
"It's a physical sport. Just the perspective I have on that is you never know when that moment is. Just because it's a contact sport. There's a lot of training that goes into it. And it has to be 100 percent commitment from myself to keep doing it."
James turned 36 on December 30 and is currently in his 18th NBA season. He ranks 24th and seventh respectively in the all-time list of career games and minutes played and leads all current players in both categories.
Like Brady, James has remained at the top of his game for longer than most of his younger counterparts and remains in peak form from a physical standpoint.
Unlike the Bucs quarterback, however, the four-time NBA Finals MVP is not looking too far ahead, conscious of the toll 18 seasons of incredibly high usage have taken on him.
"I don't know how long I'm going to play the game," he explained.
"I don't know how much more I'll be able to give to the game. The way I feel right now, we'll see what happens. But I have no timetable on it. I have no year of, 'OK, do I want to play until 30-this or 40-that?' The game will let me know when it's time, and we'll figure it out then."
James penned a two-year extension worth $85 million with the Lakers In December last year, which will keep him with the franchise until the end of the 2022-23 season.
By then, James will be 38 and will have completed his 20th campaign in the NBA.
"At the end of this contract, I'll be in year 20," he said when his extension was announced.
"The best thing about it is the year I'll be a free agent will be the same year my oldest son graduates high school. So I'll have some options to see, for me personally, what I want to do [moving] forward."
On Monday, James continued his own personal battle with Father Time. He finished with 28 points, 14 rebounds and 12 assists in the win over the Thunder, achieving an over-35s record of nine triple-double, one more than Jason Kidd's previous benchmark.