French far-right presidential candidate Marine Le Pen has long been an admirer of Russian President Vladimir Putin.
The leader of the National Rally party is taking on incumbent Emmanuel Macron in a runoff election on Sunday that could determine the future direction of Europe.
Pro-European Union centrist Macron is leading in the polls ahead of the vote, but it would certainly be viewed as a boon by Putin if Le Pen—who has said she would pull France out of NATO's military command and reduce French support for the EU— were to triumph.
Le Pen traveled to Moscow to meet Putin when she was running for the presidency in 2017, received loans from a Russian bank to fund her party and supported Putin's illegal annexation of Crimea.
But she has sought to distance herself from Russia in recent months and has condemned Russia's invasion of Ukraine.
So what exactly has Le Pen said about Putin over the years?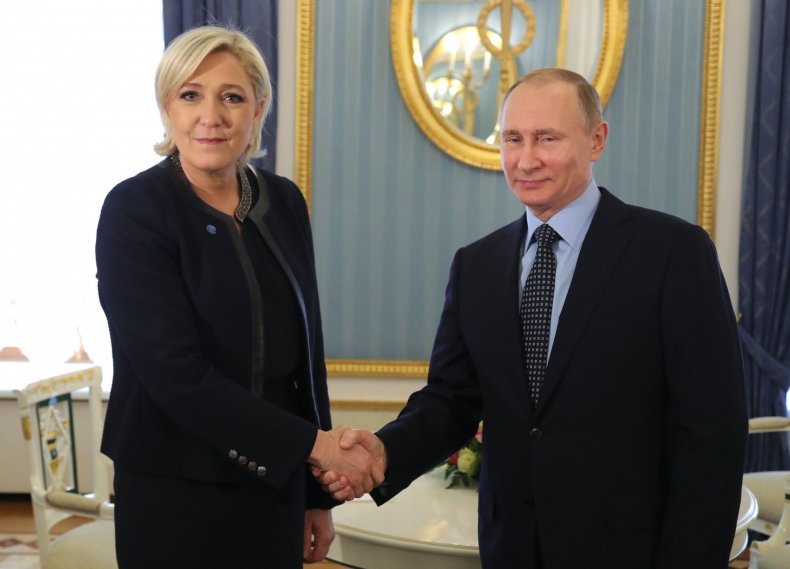 In a March 2017 interview with CBS News, Le Pen called concerns that Putin posed a threat to Europe "a big scam."
Asked if she felt Putin threatened France and other countries, she said: "No, I don't believe it is so. Nothing Vladimir Putin has done would make me reach that conclusion."
Pressed on her admiration for Putin, she said: "I'm not a fan in a rock concert, you see. I am a political leader in a great nation of the world. What interests me are France's interests." She also denied that taking Russian loans worth €11 million in 2014 had influenced her stance on Russia.
When she traveled to Russia to meet with Putin, according to Euronews, she said that if elected, she would consider plans to swiftly lift EU sanctions on Russia over its annexation of Crimea.
"It's now the world of Putin, the world of Donald Trump," she told reporters after the meeting.
In an interview with the BBC's Newsnight program days later, she denied that she knew Putin well. "I've met him once," she said.
But she defended Russia's foreign policy and blamed tensions on the U.S. and NATO, accusing them of arming countries along Russia's border. "Ukraine is part of Russia's sphere of influence, it's a fact," she said.
Russia doesn't "deserve to be treated with prejudice," she added, because "it hasn't led any campaigns against European counties, or against the U.S." U.S. intelligence and a Senate panel concluded that Russia had interfered with the 2016 presidential election.
Asked if Putin had done more harm than good in that same interview, Le Pen said Russia was "going broadly in the right direction" and said his intervention in Syria had been good for the security of the world.
She also claimed that Putin must be "pretty popular" with Russians to have been re-elected so many times—although Russians elections have long been criticized as neither free nor fair. "The policies I represent are the policies represented by Mr Trump. They're represented by Mr Putin," she said.
In early February, Le Pen said she didn't believe that Russia would invade Ukraine. That prediction proved wrong when Putin ordered Russian forces into its neighboring country on February 24.
Invasion 'Absolutely Indefensible'
Since then, she has sought to distance herself from Russia and condemned the invasion of Ukraine as "a clear violation of international law and absolutely indefensible."
She has also sought to justify her visit to the Kremlin. "The Vladimir Putin of five years ago is not exactly that of today," she said, according to The Guardian.
At a press conference last week, she said allegations that she is close to Putin and Russia were "unfair."
"The trial I am subjected to is particularly unfair," she said, according to Politico. "Until the triggering of the war in Ukraine, I actually believed that it was in the interest of France to have closer ties with Russia again, and ... prevent Russia from building such a solid alliance with China."
But in a sign that she would seek to revive a friendship with Putin, she has called for a "strategic rapprochement" with Russia once the war is over.
She said such a relationship would be "in the interest of France and Europe and I think even of the United States" to stop Russia from building a stronger alliance with China.
Le Pen's office has been contacted for additional comment.