What Is Mario Batali Accused Of? NYPD Probes Disgraced Celebrity Chef
The New York Police Department (NYPD) is investigating celebrity chef Mario Batali for sexual misconduct.
A spokesperson for the NYPD confirmed the probe Sunday, the Associated Press reported, shortly after the broadcast of a CBS 60 Minutes episode in which an unnamed woman accused Batali of drugging and sexually assaulting her in 2005.
It is unclear which incident the police is investigating. In the 60 Minutes interview, the woman said she was working for Batali's Babbo restaurant in Greenwich Village when he invited her to a party at The Spotted Pig eatery in the West Village, which he had helped to fund.
Her last clear memory of that night is drinking white wine and sitting alone with Batali at a small table on the restaurant's second floor.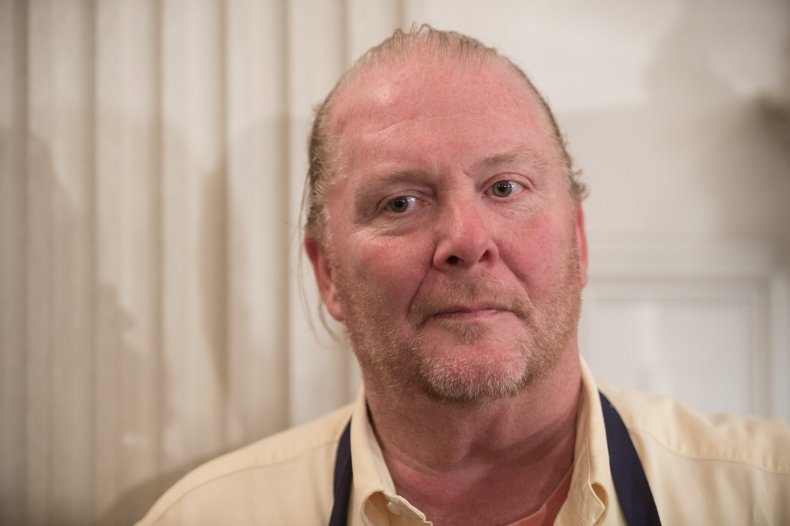 "It gets completely foggy for me," she told Anderson Cooper. "I remember a moment where I was on his lap, kissing him. Like, he was kissing me. And then I remember throwing up—in a toilet. And that is all."
The woman said she woke up around dawn alone, in a different room on the third floor. Her right leg had been scratched, and there were two stains that looked like semen on her skirt.
"I see broken bottles. The first thing I think is, 'I've been drugged.' That was the first thing I thought, is, 'I've been—I've been assaulted,'" she said. She said she went to the police later that day to speak to a detective at the NYPD Special Victims Division, but couldn't bring herself to file a report.
"They tried getting me to file a report. They tried, they tried. But I—you know, a young actress, no resources, no money. I couldn't. I—I couldn't do it," she told Cooper.
In the wake of the #MeToo movement that inspired women to share their experiences of sexual harassment and assault, four women came forward with allegations of sexual misconduct against Batali, first published on Eater in December.
Batali issued a controversial apology in response to the allegations at the time and stepped away from his business empire and co-hosting duties at ABC's The Chew. He and his team rejected the new allegations in a statement to 60 Minutes.
"I vehemently deny the allegation that I sexually assaulted this woman. My past behavior has been deeply inappropriate and I am sincerely remorseful for my actions," the statement read, adding that Batali was now focusing on "finding a personal path forward" to "continue charitable endeavors" such as "helping the underprivileged and those in need."
The 60 Minutes broadcast unearthed another alleged instance of sexual misconduct. Jamie Seet, a former manager at The Spotted Pig, said she and other employees witnessed Batali assaulting a seemingly unconscious woman in 2008. The woman, an up-and-coming chef at the time, declined to speak to 60 Minutes.
"We were in the third floor of the restaurant, and there are cameras. And there had been a party. And it dwindled down to two people, Mario and then this woman," Seet told Cooper.
The woman looked unconscious, and Batali was moving his hand between her legs when Seet and three other employees decided to intervene and get him out of the room. "To this day, I feel ashamed that I never called the police," Seet said.