What Is Max Cleland Known For? Triple Amputee, Former Senator Dies at 79
Max Cleland, the former Democratic senator from Georgia who also led the Veterans Administration, has died from heart failure at the age of 79.
One of the first Vietnam War veterans to enter politics, Cleland was well known for his influential role in Georgia politics and his rise to one of the top positions in the Carter administration.
"U.S. Senator Max Cleland sacrificed for and served Georgia and our nation with true integrity," voting rights advocate and former gubernatorial candidate Stacey Abrams said Tuesday. "He defended democracy, spoke up for veterans and embodied a quiet dignity that lifted all who knew him. God's peace to his family and friends as he takes rest from his labors."
Upon hearing the news of his death, President Joe Biden remembered Cleland as "an American hero whose fearless service to our nation, and to the people of his beloved home state of Georgia, never wavered."
He continued, "I had the distinct honor of knowing Max as both a colleague and a friend during our six years together in the United States Senate. He was a man of unflinching patriotism, boundless courage and rare character. I was proud to have Max by my side. He will be remembered as one of Georgia's and America's great leaders."
Here are some of Cleland's most notable accomplishments over the years.
Military Service
Cleland served in the Army during the Vietnam War, attaining the rank of captain, and was awarded the Silver Star and the Bronze Star for valorous action in combat. During the Battle of Khe Sanh in 1968, a live grenade that dropped by a fellow soldier shredded three of Cleland's limbs—both legs and one arm.
As a young captain in the 1st Air Cavalry Division, Cleland was exiting a helicopter when he saw the grenade on the ground and bent down to pick it up, intending to throw it away. His wounds were so severe that doctors had to amputate his right forearm and both legs above the knee. He was confined to a wheelchair for most of his adult life. He was 25 years old at the time.
He spent eight months in Veteran Administration hospitals and rehab centers and would suffer from post-traumatic stress disorder for the rest of his life.
The war in Southeast Asia would go on to shape Cleland's time in office.
"What happened to him would have destroyed most men. But he persevered through it and prospered," former Georgia Governor Roy Barnes told The Atlanta Journal-Constitution.
Georgia State Politics
As a veterans affairs advocate, Cleland served in the Georgia Senate from 1971 to 1975 before leaving to run for lieutenant governor. He ultimately lost to Zell Miller.
After his defeat, he became a staffer on the Senate Veterans' Affairs Committee. Following President Jimmy Carter's victory in 1976, he was tapped to lead the Veterans Administration (now the Veterans Affairs Department). Cleland became the nation's youngest VA administrator and the first Vietnam veteran to head the department.
"His leadership was the essential driving force behind the creation of the modern VA health system, where so many of his fellow heroes have found lifesaving support and renewed purpose of their own thanks in no small part to Max's lasting impact," Biden said in his Tuesday statement.
When Carter lost his reelection bid, Cleland returned home and was elected Georgia's secretary of state, the youngest in state history. He held the position for 14 years.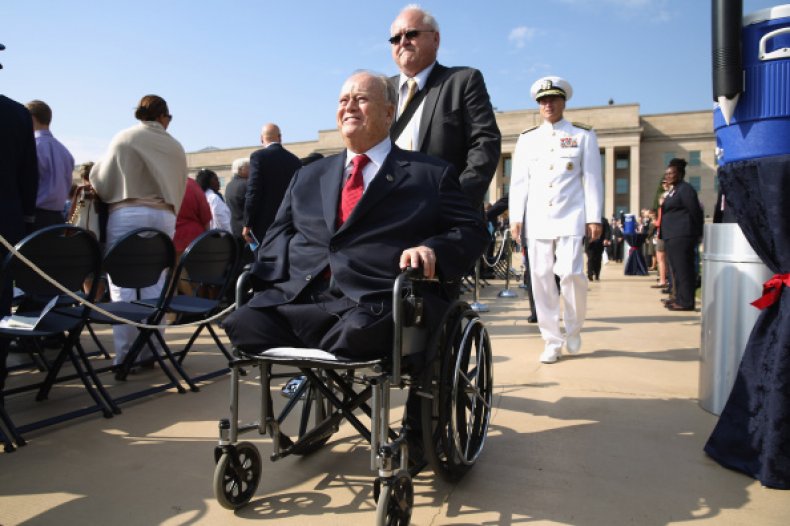 U.S. Senate
Following Senator Sam Nunn's announcement that he wouldn't be running for reelection, Cleland entered the race and won by just 300,000 votes over his Republican opponent, Guy Millner.
Viewed as a moderate in the Senate, Cleland dedicated his single Senate term to military issues, securing funding for Georgia's 13 military installations and expanding education benefits for veterans. He was also a staunch supporter of abortion rights and environmental legislation.
In 2002, Cleland went up against Republican Saxby Chambliss for the Georgia Senate seat.
Chambliss portrayed Cleland as being soft on the "war on terror" and accused him of voting against the formation of the Department of Homeland Security in ads that became so controversial that the campaign stopped airing them after protests from GOP Senators Chuck Hagel and John McCain, both Vietnam vets.
He ended up losing his reelection bid with 47 percent of votes and was the last Democratic senator from Georgia until Jon Ossoff's win earlier this year.
In a statement Tuesday, Ossoff called Cleland "a hero, a patriot, a public servant, and a friend."
"His advice as I entered the Senate and in the early months of my tenure have been invaluable," Ossoff said. "Georgia and the nation will deeply miss him."
Later Career in Democratic Politics
Cleland was appointed to serve on the 9/11 Commission but resigned shortly after calling the investigation "compromised" and accusing the Bush administration of "stonewalling" the panel's access to key documents.
In 2003, Cleland began working for the 2005 presidential campaign of Massachusetts Senator John Kerry, another Vietnam veteran. A year later, he introduced Kerry as the Democratic nominee at the national convention.
In 2009, former President Barack Obama nominated Cleland to serve as the secretary of the American Battle Monuments Commission, a position he held until the end of Obama's second term
In a forward to his 2009 memoir, Cleland wrote: "My body, my soul, my spirit, and my belief in life itself was stolen from me by the disaster of the Vietnam War. I found solace in attempting to 'turn my pain into somebody else's gain' by immersing myself in politics and public service.'"