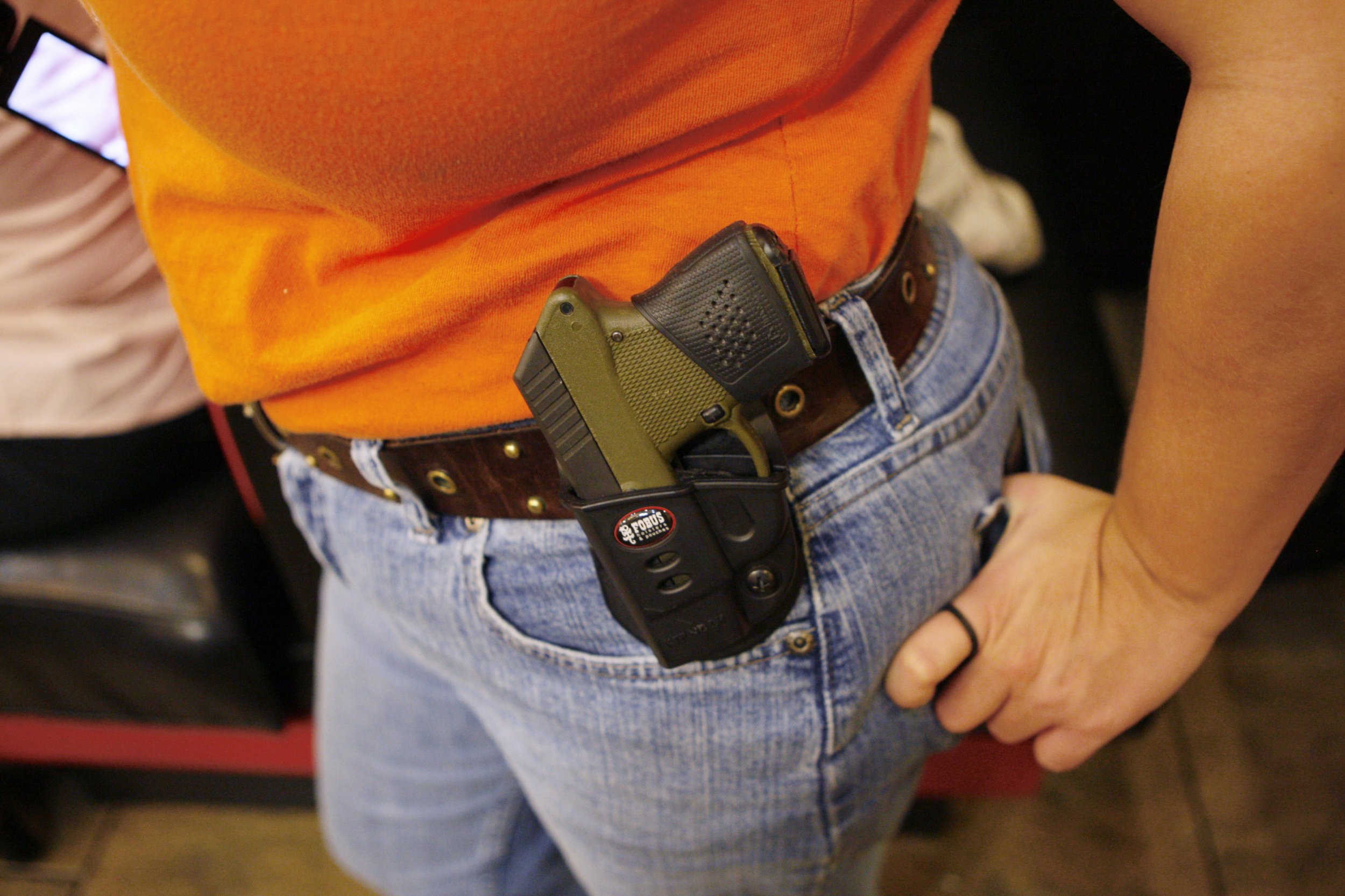 The Senate's No. 2 Republican this week introduced a bill that would require states that issue permits allowing gun owners to carry concealed weapons to recognize such permits from other states. In a statement on Monday, Senate Majority Whip John Cornyn (R-Texas) said his national concealed carry reciprocity bill would strengthen "both the constitutional right of law-abiding citizens to protect themselves and the power of states to implement laws best-suited for the folks who live there."
North Carolina Republican Richard Hudson introduced a similar proposal in the House on January 3, the first day of the new Congress, and it now has at least 163 co-sponsors.
Related: Gun groups evaluate options after court upholds ban
House and Senate members in the past have backed national reciprocity legislation, and with Republicans controlling both Congress and the White House, it now stands a better chance of becoming law. President Donald Trump, who has publicly supported national reciprocity, took his first significant step on behalf of gun rights advocates on Tuesday—just more than a month into office—when he completed the repeal of an Obama-era rule that barred certain Social Security recipients with mental health conditions from buying guns.
Here, we break down what exactly is national concealed carry reciprocity, including what each side says about the idea.
What Are The Concealed Carry Laws?
Every state and Washington, D.C., allows concealed carry in some form, according to the Law Center to Prevent Gun Violence. And nearly every state has some restrictions on where its residents can carry the weapons, such as in bars, schools, hospitals and government buildings.
Thirty-nine states generally require a state-issued permit to carry concealed weapons in public. The remaining 11 (Alaska, Arizona, Idaho, Kansas, Maine, Mississippi, Missouri, New Hampshire, Vermont, West Virginia and Wyoming) don't require a state government permit. New Hampshire became the 11th just last week, when Republican Governor Chris Sununu eliminated the state's concealed carry license requirement. (His Democratic predecessor had repeatedly vetoed the change, arguing that it threatened to weaken public safety.) Other states will also be considering so-called permitless carry during their 2017 legislative sessions.
While every state has its own permitting system, there are several standards that are more commonly used. The strongest laws, for example, require an applicant to demonstrate a justifiable need for a permit. Additionally, some states require the applicant to demonstrate some level of knowledge of firearm use or safety, among other things.
Permits vary in duration, and the renewal processes differ. Currently, the strongest state laws prevent out-of-state residents from carrying within their borders, while others limit those who may carry to individuals with permits from states that have similar requirements. Those with the weakest laws allow carrying by individuals with permits from any state.
What Do Supporters Say?
Proponents of national reciprocity say it would make concealed carry permits more like driver's licenses. National reciprocity has been a longtime top priority of the National Rifle Association, which views it as a "commonsense solution to a real problem," says Jennifer Baker, director of public affairs for the NRA's Institute for Legislative Action. The NRA has backed both the House and the Senate versions of the legislation.
The current system, she tells Newsweek, is confusing and "a real problem for law-abiding gun owners who travel across state lines and want to exercise their Second Amendment rights." She cites people who have been arrested for possessing their guns while they traveled or while living temporarily out of state because they weren't aware of differing gun laws.
Baker acknowledges that there's work to be done to pass national reciprocity in Congress. But if it gets through on Capitol Hill, she says, the NRA is confident Trump, a pro–Second Amendment president, will sign the legislation.
Not more than a week after the November election, the NRA's leader, Wayne LaPierre, requested that Congress and Trump pass reciprocity legislation "as quickly as it can be written and signed." A month earlier, Trump had gone on the record supporting national reciprocity, saying, "The right of self-defense doesn't stop at the end of your driveway."
He added: "A driver's license works in every state, so it's common sense that a concealed carry permit should work in every state. If we can do that for driving—which is a privilege, not a right—then surely we can do that for concealed carry, which is a right, not a privilege."
What Do Critics Say?
Opponents argue that national reciprocity would enable the least restrictive requirements to apply to the entire country, thus undercutting the most stringent laws in some states. Although there are differences between the House and Senate versions, each has the base goal of nullifying a large number of state laws and making it difficult for law enforcement officers to determine when they can enforce their state's laws, says Lindsay Nichols, senior attorney for the Law Center.
But Nichols says she sees obstacles to the measures becoming law, including the strength and resources of the gun violence prevention movement. And there's also a legal argument about states' power under the Constitution: One could argue, she says, that national reciprocity would undermine state authority.
House vs. Senate
The most significant difference between the House and Senate versions is what happens in a carrier's home state. In Hudson's House bill, residents would be allowed to obtain concealed carry permits from other states to use in their home states. In Cornyn's Senate version, carriers would still have to comply with the laws of their home state.
What's the History?
Similar bills have previously been introduced, but they have never left committee. During the last Congress, in 2015, Cornyn proposed legislation that picked up 35 co-sponsors, including some Democratic senators who are up for re-election in 2018.
For his current bill, Cornyn has at least 31 Republican co-sponsors. In addition to support from every Republican senator, Cornyn would need to gain eight Democratic votes to overcome a filibuster.
Amid lobbying by the NRA, last month four Senate Democrats and an independent—who are all up for re-election next year—sided with their Republican colleagues by voting to revoke the Obama administration gun regulation that prevented certain individuals with mental health conditions from buying firearms. This could be a sign of things to come.