Gun Groups Evaluate Options After Court Upholds Maryland Assault-Weapons Ban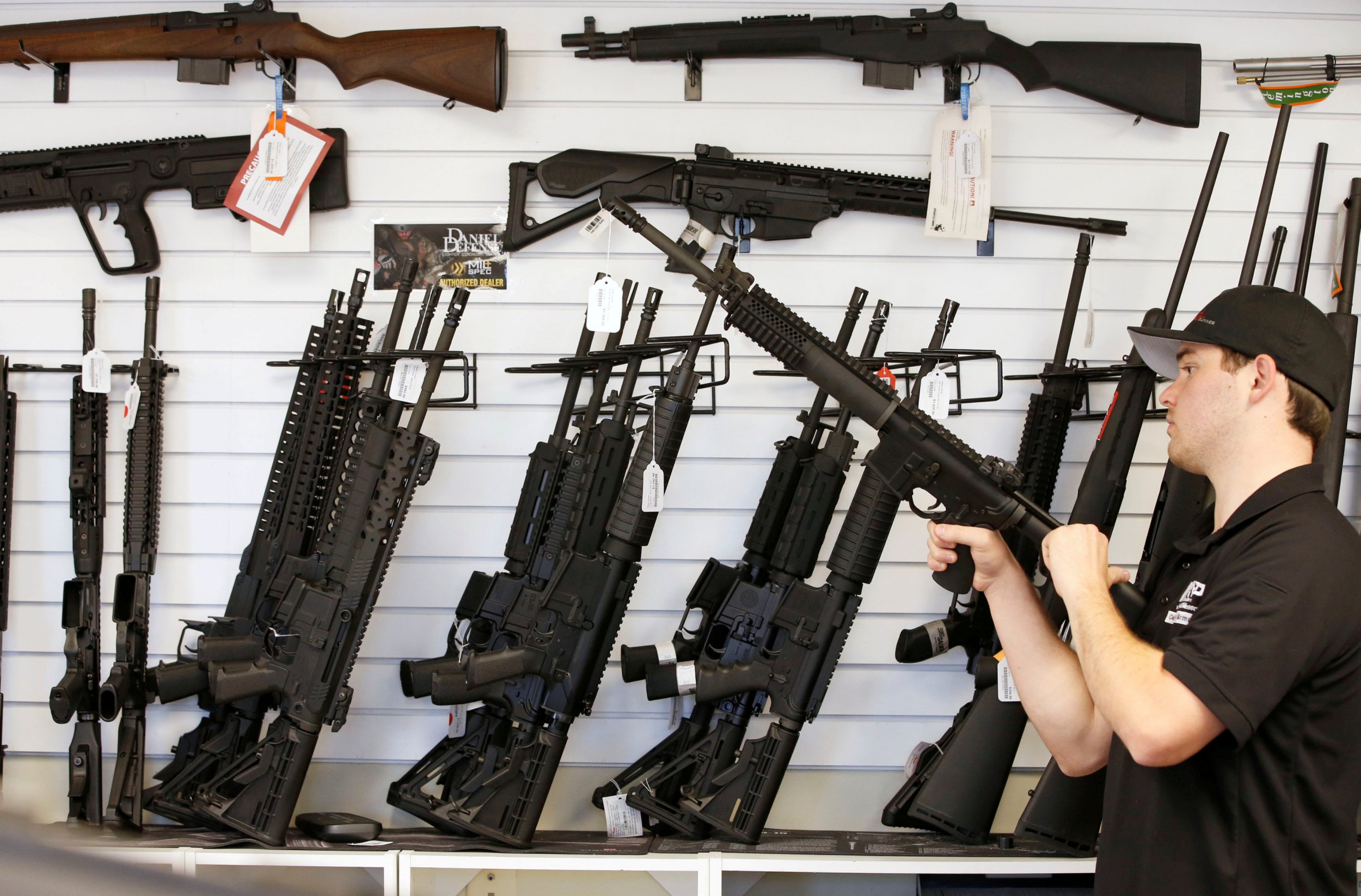 The National Shooting Sports Foundation (NSSF) says it's "evaluating all legal options" after a federal appeals court on Tuesday upheld Maryland's 2013 ban on assault weapons and large-capacity ammunition magazines, which legislators passed in the wake of the 2012 shooting massacre at an elementary school in Newtown, Connecticut.
Related: Supreme Court denies hearing case on Illinois city's gun ban
The full 4th U.S. Circuit of Appeals in Virginia found that military-style assault weapons—like those used in the Newtown; Orlando, Florida; San Bernardino, California; and Aurora, Colorado, massacres, among others—and large-capacity magazines are not protected under the Second Amendment's right to bear arms. Assault weapons are a class of semi-automatic firearms; large-capacity magazines can hold as many as 100 rounds of ammunition. Maryland's measure prohibits the possession, sale, transfer, purchase or transportation into the state of assault weapons, including assault pistols and assault long guns.
In a 10-4 decision, the court sided with gun safety activists by ruling that the U.S. Supreme Court's landmark District of Columbia v. Heller decision in 2008 allows for governments to regulate firearms, including placing restrictions on assault weapons.
"We are convinced that the banned assault weapons and large-capacity magazines are among those arms that are 'like' 'M-16 rifles'—'weapons that are most useful in military service'—which the Heller Court singled out as being beyond the Second Amendment's reach," the court said in its majority opinion. "Put simply, we have no power to extend Second Amendment protection to the weapons of war that the Heller decision explicitly excluded from such coverage."
The majority opinion reverses a decision by a smaller panel of judges from the court in February 2016.
The NSSF, the trade association for the firearms and ammunition industry, and Maryland gun owners had challenged the law in court on constitutional grounds, saying it infringes on their Second Amendment rights. Meanwhile, the Law Center to Prevent Gun Violence and Marylanders to Prevent Gun Violence argued that Heller supports the regulation of firearms. The law center called its victory "an important precedent for public safety."
In a statement emailed Wednesday to Newsweek, the NSSF said, "We strongly disagree with the court's unfortunate mischaracterization of the most popular rifles that have been sold for many years to law-abiding Americans for such perfectly lawful uses as target shooting, personal protection and hunting."
While Heller established a constitutional right to own a gun, Jennifer Baker, director of public affairs for the National Rifle Association's Institute for Legislative Action, said this case "flips Heller on its head." The majority opinion, she added, ignores the Supreme Court's guidance from Heller that "the Second Amendment protects arms that are 'in common use at the time for lawful purposes like self-defense.'"
Congress enacted a federal assault weapons ban in 1994. But since the law expired in 2004, gunmen have used such weapons to carry out massacres in a nightclub, a church, a school and a movie theater, among other places. Judge Robert King listed some of those deadly shootings in the court's ruling.
Only seven states—California, Connecticut, Hawaii, Maryland, Massachusetts, New Jersey and New York—and the District of Columbia have enacted laws banning assault weapons. Maryland passed its measure in the wake of the December 2012 Newtown massacre, in which a gunman fatally shot 20 first-graders and six educators at Sandy Hook Elementary School with an assault rifle.
Since Heller, four other appeals courts have also rejected Second Amendment challenges to bans on assault weapons and large-capacity magazines, King said.
Judge William Traxler, who wrote the dissenting opinion in Tuesday's ruling, said the majority "has gone to greater lengths than any other court to eviscerate the constitutionally guaranteed right to keep and bear arms."
Shooters use large-capacity magazines in half of all mass shootings, including those that occurred in Tucson, Arizona, and Fort Hood, Texas, according to a 2013 review conducted by Mother Jones. An analysis of mass shootings between January 2009 and July 2015 by Everytown for Gun Safety found that incidents where high-capacity magazines—or assault weapons likely equipped with them—were used resulted in an average of 13 total people shot, and about eight more killed, when compared with other mass shootings.
Gun safety advocates elsewhere in the country are using the courts to take on assault rifles. In one of the highest-profile cases against gun companies in the U.S., families affected by the Sandy Hook Elementary massacre brought a lawsuit against the maker and sellers of the military-style rifle used in that tragedy. They say that the weapon violated Connecticut law and that the companies negligently entrusted the rifle to the public. The state's Supreme Court has agreed to hear the families' appeal.